'Power Book III: Raising Kanan' Season 1 Episode 10 Recap: Raq Is 'Winning'
After several episodes of build-up, the Power Book III: Raising Kanan Season 1 finale certainly delivered. Those who missed it can find a recap of the TV show below.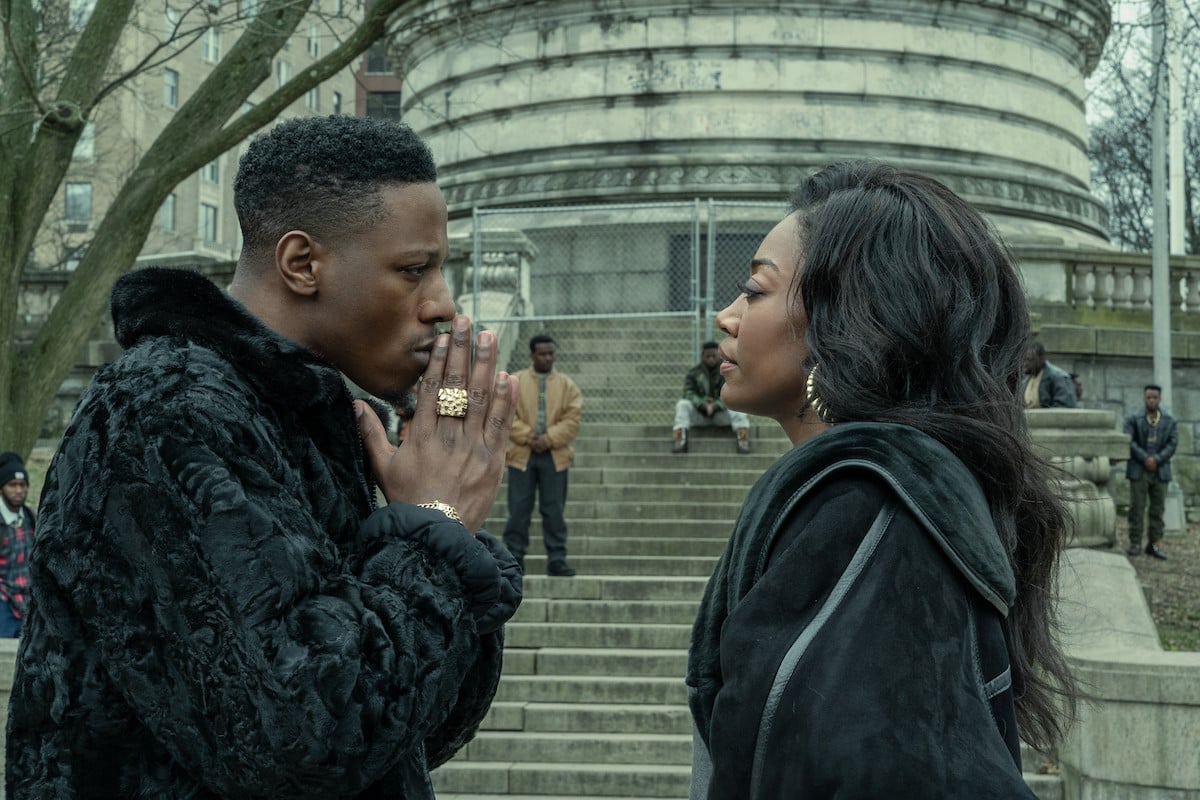 Shots rang out on the last episode of 'Power Book III: Raising Kanan'
The episode opens with Kanan about to fire another shot at Detective Howard. It'd be a guaranteed kill, but Kanan gets spooked and runs off, figuring Detective Howard would still wind up dying from the other shots.
After disposing of the gun, Kanan gets picked up by Scrappy. The plan is to meet with Marvin to give back the jacket and drop Kanan off at his grandmother's. But when they leave Marvin, they find cops everywhere and a blockade on the road to her house.
Detective Howard is rushed to the hospital
Jessica and Famous are at the hospital visiting Lou-Lou when they see Detective Howard being rushed in to surgery. Back at the crime scene, police interview a junkie who saw the shooter. He tells cops he had on a certain jacket, but he's too high to remember the details.
Lou-Lou looks out of his hospital window to see chaos downstairs. He's shocked to learn Detective Howard got shot and quickly realizes who's responsible. He rushes out to find out what's going on, even though he's still in bad shape from the fire.
With the lockdown happening, Plan B is set in motion for Scrap and Kanan. They meet up with Raq at her house, and she tells them to come inside and get cleaned up. Kanan follows, but Scrap wants to get his car detailed first to get rid of any possible evidence left behind. Scrap tells Kanan he just became a soldier before pulling off.
Inside, Raq has Kanan go over what happened. She notices the hand injuries he sustained when he fell while fleeing the scene, but Kanan assures her that he's good. He also tells her that Detective Howard is dead, just as Detective Burke is learning of his condition from a new police chief — including the fact he has leukemia.
Detective Burke heads out to investigate the shooting with another officer and comes across Jukebox. As the cop goes through her bag, Detective Burke questions her earlier comments about police being hunted by someone. Jukebox alludes to Unique being responsible, ruling out Raq and Kanan in the process.
Unique realizes Raq has plotted against him since earlier episodes of 'Power Book III: Raising Kanan'
At Unique's, Worrell reveals Detective Howard got shot and that Unique's name has come up as the shooter. He realizes Raq set him up, but there's nothing he can do right now. The best option is to pull his boys off the streets and go dark for a while.
Raq takes Kanan to Juliana's store and stashes him in a back room until Marvin can pick him up. Juliana has footage of "Unique" running past the shop following the shooting and is told by Raq to give it to the police. Raq shares some parting words with her son and leaves.
Before reaching Kanan, Marvin stops at Unique's condo. He gains entry by pretending to be a gas technician and stashes the jacket in his closet. Unique arrives with his son and his mother just as Marvin gets out of the condo.
Marvin heads to Juliana's but gets stopped at a police checkpoint, where he's ultimately arrested due to a warrant for drug charges. At the station, Marvin learns Toni gave him up.
Raq tests out another experiment
Arriving at the stash house, Raq tells her men to prepare to move their product down the shoot, knowing the police will soon come knocking. Lou-Lou shows up first, angrily confronting Raq for ordering a hit on a cop and having Kanan do it. He's fed up and wants out of the game. But Raq says he can't leave.
The two are still talking when the police show up to search the next apartment. The shoot trick ultimately works. But Juliana calls Raq with bad news: Marvin is a no-show and police are on their way to search her store.
Kanan is still in the back of the shop when Jukebox shows up. He tries to play tough about the shooting, but Jukebox knows better and calls him out. Kanan insists his mom has it all under control, too naive to see that she's played him. He's eventually picked up and taken to Maryland by Symphony, who Raq had called after Juliana reached out.
Unique is preparing to leave himself when he sees his jacket back in his closet. He looks like he's about to accuse his baby's mother of planting it when police burst in and arrest him.
As things begin falling into place, Raq overlooks the city from a rooftop. Mission accomplished — or so she thinks, because Detective Howard just woke up.