'Power Book III: Raising Kanan' Theory Says Jukebox Will Be Blamed for [Spoiler]
There's definitely been a lot to take in on Power Book III: Raising Kanan: Kanan's first body, Unique's attack on Scrappy, the truth about Kanan's dad. But perhaps the most shocking moment on the TV show came in the Sept. 5 episode. Fans are absolutely devastated by that death — and also very worried about what it could mean for Jukebox.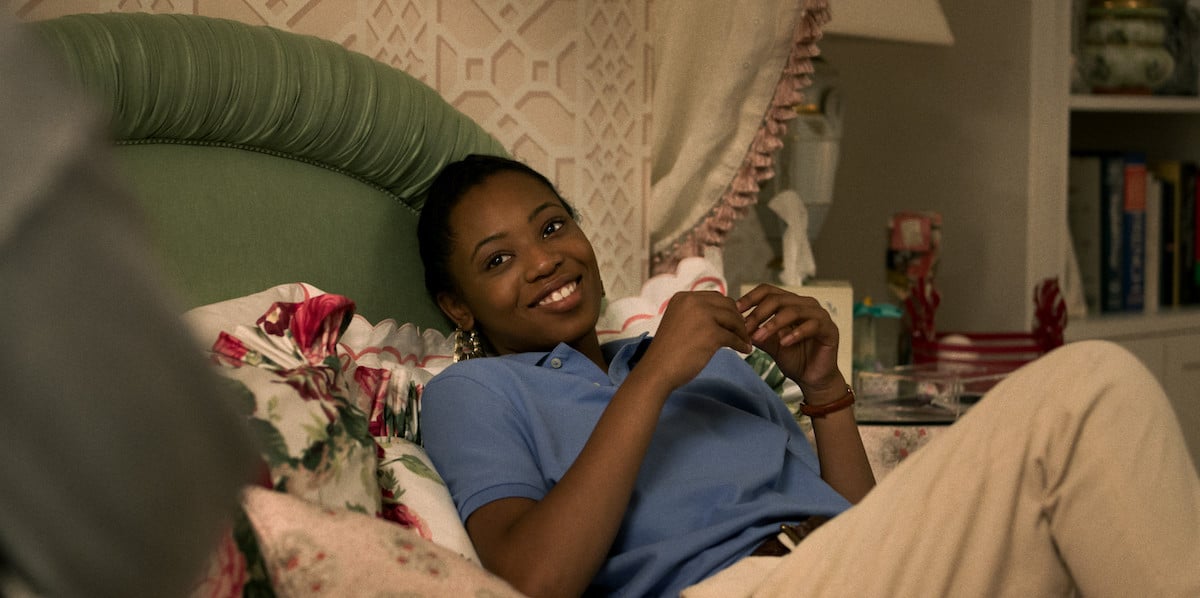 [Spoiler alert: This article contains a possible spoiler for Power Book III: Raising Kanan Season 1 Episode 7.]
Jukebox and Nicole's relationship ended in tragedy
Yeah, fans figured something bad would happen to Nicole after she started experimenting with hardcore drugs, but that didn't make her death any less heartbreaking. What makes it especially sad is the way it all played out.
Nicole and Jukebox had just made things official and were planning to celebrate at Nicole's school dance, despite her mother's protests. Nicole was getting ready to head out when she decided to smoke the crack that she'd snatched from Jukebox's bookbag earlier. She died almost instantly.
RELATED: 'Power Book III: Raising Kanan': Fans Are Starting to Hate Kanan Because of His Horrible Mistakes
Fans weigh in with predictions for the next episode of 'Power Book III: Raising Kanan'
After the episode aired, fans took to social media to react and speculate on what might happen next. Knowing how Nicole's parents are, some feel they might blame Jukebox and try to hold her responsible for Nicole's death.
"Theory: Nicole's parents think Juke was involved in her daughter's death due to the cassette tape she gave her," one person wrote on Reddit. "Jukebox gets arrested but Detective Burke bails her out and a mentor-daughter relationship is formed. Juke is vulnerable rn and has no one to talk to. Marvin is distant, she really has no motherly figure in her life (apart from Raq) and Kanan is busy with the Buck 20 situation and Davina."
"That sounds very likely," one reader wrote in response. "I feel like Juke is the most tragic figure we've seen so far. We know how cold, bitter, angry, and corrupt she eventually became. She was sweet, smart, talented…It's heartbreaking to think about what her life could have been."
"I agree, plus I feel like she'll find out pretty soon that Marvin and Kanan made the crack that killed her. I think that'll put an even bigger rift in her relationship with Marvin," said a second fan.
"Sounds pretty good, and the pieces fit," read a third comment.
The idea that this will bring Jukebox and Burke together isn't far-fetched. Burke has already been trying to connect with Jukebox, and we know Jukebox will eventually follow in her footsteps as a police officer. Could Jukebox turn to Burke to support after Nicole's death? Does this situation lead to Burke becoming her mentor? We guess we'll see.
RELATED: 'Power Book III: Raising Kanan': Why Did Jukebox Become a Cop?
Watch 'Power Book III: Raising Kanan' on Sundays
The next episode of Raising Kanan airs on Sunday, Sept. 12 at 8 p.m. ET. Watch it on Starz.