'Power Ranger Dino Fury': Hunter Deno and Tessa Rao Bring Originality to Their Characters as Franchise Newbies [Exclusive]
Hunter Deno and Tessa Rao felt the pressure to fill the shoes of the Power Rangers franchise. Rao explains she never thought she would become a Ranger in 'Power Rangers Dino Fury.'
The Power Rangers TV show franchise is holding strong, with Power Rangers Dino Fury being the 28th installment. The 2021 series continues the history of a group of teenagers given morphing powers and destiny thrust upon them. All while stopping the world from evil. Power Rangers Dino Fury stars Hunter Deno and Tessa Rao in the leading roles as Amelia, the Pink Ranger, and Izzy, the Green Ranger. The two budding actors are new to the franchise but give their on-screen characters needed originality.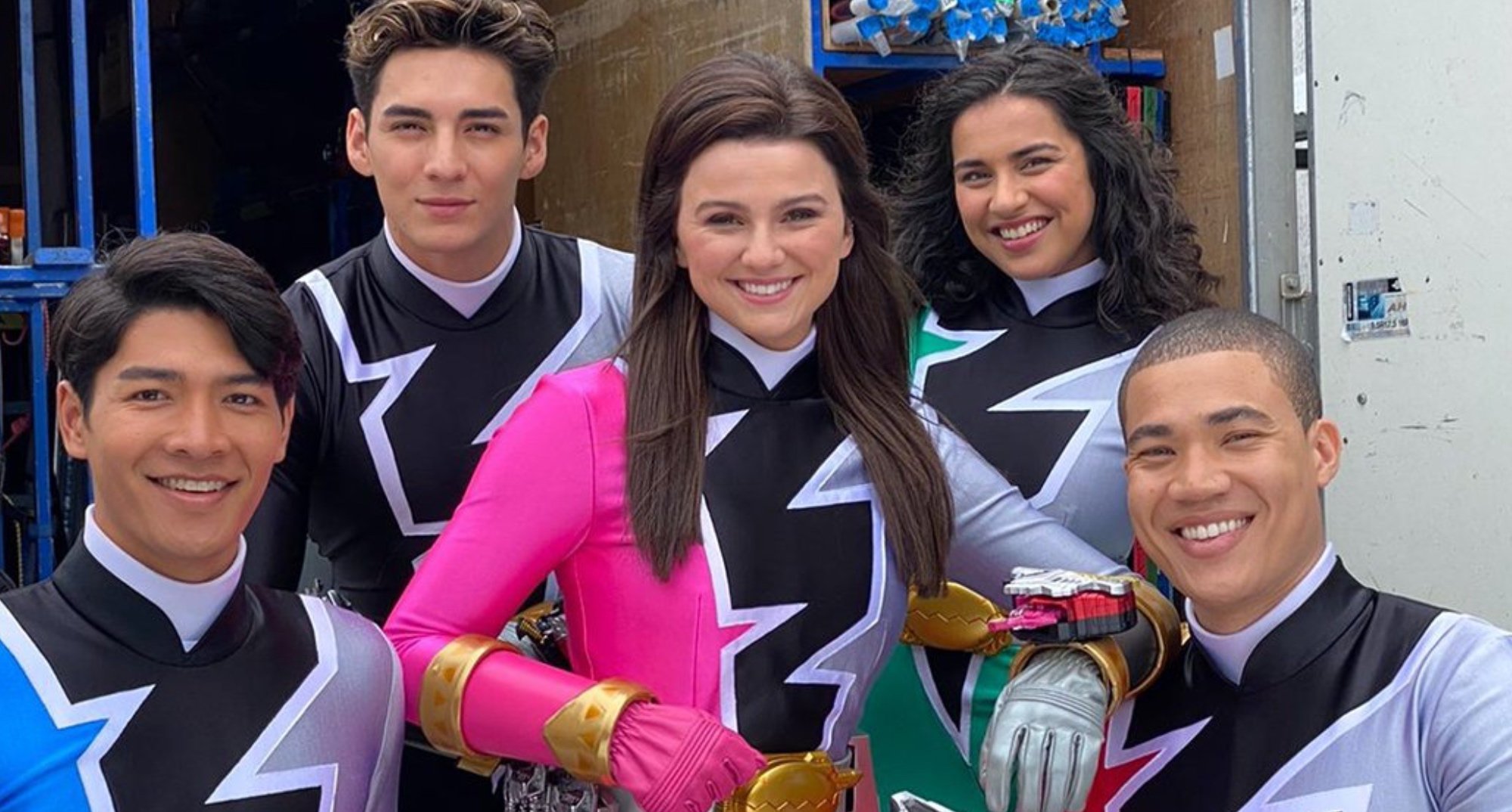 Hunter Deno and Tessa Rao felt the pressure of joining the franchise, but in a good way
Deno and Rao play the leading female roles in Power Rangers Dino Fury. The female characters are not being damsel-in-distresses. Amelia is a budding journalist and a fanatic of the paranormal after her parent's disappearance.
Izzy already breaks what is commonly seen in the franchise by becoming the Green Ranger, who is a gifted athlete. Taking on the leading roles can be daunting, especially when considering the franchise's long history and fan base.
"I definitely feel like there were big shoes to fill. Not particularly for any reason, just the fact that I was just like, 'I can't believe I'm a Power Ranger. I have such big shoes to fill.' I definitely was nervous on that part, but I was excited that Simon, Becca, and Alwyn trusted myself and the rest of us to really become our characters," explained Deno.
Her co-star had similar sentiment about taking on the big role but was excited. "I feel like there was a bit of both on that end. Because you do feel pressured. It's not a bad pressure. I think it's good pressure. But the fans were also so supportive from day one that I think that might have made it easier to feel like, 'Oh yeah, okay, this is what we're doing. We've got this. This is so cool,'" explained Rao.
Like many actors in the franchise installments before them, Deno and Rao were not well versed in the franchise. Nor were they in the Japanese original of Power Rangers Dino Fury. But many will find it was to their advantage.
Hunter Deno and Tessa Rao wanted to bring relatable originality to their 'Power Rangers Dino Fury' characters
While there is an immense fan base that knows the nitty-gritty of Power Rangers, it is not a requirement for the actors playing the roles. Deno and Rao explain their fresh mindset going into their Power Rangers Dino Fury audition.
"I didn't really want to cloud the choices I was making as an actor with other things that weren't necessarily what they were going to be bringing or what I thought the ranger would be bringing in that moment. But then, afterward, I did watch a whole bunch kinda for the nostalgia and to kind of get a feel of the vibe of it," explained Rao.
Deno agrees with her co-star and explains Power Rangers Dino Fury being serial seasons opened the door. "The beauty of Power Rangers changing the theme with two seasons is that we get to create our own character, and even though we do take footage from the Sentai version, we have our own story. It does help to get the nostalgia and just get the idea of the show and everything to watch it, but particularly for our characters. So it wasn't any homework I found myself doing just because I wanted to create Amelia by myself."
Both actors wanted to bring their own flare to their characters that would relate to young audiences and established fans. Rao explains she never expected to embark on the journey as a Ranger, "It was kind of crazy, but I never thought that it would even be possible for me." Her co-star explains she had a set idea of what she wanted to portray as Amelia: "you can really be anything that you put your mind to."
'Power Rangers Dino Fury' showrunner feels the actors parallel their on-screen characters
Speaking with showrunner and director Simon Bennett, he explains the actors not having prior knowledge of the franchise is an asset. "I don't think actors on Power Rangers need to know a lot about Power Rangers. They need to know who their character is and what their character wants and what the story is that's being told," explained Bennett.
He explains Deno and Rao mimic the characters of Amelia and Izzy. Both characters had no knowledge of Power Rangers or the world they were thrust into. "That is completely surprising and startling and amazing. And so the actors really bring their own experience to finding themselves in the show, to what their characters are experiencing when they discover that they are becoming Power Rangers. So it's quite appropriate," explained Bennett.
Speaking of Deno and Rao, they are newbies to the Power Rangers world. But they help establish the same feeling in their characters. Bennet explains having prior knowledge gets "in the way of the kind of wide-eyed amazement and things coming at the character as if they're happening for the first time and are fresh."
Fans can say Deno and Rao are continuing a new generation of Rangers that are given room to explore their feelings and develop relatable character arcs. The two actors may not have the extensive knowledge die-hard fans have, but they have proven their place among a long list of heroes.
Power Rangers Dino Fury is available to stream on Netflix.