What Did Olivia Munn Reveal About Pregnancy With John Mulaney on 'Late Night with Seth Meyers'?
Last night, Olivia Munn stopped by Late Night with Seth Meyers for an interview some fans were eager to watch. Following rumors of a breakup from comedian John Mulaney, many observers wondered if she'd mention him during her chat with Meyers. Coincidentally, that's where he first spoke publicly of their romance and announced their pregnancy last month.
So, did Munn have anything to share about her on or off status with Mulaney or when to expect news of the baby? And why are fans so curious?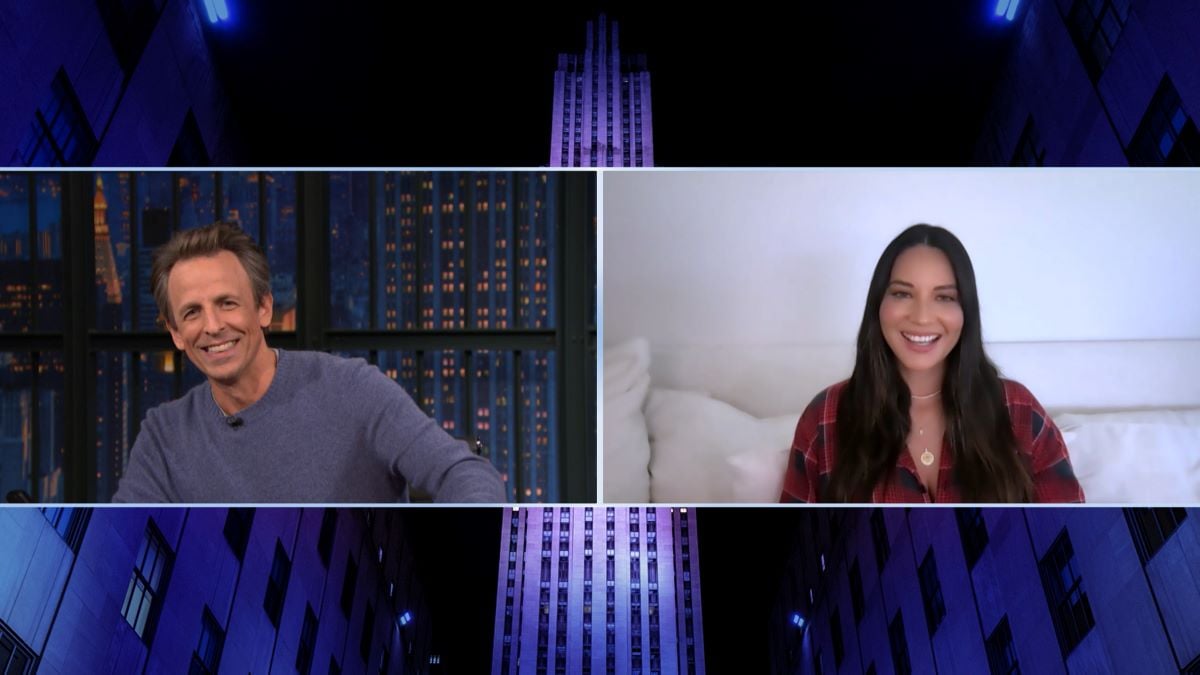 DeuxMoi gossip submissions claimed John Mulaney and Olivia Munn broke up
So much of what the public has guessed about Munn's romance with Mulaney has come from gossip site DeuxMoi. While such information isn't normally to be trusted, DeuxMoi shared far-removed knowledge of Munn's pregnancy months before either Munn or Mulaney acknowledged it. As such, curious fans seem to keep an eye on the submissions for what sounds like it might be the latest news on the soon-expecting couple.
The site notably does not name the celebrities in question, allowing fans to build their own theories, instead. And the internet had a strong reaction when an anonymous source recently claimed a couple comprised of a comedian and his pregnant girlfriend called it quits.
While Munn personally refuted the claims of a breakup to Entertainment Tonight, unnamed sources started spilling the metaphorical beans – or just fueling the gossip flames – by talking to tabloids at the same time.
One seemingly pro-Munn insider supposedly told US Weekly, "Becoming a mom was always more important to [Olivia] than settling down in a conventional way."
Another allegedly said, "Even though Olivia's going to be a wonderful mother and has great support behind her, Olivia's friends just don't see these two being a couple in a year's time."
So, rumors of "uncertainty" in Munn's relationship with Mulaney continue to swirl as she nears the due date of their baby. And fans were very curious to see what she might say in her interview with Meyers, who is a close friend to Mulaney.
What did Olivia Munn say about John Mulaney on 'Late Night with Seth Meyers'?
Though Mulaney openly gushed to Meyers and the world about Munn last month, she didn't reciprocate during her own visit. Aside from telling Meyers a bit of pregnancy advice she received involving Mulaney's height, she didn't really say anything about her famous baby daddy.
Some fans on Reddit found it a little bit unusual because Meyers and Mulaney are such good friends. Meyers was even involved in a star-packed intervention for Mulaney's addiction relapse. And notably, Mulaney thanked Meyers and his friends for saving him from drugs. But Meyers didn't mention Mulaney in the interview with Munn, either.
It wouldn't be so notable, but when Mulaney was in the same spot last month, he credited Munn with saving him from himself, called himself very lucky for getting to date her, and noted their relationship was "really beautiful."
So, the fact that all she said about him was that he's tall seems very remarkable to some fans. While she might have remained tight-lipped about him to avoid causing a stir, not saying much might do the same. Notably, Munn is due in 2021 — but a more specific time frame is apparently not going to be made public.
What did Olivia Munn say about pregnancy?   
Meyers started the interview by offering congratulations to Munn on the pregnancy. "I know you're having a baby," he said before asking, "How's it going?"
"I'm exhausted a lot. I'm tired, she answered. "But it's going really good."
Meyers then asked her for some good pregnancy advice she's received. So, she shared that a friend told her the baby will be as tall as Mulaney based on their heights. Then, she explained how excited her mom is about keeping the baby at her house.
Of course, she also talked about her movie projects. But there was no big revelation, as some fans had suspected there might be. Some commenters even thought that Munn might come out and announce a surprise engagement following rumors of a split. But that wasn't the case, either.
In the end, if fans are looking for obvious clues to the state of Munn's romance with Mulaney, her Late Night with Seth Meyers interview isn't the place to find it. That is, unless there's much more to be read between the lines.