Pregnant Rihanna Lookalike Causes a Frenzy in Brazil
Fans were overcome with joy when Rihanna announced her pregnancy in January. The Fenty Beauty founder and accomplished singer is expecting her first child with A$AP Rocky. After a lookalike caused a fan frenzy in Brazil this weekend, some wonder if she took it too far in pretending to be Rihanna.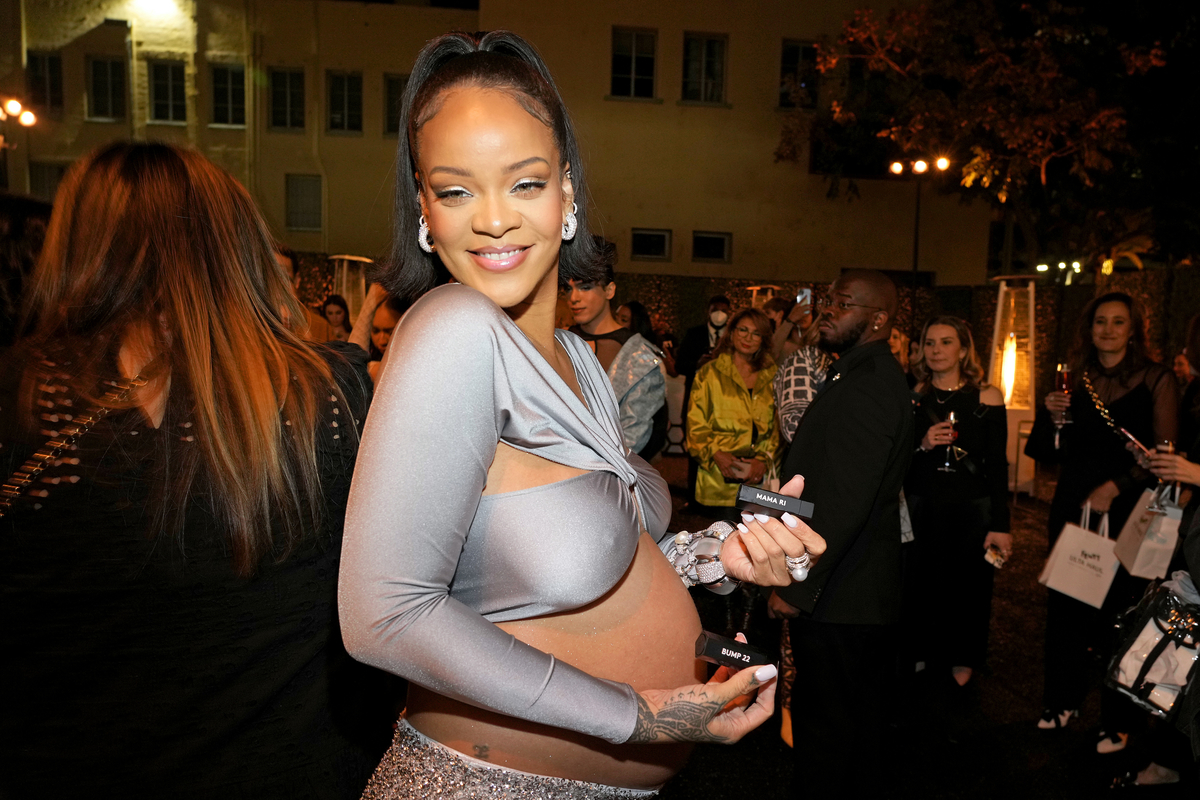 Rihanna lookalike in Brazil
While celebrity impersonators are nothing new, a Rihanna lookalike went viral this weekend as she fooled fans and journalists in Brazil into thinking she was in fact pregnant Rihanna.
Videos surfaced of the lookalike walking with security, posing for photos, and even doing local television interviews. Fans appeared to believe they were interacting with the real Rihanna. Video footage shows them trying to get as close to the imposter as possible.
One woman even kissed her baby bump. Another was left in tears.
The lookalike's real name is Priscila Beatrice. On her verified Instagram account, she lists her profession as "beauty/content creator" and "impersonator / and lookalike."
This is far from the first time she's caused a frenzy pretending to be Rihanna. Last year, fans flooded a street in Brussels to get a picture of who they thought was the superstar.
In 2020 Rihanna noticed her lookalike's viral TikTok video. Elle reported Rihanna left a comment under the post shared by Shade Room asking, "where the album sis #R9."
Rihanna had a sense of humor about it and used the opportunity to troll herself. Fans are eagerly awaiting a new music release from her. No word on if her lookalike can sing.
Beatrice was beside herself when she found out her idol knew who she was. On Instagram, she said, "I still can't believe it !!! The page @theshaderoom shared my video on their profile, and THE OWN RIHANNA @badgalriri saw my video and commented !!!! Do you know what I'm feeling right now ??? I can't stop crying with emotion !!!! Of happiness!!!!! It is a dream!!! God is so wonderful !!!!!"
Rihanna's fans aren't feeling the lookalike
Fans in Brazil who interacted with the impersonator appeared to be thrilled to meet who they thought was the real singer. However, some loyal Rihanna fans were not amused.
One Twitter user wrote, "The video of that Rihanna impersonator in Brazil is so creepy. People are so sick in the head."
While the lookalike is convincing at first glance, there were some obvious red flags. Rihanna is not a native Portuguese speaker. The impersonator did a television interview and spoke fluent Portuguese.
Some fans thought she pranked unsuspecting locals by pretending to be someone she's not.
A fellow Brazilian commented, "I got so mad when I heard about this!!! There's a Brazilian Rihanna doppelganger, and she keeps going to places in Brazil to prank them and make them think she's Rihanna!!!"
Baby on the way for Rihanna and A$AP Rocky
After a string of unsuccessful relationships, Rihanna seems to have found love in a hopeful, not hopeless, place.
A$AP Rocky and Rihanna go way back. The duo collaborated on her song "Cockiness (Love It)" in 2012. They've been photographed together quite a bit, including walking the red carpet at the British Fashion Awards in 2019.
At the start of 2020, rumors began to fly that she was dating her longtime friend. Although the couple was slow to confirm their relationship, fans felt the chemistry between them during an Aug. 2020 GQ video titled A$AP Rocky Answers 18 Questions from Rihanna.
The couple confirmed their relationship via People magazine in November of 2020.
RELATED: 'Rihanna' Means Great 'Queen', Which Totally Makes Sense for the 'Diamonds' Singer