Does the Cast of 'Pretty Little Liars' Hang Out Still?
It's been nearly two years since Pretty Little Liars came to its epic conclusion on Freeform. The mystery drama series, which has been lauded for how it became the most "social" TV show ever aired, was full of twists and turns over its seven-year run, but throughout it all, it was a show about the friendship between the teenagers (and later, young women) on screen.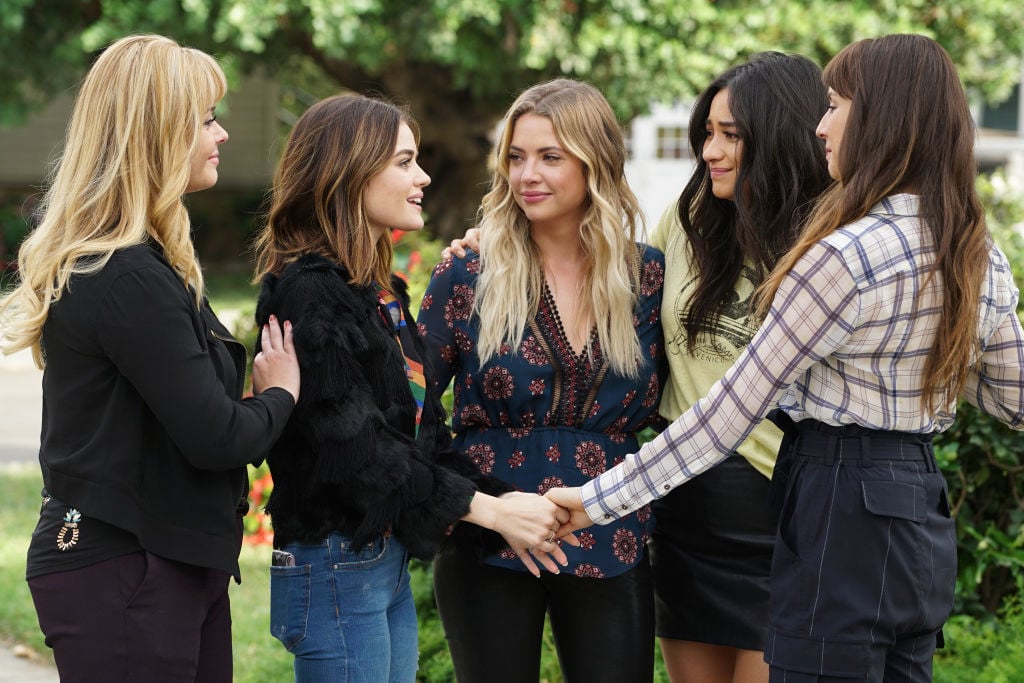 A lot of people received top billing for the show, but when discussing the stars, the focus usually comes back to the four "Liars": Spencer Hastings (Troian Bellisario), Hanna Marin (Ashley Benson), Aria Montgomery (Lucy Hale), and Emily Fields (Shay Mitchell). Over time, Mona Vanderwaal (Janel Parrish) and Alison DiLaurentis (Sasha Pieterse) became a part of the gang. Here's what the actors are up to now, and how they've stayed in touch since the series finale.

They've attended each others' weddings over the years

Most of the stars are not married — however, three of them have tied the knot over the past couple of years. First was Bellisario, who married Suits actor Patrick J. Adams in Dec. 2016. This was shortly after filming wrapped for Pretty Little Liars Season 7, so plenty of her castmates were in attendance, including Keegan Allen (Toby), Benson, Pieterse, Hale, and Ian Harding (Ezra Fitz).

When Pieterse herself got married in Ireland in May 2018, it appears as though none of her castmates were there (Bellisario was actually busy attending an even bigger U.K. wedding). But Parrish, who tied the knot in Sept. 2018 in Hawaii, had a couple of familiar faces at her nuptials: Series creator I. Marlene King and Brendan Robinson, who played Lucas on the show.

Two pairs actors are famously friends off screen

Though all of the stars of Pretty Little Liars seem to get along, two became such good friends during filming that it began to show on screen. ButtahBenzo is the name given to the friendship between Mitchell and Benson, and when we weren't watching Hanna and Emily dance and hang out the show, following their adventures on social media became a habit of many.

Similarly, the friendship between Aria and Spencer (Sparia, if you will) has been loved by many, and Bellisario and Hale have shown that they two are close off-screen. It's sweet to see this continue now that Pretty Little Liars is off the air.
All of them show up for their on-screen love interests

Yes, Pretty Little Liars is all about mystery, but there's a lot of romance involved. All of the core four had someone they were supposed to end up with (at least, according to the fans) — and (very late spoiler alert) they all did.

Generally speaking, the OTPs of PLL were Spoby (Spencer and Toby), Ezria (Ezra and Aria), Haleb (Hanna and Caleb), and Emison (Emily and Alison). Some of these relationships developed over time, while others were established in the pilot.

The actors who portray all of these characters grew very close over the years. While to some fans' dismay, none are together IRL, all are very supportive and friendly with their onscreen lovers.

These two actors continue to play their PLL characters

If you're missing Pretty Little Liars, there's a way to get more of it right now! Well, sort of. Pretty Little Liars: The Perfectionists is a spinoff set in the same universe. Pieterse and Parrish reprise their characters, who are now faculty at a university in a different town. It's not the same, of course, but The Perfectionists was created by King, and is, similarly, a dark mystery.

Could there be a PLL reunion in the future?

While The Perfectionists is a mini-reunion of sorts, the question remains: Will all of the Liars ever get back together on screen? For now, there hasn't been any serious talk of that, but it certainly seems possible that Ali and Mona would someday call upon their old friends to help them out.