Prince Charles Bouncing Prince Louis on His Knee at the Platinum Jubilee Has Fans Gushing
Prince Charles is usually stoic, so fans were delighted to see him bouncing his grandson, Prince Louis, on his knee.
The British royal family provides a seemingly endless source of entertainment for followers worldwide. Earlier this month, Queen Elizabeth II's Platinum Jubilee festivities honored the monarch's 70-year reign. Nearly every royal family member was on hand to celebrate the occasion, including the queen's son, Prince Charles. As the next in line for the throne, he's usually stoic and stern, so fans were thrilled to see the straitlaced royal bouncing his young grandson, Prince Louis, on his knee.
Prince Charles bounced a giggling Prince Louis on his knee during the Platinum Jubilee Pageant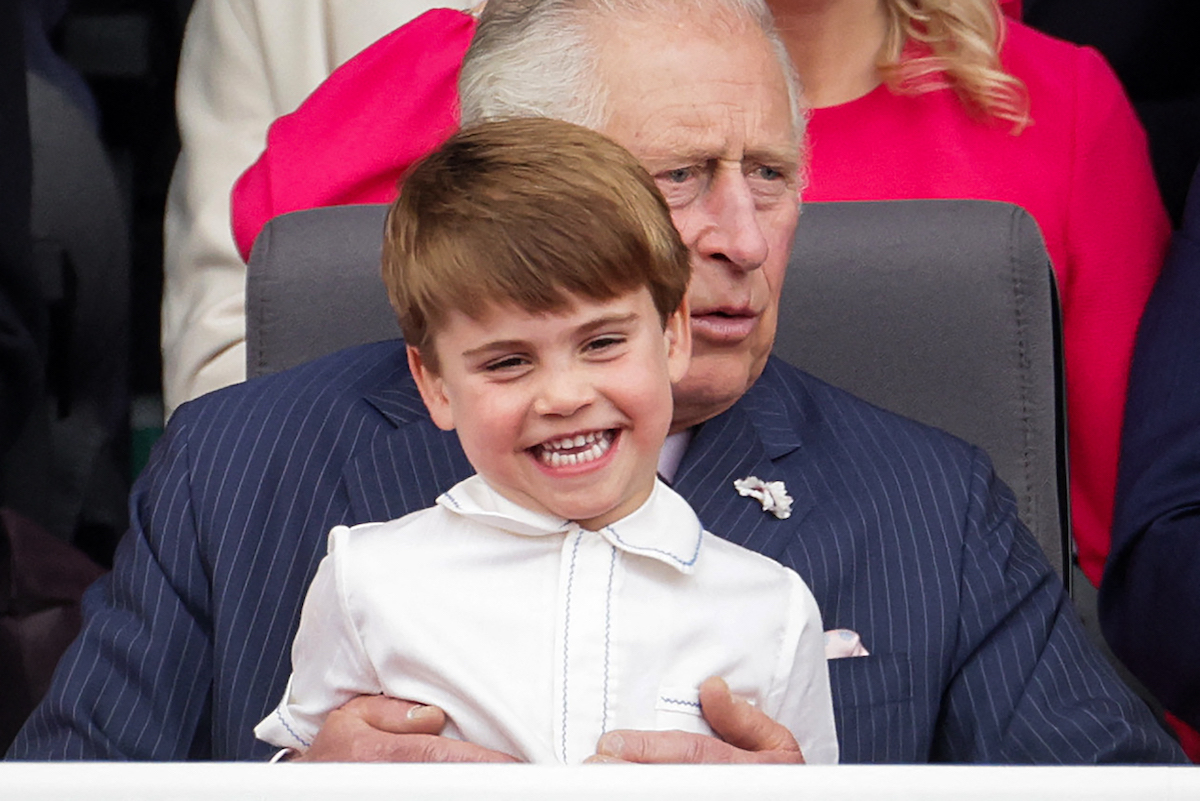 The Platinum Jubilee Pageant was a special event during the queen's Platinum Jubilee weekend. Every high-ranking royal was there, including Prince Charles, Prince William, Kate Middleton, and the couple's three young children, George, Charlotte, and Louis.
While countless onlookers enjoyed the celebration, William and Kate's young children sometimes appeared impatient with the proceedings.
According to Fox News, the couple's youngest son, 4-year-old Prince Louis, struggled to sit still. The child bounced in his seat, made funny faces, and stuck his tongue out. At one point, he even tried to "shush" his mother by placing his hand over her mouth.
Finally, the young royal decided he'd had enough of being controlled by his parents and hightailed it to where his grandfather, Prince Charles, was sitting.
What did royal fans say about Prince Charles' sweet moment with Prince Louis?
Prince Louis seemed happy and content on Prince Charles' lap, where the senior royal bounced his young grandson on his knee. The moment was captured by royal family photographers and shared on Prince Charles' official Twitter page.
Fans sounded off in the comments about the sweet moment. One wrote, "LOVE the image of Prince Louis with his Grandpa. Just wonderful."
Another replied, "Another beautiful moment of Pa Charles and Louis to treasure."
There was a lot of love for the royal family's younger generation on Twitter, where one user noted, "What a lovely photograph. Prince Louis is a star, and I predict years of fun ahead (with Prince George and Princess Charlotte too)."
Several fans said the moment was their favorite of the Platinum Jubilee festivities, and many praised Prince Charles for maintaining a close relationship with his grandchild.
Charles hasn't always been a popular royal figure
For members of the royal family, the viral moment of Prince Charles and Prince Louis is especially inspiring considering all the love the elder royal received from social media in the photo comments.
Prince Charles has not historically been the most popular royal family member. Following his 1996 divorce from Princess Diana, his popularity was at an all-time low, with many slamming his romance with Camilla Parker Bowles.
Over the years, some have expressed their desire for Prince William, Prince Charles' son, to take the throne instead of his father. Still, as Prince Charles has aged and his devotion to his family has strengthened, observers seem to have softened their position on the controversial royal.