Why Prince Was Concerned About Performing During George Harrison's Rock & Roll Hall of Fame Induction
George Harrison and Prince were both inducted into the Rock & Roll Hall of Fame in 2004. However, the producer and director of the ceremony, Joel Gallen, asked Prince if he wanted to perform twice that night. Once during his own induction and a second time during George's. Only one performance made history. It was during George's induction that Prince truly melted the audience's faces during an unexpected 3-minute solo that's become one of the most famous moments in the Rock & Roll Hall of Fame's history.
Prince's iconic solo almost didn't happen for a couple of reasons, though. Initially, George's widow, Olivia Harrison's was against His Purple Highness performing during her late husband's induction. But Prince himself could have stopped the performance from ever happening too–if he'd let his ego get in the way.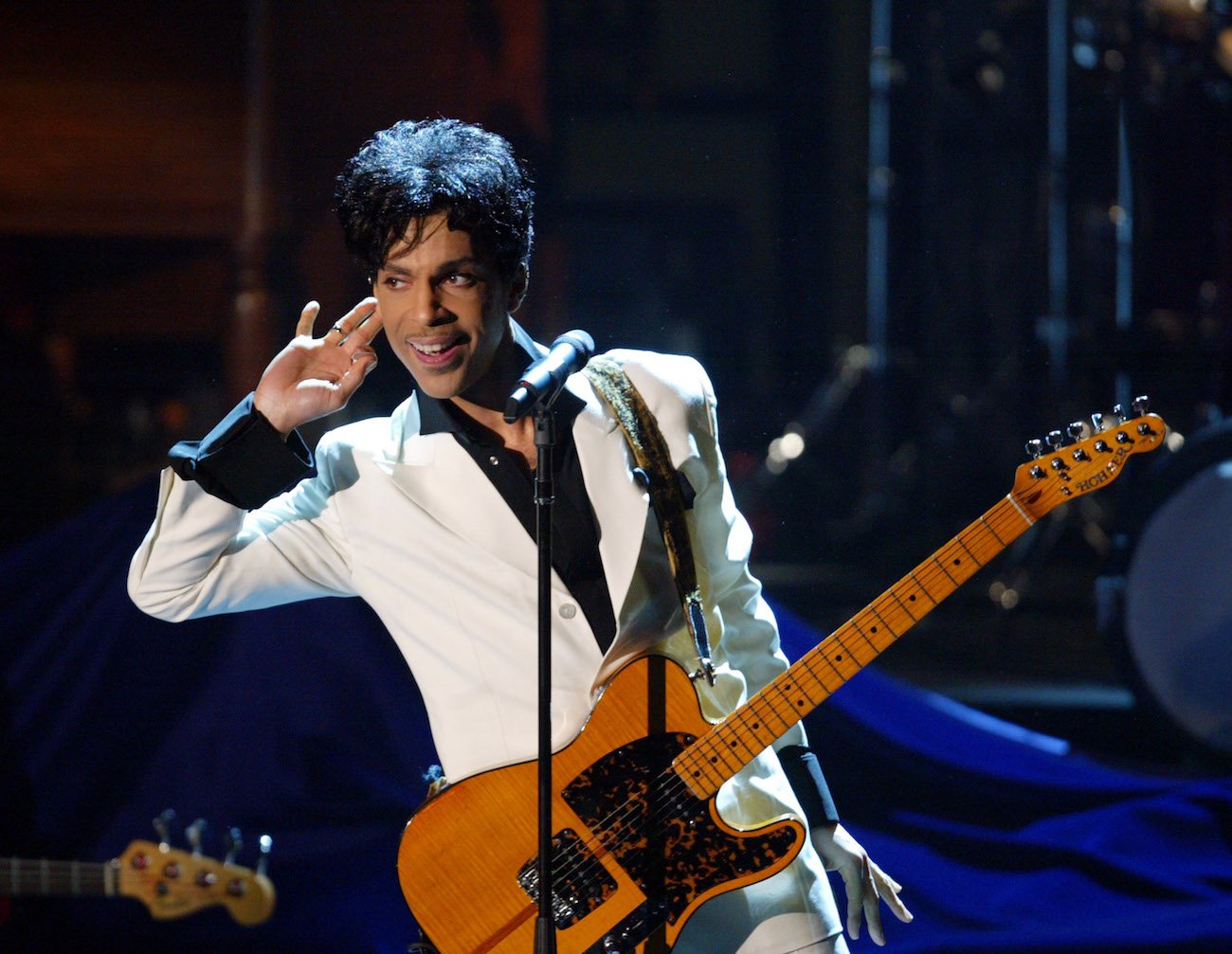 Prince had to think about joining George Harrison's Rock & Roll Hall of Fame induction
The producer and director of the Rock & Roll Hall of Fame induction ceremony, Joel Gallen, wrote a letter to Prince asking if he'd consider performing during George Harrison's induction. It was Gallen's "dream" to have Prince come on stage to do the guitar solos in "While My Guitar Gently Weeps."
However, Prince was his characteristic self when deciding to take Gallen up on his offer. "I got a call from one of Prince's guys, a week or two later, saying that Prince was in L.A. and he wanted to have a meeting with me," Gallen told the New York Times. "He said, 'You know, I got your letter, I liked the idea, I'm going to listen to the song a few times, and I'll get back to you.'
"A couple weeks later his security guy called me again, and said, 'Prince would like to meet with you again.' He said he definitely wants to do the song, he's definitely going to do it."
However, there was still much to talk about concerning the performance. Prince was still a little worried about how it would come across if he showed up on that stage. He wasn't going to do it if he wasn't given a full artistic license.
Prince was concerned about who'd 'own' George's Rock & Roll Hall of Fame induction performance
Once Prince decided to go ahead with the performance, Gallen said he was still concerned with one thing. Who'd "own" the performance?
"Both in the initial meeting and the second meeting, he did talk a lot about what we're going to do with the music, who's going to own the music — he was concerned like, if he does this, who's going to own the performance? He wanted to make sure that his performance was not exploited without his knowledge," Gallen said.
This seems like a totally Prince-like thing to worry about. Considering this was a tribute performance for George, no one had their egos in mind. Tom Petty, Jeff Lynne, and all the other guys performing were only doing it for George. It wasn't about anyone else. But Prince didn't want to be taken advantage of in any way. They wanted him to play, so he'd play what he wanted and for however long too.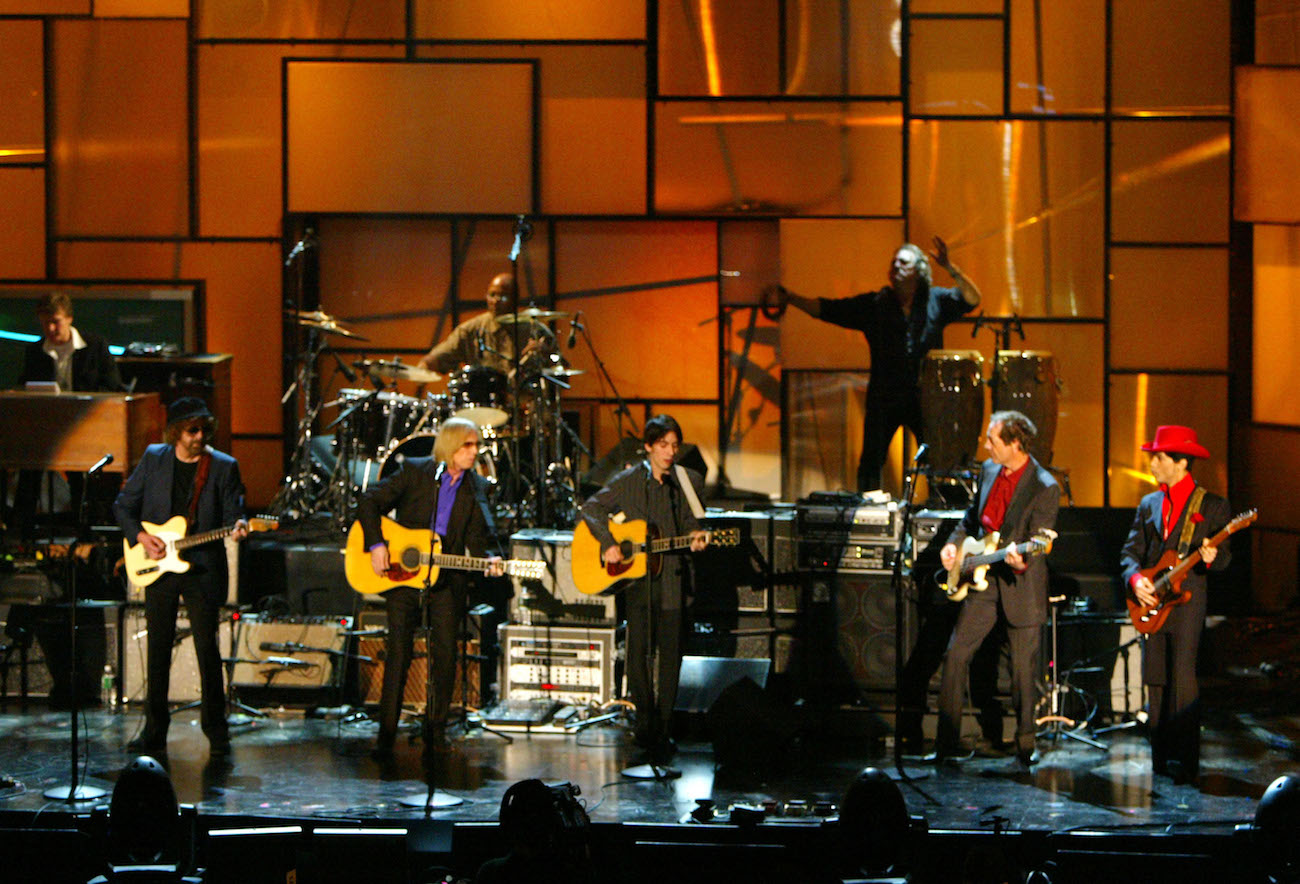 Prince 'half gased" it during rehearsals for added shock value during the performance
Prince hardly rehearsed with Petty and the rest. He turned up for his induction rehearsal and told Gallen he'd maybe return for George's. The Purple One did show up, but that doesn't mean he actually rehearsed. Prince stood idly by and let another guitarist take all the guitar solos, which made Gallen worried.
"They finish, and I go up to Jeff and Tom, and I sort of huddle up with these guys, and I'm like: 'This cannot be happening. I don't even know if we're going to get another rehearsal with him. [Prince]. But this guy cannot be playing the solos throughout the song,'" Gallen said.
"So I talk to Prince about it, I sort of pull him aside and had a private conversation with him, and he was like: 'Look, let this guy do what he does, and I'll just step in at the end. For the end solo, forget the middle solo.' And he goes, 'Don't worry about it.' And then he leaves. They never rehearsed it, really. Never really showed us what he was going to do, and he left, basically telling me, the producer of the show, not to worry."
Except for Dhani, who saw what the artist was planning, none of them knew that Prince had just fooled them into thinking he wasn't going to play the solos. He later told a friend that he "half gased" it during the rehearsals so he could step on the gas fully during the show and surprise the audience and everyone on stage. It might have felt tense to Dhani, but Prince's plan worked–his 3-minute solo became one of the most iconic moments in the Rock & Roll Hall of Fame history.