Prince Harry and Meghan Markle Accused of Cashing In on Royal Titles
The recent moves by the Duke and Duchess of Sussex have critics raising their brows.
The royal family and scandals go together like fish and chips, and as pop culture explorations like The Crown have made clear, interpersonal turmoil has long been a part of the family dynamic. Even with a history of scandals including divorces, affairs, and bitter feuds, the latest tensions have reached a boiling point that has captured the attention of people across the globe. 
When Meghan, Duchess of Sussex and Prince Harry announced they'd be stepping away from their royal duties to live as private citizens with more autonomy and privacy, it caused a collective gasp on both sides of the pond. While that seemed like the peak of the fervor, things have actually gotten increasingly more complex and scandalous over time.
After the Oprah interview that brought all the tensions back to the surface, Harry and Meghan are facing additional scrutiny, and now many are accusing the pair of trying to cash in on their royal titles. 
Meghan Markle and Prince Harry faced intense scrutiny throughout their relationship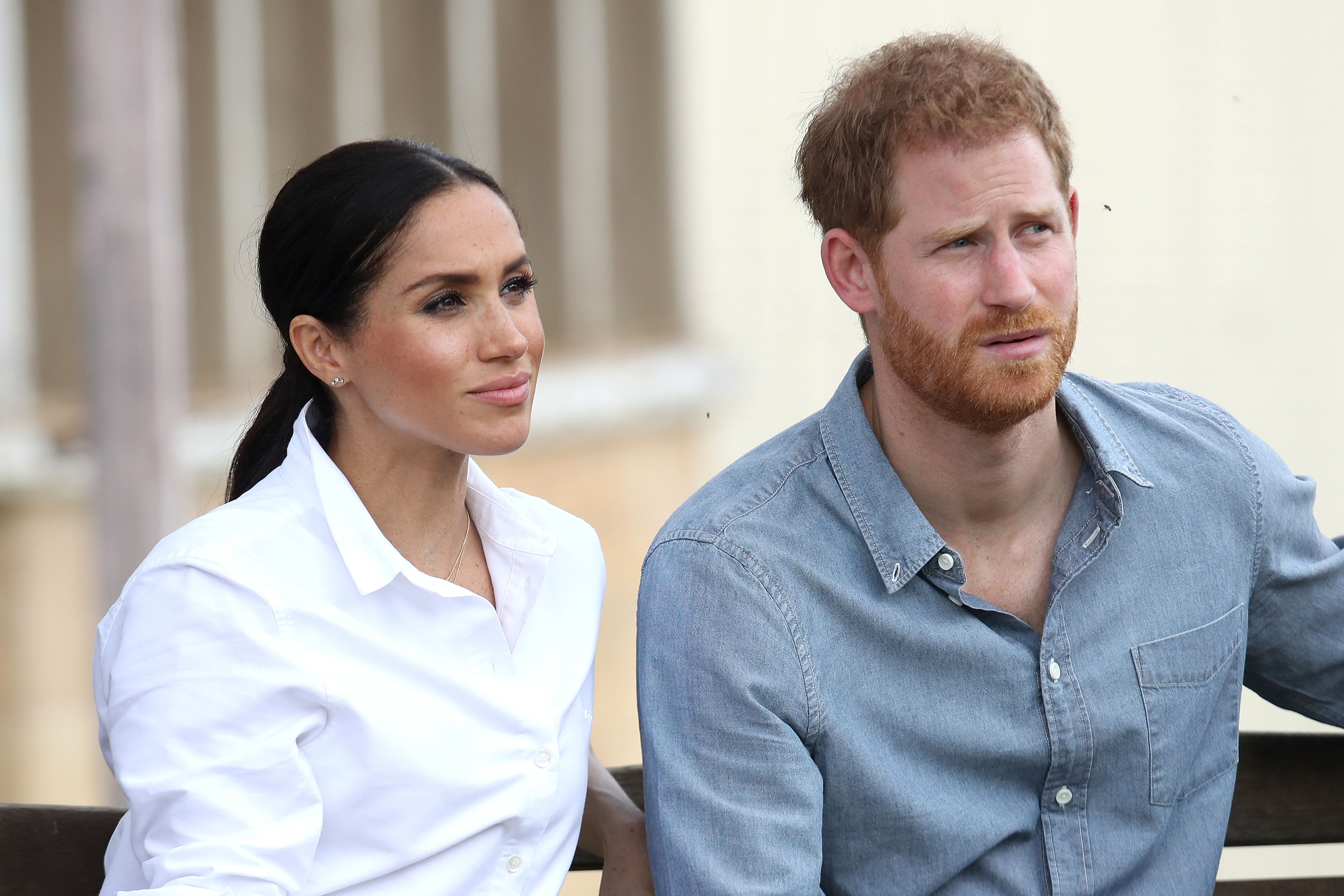 When it became public knowledge that Meghan, an American actor best known for her work on Suits, and Harry, the youngest son of Princess Diana and Prince Charles and distant heir to the throne, were dating, the news took over headlines across the globe. It didn't take long, however, for some of that coverage to turn toxic. 
Meghan's race became a sensationalist point of discussion that fed into racist stereotypes, and many saw her treatment by the press and public alike as heavily rooted in a history of racism. She faced intense scrutiny for every move she made, and everything from the clothes she wore to the way she held her baby became a chance for the press to rip her apart.
Meghan and Harry also faced criticism for not being willing enough to share personal moments of their lives. When the racist coverage is combined with the calls for even more access to the couple and their family, a pattern emerges that makes their desire for privacy more understandable. 
'Megxit' left Meghan Markle and Prince Harry at odds with family
It became clear that Meghan and Harry were not happy with their situation, and more and more time was devoted to exploring the apparent divide between them and the other members of the royal family. The headlines particularly focused on pitting Harry against his brother Prince William and Meghan against her sister-in-law Catherine, Duchess of Cambridge. As Reuters reports, things got particularly tense when the couple welcomed their first child, son Archie, in May 2019. 
After Meghan got embroiled with a lawsuit against a British tabloid, the couple shocked the world by announcing they'd be stepping back from their royal duties in January 2020. Shortly after, they renounced their royal roles, salaries, and "Royal Highness" titles. By March 2020, they had relocated, eventually settling in California.
In February 2021, the couple won a pair of pending legal battles with the press and then announced a plan for their in-depth interview with Oprah. When that interview aired in March 2021, the scandal grew ever deeper as the couple made it clear that the racism and mistreatment came from within the royal family as well as the press. 
Are Meghan Markle and Prince Harry cashing in on royal titles?
At this point, it seems clear that Meghan and Harry are not just taking a temporary break from the royal family as they re-prioritize their privacy. The couple has announced the impending birth of their second child, and Harry has taken on a high-profile job at a startup called Better Up.
When the CEO was asked whether Prince Harry got the job because of the positive PR of having a Prince involved, he admitted, "we'll take the press. It certainly helps." However, he said Prince Harry got the job because of his abilities. 
Meghan also has an upcoming book where she's credited as "Meghan, Duchess of Sussex" on the cover, according to Best Life. This, coupled with Prince Harry's high-profile job, has left some critics incensed that the pair would turn away from royal duties while still benefiting from and using their royal titles.
"Many people don't understand why, if Meghan and Harry were so determined to leave royal life, they insist on using their titles in all their projects," said a source to BestLife. "That doesn't sit right with many people in the U.K. who see it as profiting from an institution they no longer contribute to, but in America, royal titles or not, they are the most famous couple in the world and that translates into huge stardom."
While they lost the "Royal Highness" titles in their negotiated exit, they still remain the Duke and Duchess of Sussex. Therefore they have every right to use their royal names.
Whether it's a cash grab to use those titles or not is a matter of debate, but it would be silly to pretend that their association with the royal family is in some way hidden. They're getting the association — for good or for ill — either way.