Prince Harry Says Archie and Lili Are Behaving Like He and Prince William Did: 'I Get It'
Royal repeat. In an interview ahead of Spare's release, Prince Harry remarked his and Meghan Markle's children, Archie Harrison Mountbatten-Windsor and Lilibet Diana Mountbatten-Windsor, behave like he and Prince William did as kids. Ahead, what the Duke of Sussex had to say about his "sibling rivalry" with the Prince of Wales and understanding "how irritating the younger sibling can be." 
Prince William 'didn't really want to know' Prince Harry when they were in school, Prince Harry claims in 'Spare'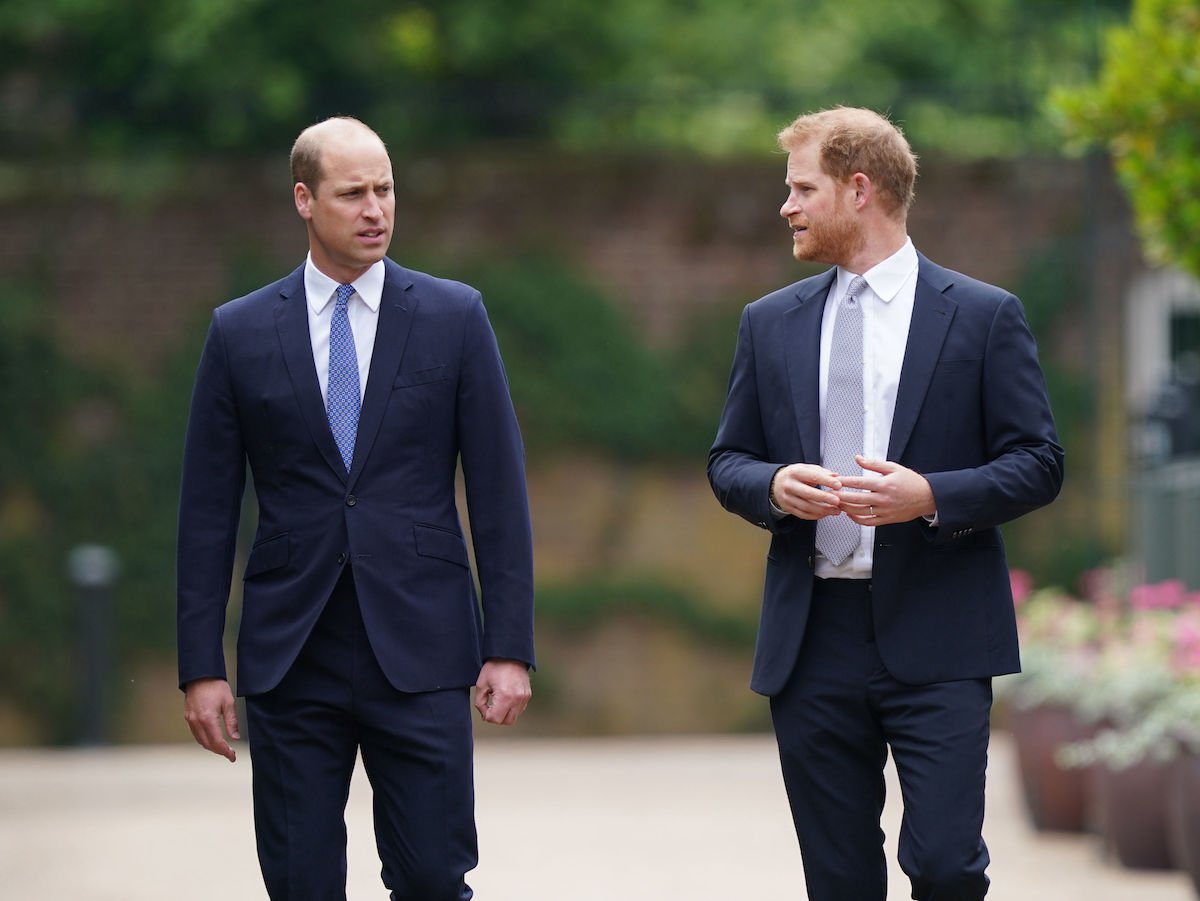 Among the claims made about his brother in Spare is one where Harry alleges William rejected him when they were both students at Eton College. A storied boarding school near Windsor, England, Harry and William attended Eton together for a period of time as kids. 
However, as Harry told his longtime friend and journalist Tom Bradby in a Jan. 8 ITV interview, William didn't want to have anything to do with him at school. 
"The older-younger sort of sibling rivalry as such — now is only really becoming, uh, I guess real to me," he said (via ET Canada). "Like, so, OK. For instance, I talk about the relationship between William [and] myself at Eton. Yeah. And the fact that he didn't really want to know me."
"And,you know, as a younger brother, that sucks," he explained. "It's like, come on. Like you left me at Ludgrove, and now I'm here at Eton. Like, hey, let's, now we're the same school, let's go." 
Harry noted William "didn't want anything to do with" him, which "hurt at the time."
Prince Harry says Lili is 'obsessed' with Archie, age 'gap' is 'very similar' to him and William
Harry then opened up about his and Meghan's children; Archie, 3, and Lilibet, 1. "But now, well, the gap between me and William was very similar to Archie and Lili," he told Bradby. 
The Duke and Duchess of Sussex welcomed Archie in May 2019 and Lili in June 2021, making them almost exactly two years apart in age. 
Meanwhile, the age difference between William and Harry is slightly wider. King Charles III and Princess Diana became parents when William was born in June 1982. They welcomed Harry two years later, in September 1984, making the brothers approximately two years and three months apart in age. 
Harry continued, sharing how his and Meghan's daughter is "obsessed" with her older brother. 
"To see Lili obsessed with Archie and Archie like, 'No, no, Lily, I need my space. I need my space now.' I get it," he said before adding, "I get how irritating the younger sibling can be to the older sibling."
"But in the moment of the time, I didn't, I didn't really grasp that,"  he added, referring to his school experience with William. "I didn't really realize it."
"But yes, I've always loved my brother," Harry continued. "And I think what would be quite shocking or surprising to people is that after our mother died, we were on different paths. Right? Two individuals who experienced a very similar traumatic experience, but dealt with it in two very different ways."
Prince Harry hasn't talked to Prince William in 'a while'
In a Jan. 8 60 Minutes interview, Harry told journalist Anderson Cooper he hasn't spoken to William in "a while."   
"Do you speak to William now? Do you text?" the CNN anchor asked (via CBS News). "Uh, currently, no. But I look forward to — I look forward to us being able to find peace," Harry replied. 
The Duke of Sussex also shared the situation with their father, King Charles III, isn't much different.  "Do you speak to your dad?" Cooper asked. "We aren't — we haven't spoken for quite a while," Harry replied. "Um, no, not recently."
Queen Elizabeth II's funeral in Sept. 2022 marked the last time Harry stepped out publicly with his father and brother.