Prince William Reportedly Requested Not to Walk Beside Prince Harry at Prince Philip's Funeral
Prince William and Prince Harry recently reunited in the United Kingdom for their grandfather Prince Philip's funeral. The royal brothers were in the same place for the first time in more than a year.
But, according to insiders, things are still not well among the once-close siblings. William actually requested not to walk beside his younger brother during the funeral procession.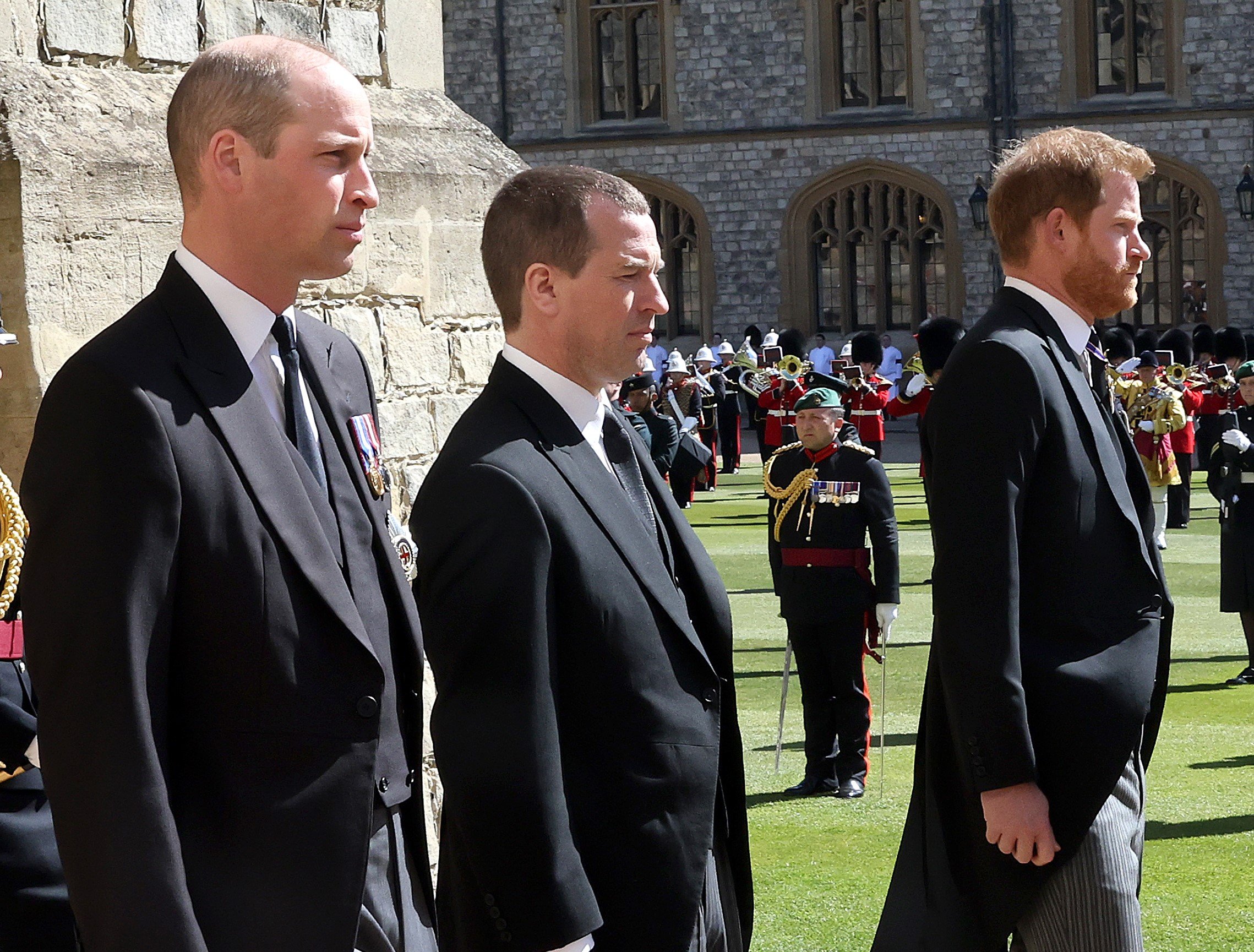 Prince Harry and Prince William's cousin walked between them
One year after Megxit — and just weeks after Harry and Meghan, Duchess of Sussex's bombshell interview with Oprah Winfrey — the youngest son of Prince Charles returned to the UK to be with his family after the Duke of Edinburgh passed away at the age of 99.
As the family walked behind Prince Philip's coffin on Saturday, April 17, William and Harry were separated in the procession by their cousin Peter Philips, the son of Princess Anne.
According to The Mail on Sunday, the procession was a part of "a great deal of frostiness" that Harry faced from his family during his first trip home to the UK.
Some royal family members failed to acknowledge the Duke of Sussex
Insiders say that Prince William personally asked not to walk side by side with his brother. Princess Anne and Prince Edward — Queen Elizabeth's only daughter and youngest son — didn't even acknowledge Harry. Neither did Edward's wife, Sophie, Countess of Wessex.
"As far as the others are concerned, there is a deep sense of protection towards the Queen and resentment towards Harry," a source explained. "There is little sympathy for him after what he and Meghan said on Oprah … They are still very upset."
Prince William and The Firm believe Prince Harry 'behaved appallingly'
In Harry and Meghan's tell-all interview, the couple claimed the royal family was racist. The Duke and Duchess of Sussex said there were conversations about their son Archie Harrison's skin color. The Sussexes also claimed their son was denied a royal title because of his mixed-race.
According to insiders, the royal family put on a "united front for the Queen" at her husband's funeral. But, they all think that Harry has "behaved appallingly."
The only royal to show any sympathy toward Harry is reportedly Prince Andrew. Of course, he's been banished from royal duties thanks to his relationship with Jeffrey Epstein and Ghislaine Maxwell.
The royal brothers spoke after the funeral
After William and Harry walked separately to St. George's Chapel in Windsor, they sat opposite each other inside. William sat with his wife, Kate, Duchess of Cambridge. Harry, however, was alone because Meghan is very pregnant and stayed home in California.
The siblings rarely made eye contact. But, they finally spoke after the service, to the relief of all who were "walking on eggshells" over how the reunion would go down.
Lip readers claim that William told Harry that their grandfather's funeral service was "great." To which Harry replied, "It was as he wanted it." Later, William reportedly told Harry, "Absolutely beautiful service, ah, the music."
According to Page Six, the royal siblings also spent a couple of hours together behind closed doors with their father, Prince Charles.
Prince William and Prince Harry talking is a 'good sign,' says royal expert
Funerals are often a time for reconciliation. And, a lot of people wanted to see that happen for William and Harry. According to royal expert Eve Pollard, the fact William and Harry exchanged words was a "good sign."
"They were talking, they were possibly overcome by emotion. They were talking — and that's got to be a very good sign. Let's hope that they sort their recent troubles out because the Queen needs them both," Pollard said.