Prince William's 'Final Straw' With Harry Came After Oprah Interview
Internal turmoil within the British royal family is almost a tradition unto itself. Many of the scandals that have embroiled the royals over the years have involved some kind of interpersonal dispute between family members.
Prince Charles' divorce from Princess Diana and subsequent marriage to Camilla, Duchess of Cornwall is still causing gossip decades later. Queen Elizabeth II's younger sister, Princess Margaret, was nearly ousted from the family entirely when she fell in love with a divorced man, but she chose to cut off the relationship rather than lose her standing. 
In more recent years, rumors about the relationship between Catherine, Duchess of Cambridge and sister-in-law Meghan, Duchess of Sussex have been the source of plenty of spilled ink. These speculations and spates of gossip have been fueled even more by Meghan and Prince Harry's interview with Oprah, in which they revealed an unprecedented level of detail about the interpersonal dynamics that contributed to their decision to step down from royal duties. 
Now, a lot of the attention has turned to Prince Harry's relationship with big brother Prince William, and it doesn't look good for the once-close brothers. 
Prince William and Prince Harry grew up in the spotlight
Prince William and Prince Harry had the unique — and often unfortunate — circumstances of growing up in the spotlight, many times at the center of international scandals. Even before their mother's tragic and untimely death, the boys were often the focus of stories about their parents' divorce and personal tension. 
When Princess Diana admitted in a tell-all interview that she had had an affair with a man her children knew, it was particularly impactful to Prince William. It would only be a few years later that Princess Diana would die in a car accident while being aggressively pursued by paparazzi, an event that shocked the world and forever changed her children's lives. 
Adding even more complications to their early years was the way in which their relationship to the throne shaped the way they were perceived. Prince William, as the eldest, is almost certainly going to ascend to the role of King, but Prince Harry almost certainly will never reach that position. Reports have surfaced that suggest Prince Harry's entire upbringing was given less attention than his older brother's because of these different roles. 
Prince William and Prince Harry have had tension in recent years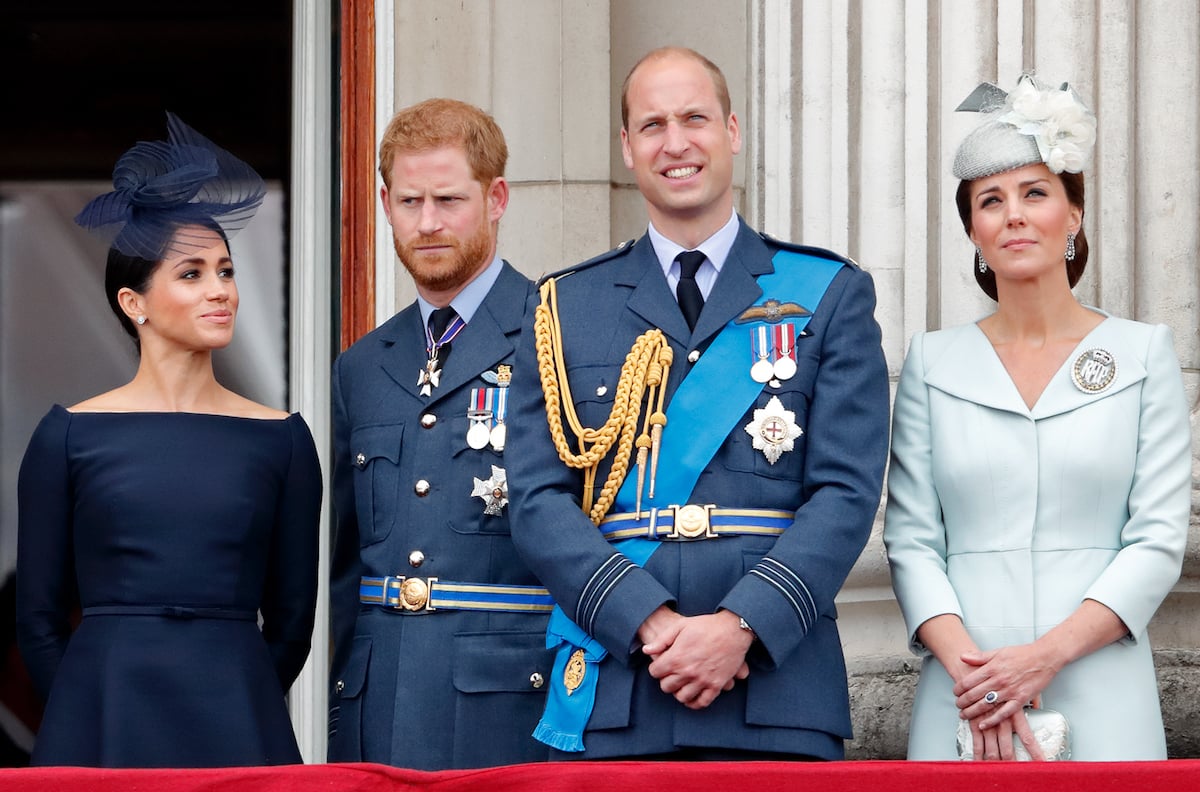 The two boys share the unique experience of being royal family members and sons of Princess Diana, but their upbringings were very different. Because of this, their adulthoods have been shaped by a tension between them that has grown more and more noticeable in recent years. 
Even before Prince Harry made the momentous decision to step away from his royal duties, his relationship with his brother was strained. Reports frequently focused on the "feud" between the two that became more and more common after Prince William's marriage to Meghan. Sometimes, these stories were likely sensationalized for attention, but it's clear that there really is a distance between them that continues to grow. 
Prince Philip's funeral tested the brothers' relationship
As Prince Philip was laid to rest in April 2021, Prince Harry returned to the United Kingdom after moving to the United States in order to attend the funeral. Knowing that the two brothers would be in close proximity gave many hope for a reconciliation, but it's unlikely to be that simple.
While, as Best Life reports, Prince Harry did exchange a few words with his brother as they said their goodbyes to their grandfather, recent months have widened the rift between them. 
Prince William and Kate have been particularly icy about the Sussexes following the interview with Oprah, but it was additional details shared by Gayle King that really did it for Prince William. A source explained that, "when details of private family conversations were leaked to Gayle King, it was the final straw." 
Only time will tell how the two brothers will move on, but it seems as if the distance between them is far from closed.