Why Prince William and Kate Middleton are Reportedly Looking to Send Prince George to a New School
Prince William and Kate Middleton are reportedly looking at new schools for Prince George — why are they looking to switch schools for the young royal?
Much speculation is swirling regarding a potential educational transition for eight-year-old Prince George, and what school he will attend this September. The transition comes after a recent announcement from Queen Elizabeth that has caused many changes in the royals' lives.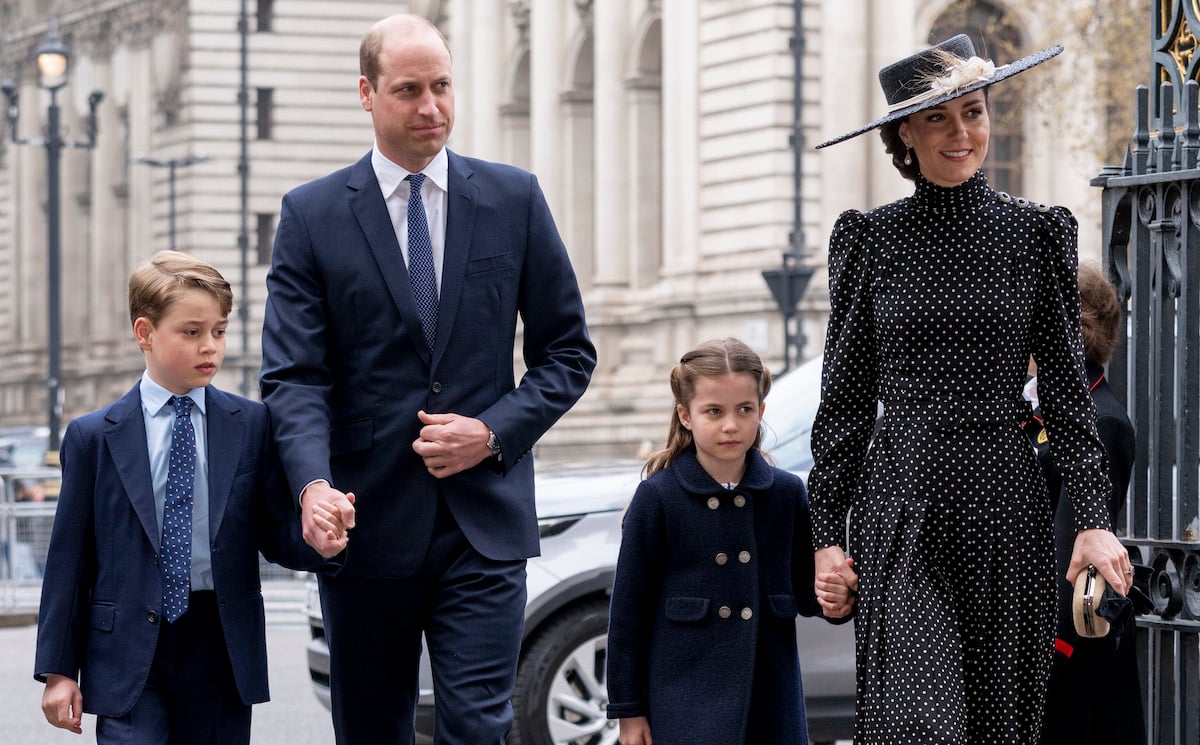 Where does Prince George currently go to school?
Currently enrolled at the private Christian school Thomas's Battersea in London, Prince George (whose nickname is George Cambridge while at school) has attended the school since 2017 and was recently joined by his sister, Princess Charlotte, in 2019.
Originally founded in 1971, the school is located in the heart of London and, in addition to a rigorous academic program, offers many extracurricular activities like art, ballet, computing, drama, foreign languages, music, and P.E. Other clubs include fencing, pottery, karate, and LEGO, along with ventures into environmentalism—which led to a particularly annoying school experience for Prince George recently. 
In an interview with OK! Magazine, Prince William shared that "I didn't realize, but talking to him the other day he was already showing that he was getting a bit confused and a bit sort of annoyed by the fact they went out litter picking one day and then the very next day they did the same route, same time and pretty much all the same litter they picked up back again." It seems young Prince George may share in his parents' passion for environmental preservation and care.
Prince George will be changing schools due to the royal family's upcoming move to Windsor
Prince George's school change comes in the wake of the Duke and Duchesses' announcement that they are planning to move to Windsor this summer to live closer to the queen who, after nearly 70 years spent living at Buckingham Palace in London, has permanently relocated to Windsor Castle.
The queen first moved into Windsor Castle at the onset of coronavirus (COVID-19) and has recently declared that she has no intention of returning to her long-time London home. This has led Prince William and Kate Middleton to reassess the practicality of their beloved country home, Amner Hall, in Norfolk, in favor of a location closer to Windsor Castle, which is located 25 miles west of London.
What schools are Prince William and Duchess Kate considering for Prince George?
As highly-involved parents, Kate Middleton and Prince William are keen on keeping Prince George in a school environment that mirrors his home life—that is to say that they seek a school that will offer George a relatively normal academic experience. This sense of normalcy was the reason William and Kate previously had him enrolled in Thomas's Battersea, where the young Prince George has been treated much like the rest of his classmates.
According to DailyMail, the Duke and Duchess look to be in favor of the co-educational prep school Lambrook, located in nearby Ascot, where "weekly or 'flexi' boarding is on the cards." Other contenders include Prince William's old school Ludgrove and St. Andrew's in Pangbourne, the school Kate attended as a child. 
Despite news of Prince George's upcoming educational plans, it seems young Princess Charlotte will remain at Thomas's Battersea for the time being, though she'll likely miss having her older brother around.