Prince William Once Told Princess Diana He 'Hated' the Idea of Being King, So Prince Harry Said He Would Do It
Prince William is second in line to the throne and, as long as things go according to plan, he will one day become the King of the United Kingdom. There is little doubt that William is ready to wear the crown, but there was a time when he reportedly "hated" the idea of being King. His younger brother, Prince Harry, was very keen on the idea of sitting on the throne and wasn't afraid to tell their mother, Princess Diana, all about it.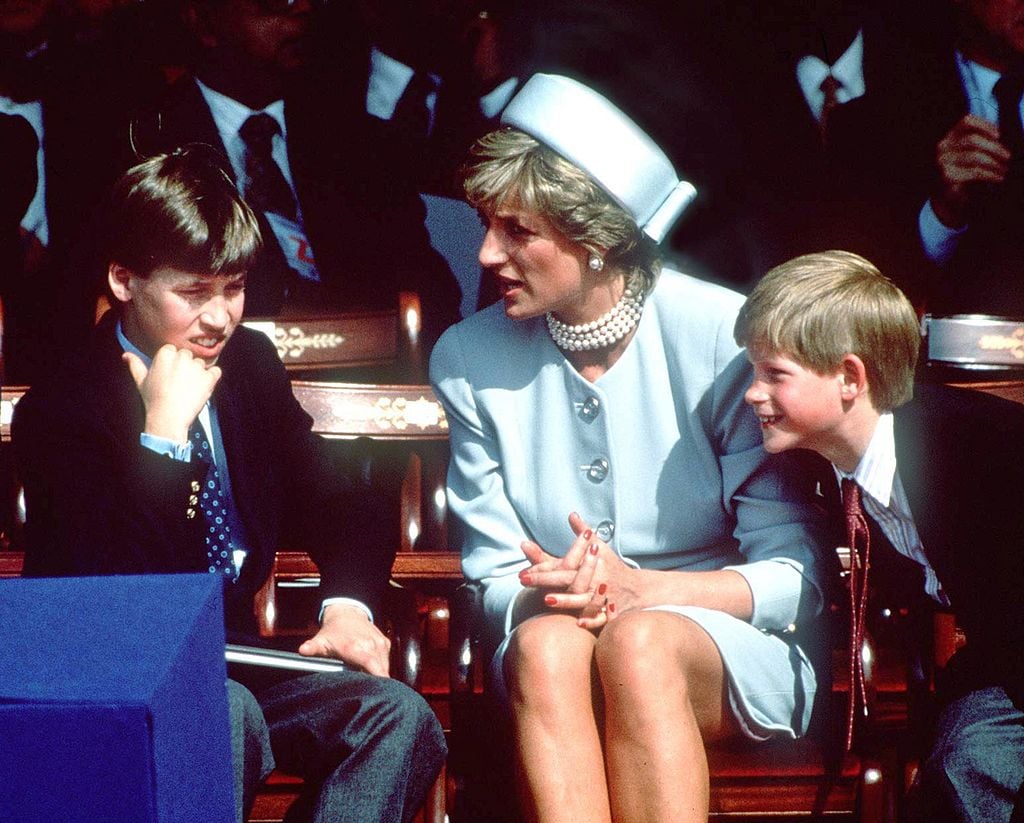 Prince William was groomed to be King
Since the day he was born, the royals have done their best to prepare William for the day he becomes King. Diana may have wanted to give William a normal upbringing, but she and Prince Charles still had to ensure he was ready to wear the crown.
To that end, Queen Elizabeth mentored William at a very young age, exposing him to the ins and outs of running the royal family. According to Harpers Bazaar, William developed a very close relationship with Queen Elizabeth in those days and often helped her with royal duties when he was a teenager.
"There has always been a special closeness between William and the Queen, and she has taken a particular interest in him," royal expert Robert Lacey explained. "When William became a teenager, she would have him at Windsor Castle and would open the state boxes and guide him through the papers."
William's training ramped up after he graduated from college. In 2009, he reportedly took part in a two-year program that Queen Elizabeth and Charles designed. The program included lessons from experts on the constitution plus some internships with members of the British government.
Given how William continues to be held in high esteem by the public and seems genuinely ready for the challenges of being King, there is no denying that the royals did a good job training him up.
But when William was still a young boy, he was reportedly against the idea of sitting on the throne and even told his parents that he wanted nothing to do with the crown.
William told Princess Diana that he 'hated' the idea of being King
In a recent interview, royal correspondent Jeremy Paxman shared an interesting story about William's attitude towards the throne when he was a young boy. According to Express, Paxman revealed that William once told Diana, Princess of Wales, that he did not want to be King when he grew up.
"We talked about our children, and [Princess Diana] said William often told her that he didn't really want to be king, and then Harry would say, 'If you don't want the job I'll have it,'" Paxman revealed.
William, of course, was very young when he commented on the throne and has since embraced his future role as the King of the United Kingdom.
In fact, William and his wife, Kate Middleton, have increased their royal responsibilities in recent years in preparation for the day his father, Prince Charles, takes the crown. This includes taking part in video calls amid the coronavirus pandemic and delivering food and essential items to people in need.
Harry, meanwhile, has officially left the royal family and is now living in Los Angeles with his wife, Meghan Markle. Despite his departure, he remains sixth in line to the throne and will never lose his place in the line of succession (though he will continue to get bumped down once William's children start families of their own).
Prince William and Kate Middleton are taking a page out of Princess Diana's book
Speaking of increasing their royal duties, William and Kate, Duchess of Cambridge, have quickly become the new faces of the royal family. While most of the royals have been hunkering down due to the pandemic, the Cambridges are already making plans for their first big public event.
According to Daily Mail, royal author Nigel Cawthorne believes William and Kate will follow Diana's lead by shaking people's hands during their big return to the public spotlight. The couple reportedly wants to show that the virus is unlikely to be transmitted in this manner. Cawthorne argued that the move is similar to what Diana did with the AIDS epidemic when she shook people's hands during a tour of Africa.
"Ironically, at the time, shaking hands couldn't transmit the virus, and their mother made a point of doing so to counter the stigma and spread comfort," Cawthorne shared. "I think her sons will seek to do the same and show how life can resume normality, while sticking to the safety rules on transmission further to the latest guidance…"
Prince William and Kate have not commented on the rumors surrounding their first public engagement. The government in the UK is looking to ease restrictions in the coming weeks but it is still unclear when the royals will return to action.