Princess Anne's Second Wedding and Divorce Broke Royal Tradition in Major Ways
Princess Anne may be a senior royal, but we don't always hear as much about her as we do the other family members. Even so, the princess has had to follow the long list of rules put in place for the British monarchy. In fact, as the only daughter of Queen Elizabeth II, she has had to adhere to these rules for pretty much her entire life. Oddly enough, the royal, who is 14th in line to the throne, does tend to march to the beat of her own drum every now and again. While we know that some family members, such as Kate Middleton and Meghan Markle, tend to break rules a little more often, it turns out that Princess Anne's royal wedding and divorce broke tradition in major ways.
Princess Anne's wedding with Captain Mark Phillips was highly traditional
Princess Anne's first wedding with Captain Mark Phillips followed tradition in every way imaginable. Town & Country reports that the groom in the princess's first marriage was an Olympic equestrian and military captain. Having attended the Royal Military Academy Sandhurst, he married the queen's only daughter in 1973, and they went on to have two children together, Zara and Peter.
So, what was the wedding like? After meeting and falling in love thanks to their shared love of horses, the two had a lavish wedding that was watched by an estimated 500 million people. They followed royal protocol just as much as anyone would expect, with the bride wearing a long-sleeved, classic high-necked gown, as well as Queen Mary's fringe tiara, which was also worn by her mother on her own wedding day years earlier.
The nuptials took place at London's Westminster Abbey, with the wedding rings being made from the traditional Welsh gold, just like most other royals. After the ceremony, the newly married couple continued on with royal tradition by heading to Buckingham Palace for an appearance on the balcony and a celebratory lunch hosted by Queen Elizabeth II.
Royal divorce: Princess Anne and Mark Phillips ultimately split
It turns out that Anne and her husband, Phillips, had problems early on, and ultimately, the marriage ended in divorce. After they separated in 1989, the news was leaked that Phillips had been carrying on an affair and had a child as a result.
It was three years after the separation that they officially ended the marriage, although they remained on somewhat good terms for the sake of their children. According to Scribol, it certainly didn't go unnoticed that Phillips wasn't all that popular with the rest of the royal family. He was noticeably missing from many royal events during the course of his marriage to Princess Anne, and he had earned the somewhat unflattering nickname "Foggy" from his brother-in-law and future king, Prince Charles.
Princess Anne's second wedding defied royal tradition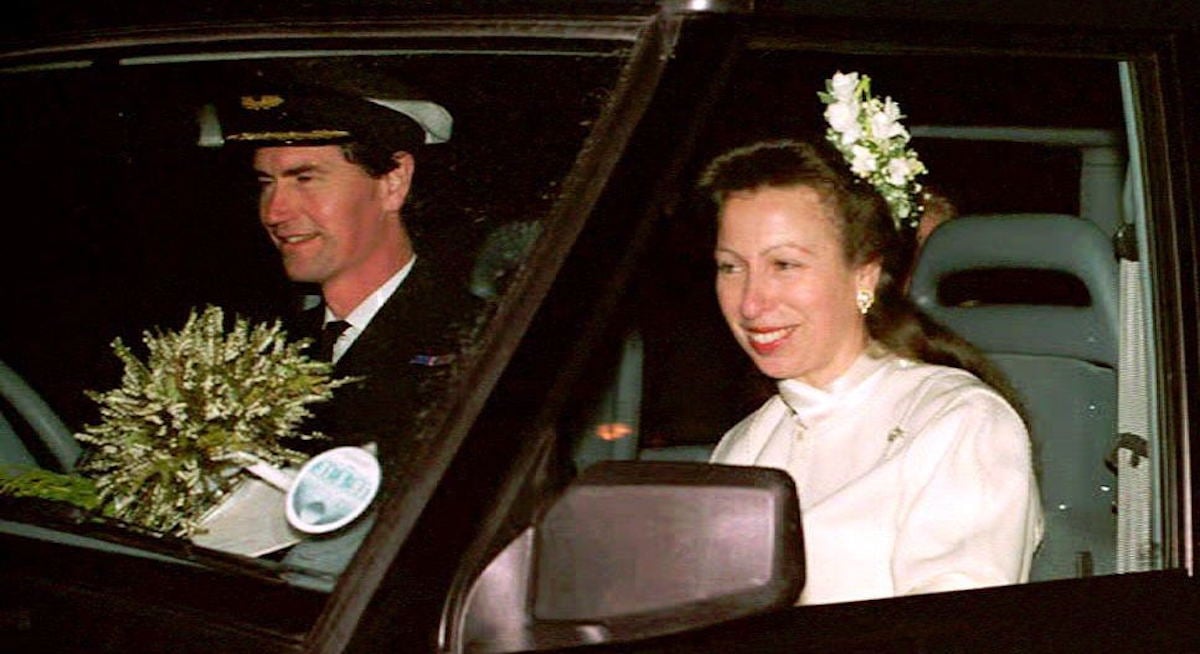 The Princess Royal may have followed all the royal rules when she got married the first time, but when she married her second husband in 1992, she did things her own way.
Hello! Magazine reports that the wedding to Sir Timothy Laurence defied royal tradition in several ways. For starters, the princess was divorced — something that at the time, was almost unheard of for a royal. In 1992, the Church of England did not allow people to marry for a second time, so the bride and groom were forced to tie the knot in Scotland.
The wedding was small, especially when compared to other royal ceremonies, with only about 30 people in attendance. Anne also broke tradition by wearing a mid-length white dress rather than the traditional bridal gown, being one of the first family members to prove that couples are entitled to do as they please and even royal rules are meant to be broken sometimes.