Princess Eugenie Wedding: Was There Really a Royal Fight Behind the Scenes?
Royal fans surely remember the wonderful — albeit windy — day that Princess Eugenie tied the knot with her longtime boyfriend, Jack Brooksbank. There is no doubt that October 12, 2018, was one of the best days of Eugenie's life, and she looked absolutely radiant as she arrived at St. George's Chapel at Windsor Castle for her walk down the aisle.
Naturally, the wedding was televised, with millions of fans tuning in to see how the events of the day unfolded. The bride wore a gorgeous bespoke gown and her look was completed with the Greville Emerald Kokoshnik tiara, which added a nice pop of color.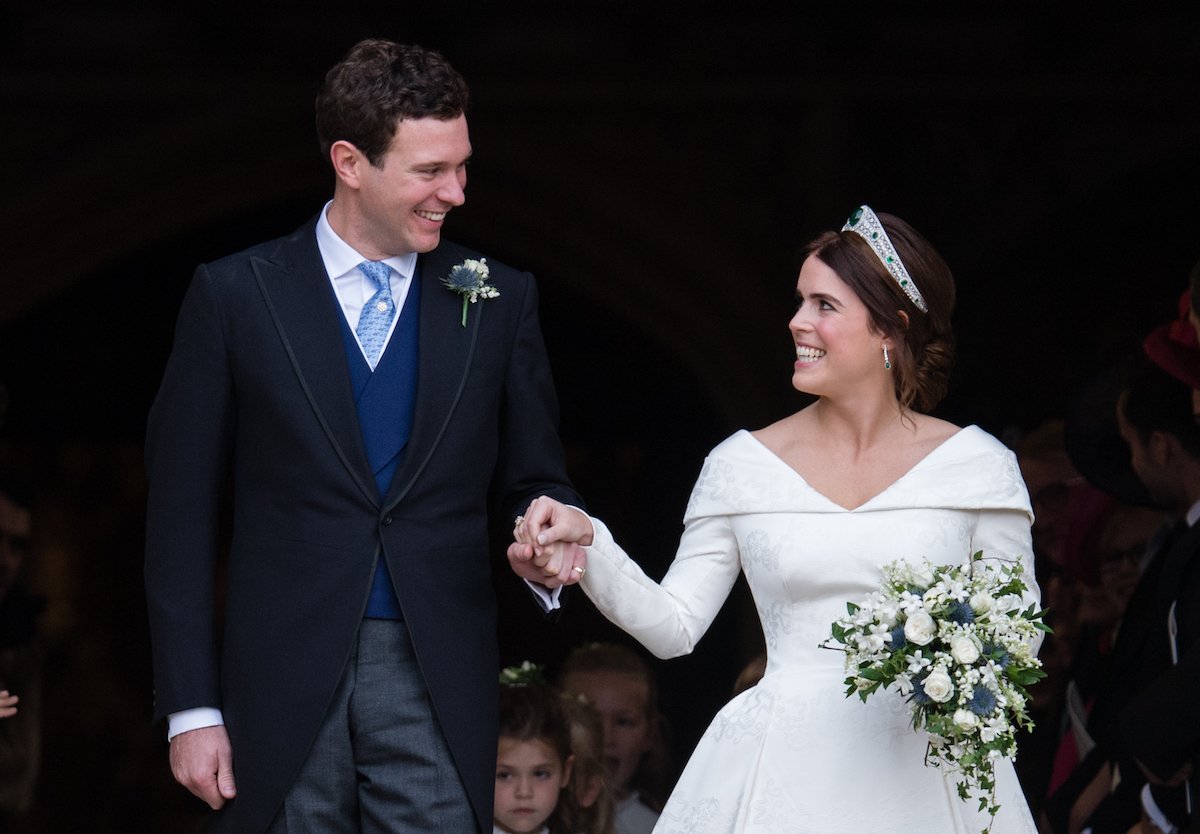 A lunch, hosted by Queen Elizabeth, followed the ceremony, and from all outward appearances, it seemed like the perfect fairytale day. But now, people are wondering, was there really a royal fight behind the scenes at Princess Eugenie's wedding? 
Did Harry and Meghan fight at Eugenie's wedding?
It may seem like Prince Harry and Meghan, Duchess of Sussex, always get along, but this may not have been the case at Eugenie's wedding.
According to Marie Claire, Meghan may have embarrassed her husband by choosing that day, of all days, to announce to the rest of the family that she was pregnant with her first child.
Mirror reports that body language experts were analyzing their behavior, and they appear at one point to be having an argument of sorts. So, what happened, exactly?
Well, Markle was talking to her husband's cousin, Zara Tindall, when Harry interrupted, and his behavior elicited an eye roll from his wife. In photos, they weren't even facing each other as they sat in their seats.
A lipreader reveals that the couple seems to have had a tense exchange of words, with Harry saying "Everything's different," and Markle responding with "Yes, of course, that's the way." This is unusual for the Duke and Duchess, who always seem to be on good terms.
Did Prince Andrew snub Harry and Meghan?
Not only did they appear to have a little row, but it also looks like the Duke and Duchess of Sussex were snubbed by none other than Prince Andrew, the father of the bride. What happened now?
It looks as if Harry's uncle took a dig at the couple, regarding the fact that the wedding of Princess Eugenie took place at the same venue that theirs did a few months earlier. Apparently, he said,
"It will not be the same as the previous one [Harry and Meghan's] … It's not a public wedding, this is meant to be a family wedding. There will be a few more people than most people have. That is the nature of Eugenie and Jack. They have got so many friends that they need a church of that size to fit them all in."
It seemed like he was implying that "Our wedding is bigger than your wedding."
Did Harry and Meghan show up at Beatrice's wedding?
With a few little snubs that seem to have occurred at Eugenie's nuptials, many fans are wondering if Meghan and Harry showed up at her sister's wedding a short time later. According to Town & Country, they actually weren't in attendance for the wedding of Princess Beatrice. 
Was it because of the way things went down when Eugenie and Jack were married? Not really.
They actually had a valid reason for not being there. The world was at the height of the coronavirus (COVID-19) pandemic, forcing Beatrice and her husband to not only postpone the ceremony but to severely limit the number of guests.
Of course, Meghan and Harry did send their congratulations, and now, everyone seems to be on good terms. Now that Beatrice and Eugenie are both married, it appears things are all right with the royals!