'Promised Land' Cast Member Katya Martín Talks Behind-the-Scenes and Teases Rosa's Return With 'Full Force' (Exclusive)
'Promised Land' cast member Katya Martín dishes on her character, Juana, and teases what is to come when Rosa returns to the series.
ABC's new TV series, Promised Land, features a stellar, almost 100% Latinx cast, including Katya Martín. Two separate storylines collide in the Sonoma Valley wine country. The first thing viewers see is an illegal border crossing of Martín's character, Juana Sanchez, her sister, Rosa (Ariana Guerra), and a new friend, Carlos Rincon (Andres Velez). In a different world, Joe Sandoval's (John Ortiz) children fight over the control of Heritage House Vineyard. Showbiz Cheat Sheet spoke to Martín via a phone conversation on Jan. 31, 2022, to get a behind-the-scenes look at the new ABC series, Promised Land.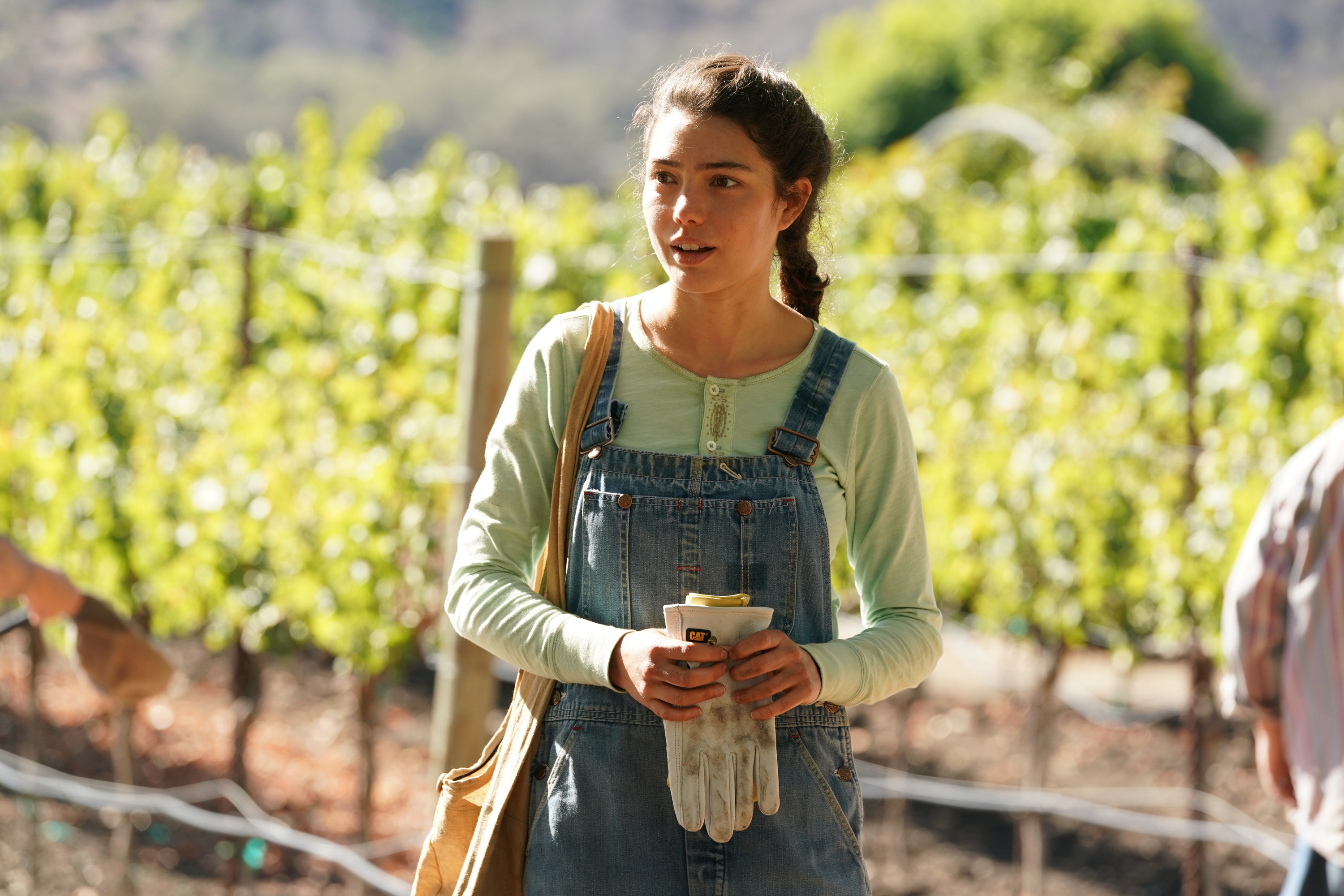 How would you describe the new ABC series, Promised Land?
"I would say Promised Land is a family drama about the Sandoval family who owns a very successful winery business," Martín began. "And the conflicts that arise between these children vying for power in the vineyard and the idea of ownership and legacy."
Can you describe your character, Juana Sanchez, to us?
"Juana is a young girl who comes from Mexico," Martín explained to Showbiz Cheat Sheet. "She crosses the border at the beginning of Promised Land Episode 1 along with her sister, Rosa. They're coming to the United States ready to work and become financially independent. Then she plans to put herself through school and ultimately obtain her dream of becoming a teacher. And along the way, she makes a friend and ends up at Heritage House Vineyard, and the rest is history."
Although the border crossing is fictional, it portrays something still happening today. How did it feel filming those scenes?
"Heavy," Martín said. "There's a lot of weight on those scenes. I think there are a lot of weighted scenes in the show in general in our timeline that speaks to the experience of the community that you build around other immigrants when you are an immigrant."
"Specifically, when we were shooting the pilot, we shot those [border crossing] scenes last," she added. "It was very weighted. I don't mean that to sound heavy in a dark way, but I felt a lot of responsibility for those scenes. And I honestly have to take my hat off to Matt Lopez for fighting for it and maybe for ultimately greenlighting that same thing being the show's opening scene because it is something that can be very, very charged emotionally and politically. But I think it's very important to see that and to see this kind of stunning image of this wall and all these characters who are crossing it, who we later get to know and get to know as people. I think that one of the most important things is that these characters are, yes, they are immigrants, but they are people first."
Did you know about the twist with the two storylines from the beginning? Were you surprised?
"When I auditioned initially, I got a full script for the pilot, and I read it before," Martín explained. "I did know the twist, and I loved it. I thought it was so smart, so poignant. Matt Lopez is a wonderful writer, and he had me as a reader hanging on to every word. And when I got to that part, when reading it, I was just excited to see this real idea that this country was built on the idea of opportunity. I see these two storylines come together and how these young characters have grown and taken the opportunities given to them. I was really excited when I read that."
What was it like to work with such a stellar cast in 'Promised Land?
"This is our first series regular role on a show," Martín explained about herself, Andres Velez, and Rolando Chusan. "The veteran actors; John [Ortiz] Bellamy [Young], Cecilia [Suárez], Yul [Vazquez]; not only brought us under their wing but neutralized the space completely. There was no gap between us in terms of colleagues or friendships. They opened themselves up to be our colleagues and our companions throughout this."
"I feel they've completely leveled the playing field for us and not only showed amazing leadership but also showed an insane camaraderie, which is just such an amazing blessing. It's been really special."
Do you have any behind-the-scenes stories for fans of the show? What was it like?
Martín recalled that the best behind-the-scenes story with the large cast of Promised Land happened while filming the pilot in Atlanta. 
"For some reason, they gave Andres Velez this massive, huge suite when all of us had regular rooms," she began. "We called [his room] the clubhouse, and we would all meet there and hang out run lines and play cards because it was the height of covid, so we couldn't hang out in the lobby, so we would all meet at the clubhouse. It was one of the best bonding moments for all of us."
Can you tease what's to come in 'Promised Land? Will we see Rosa again? 
"You can expect some love and some heartbreak," Martín teased. "Rosa is a force to be reckoned with, but she's definitely going to come in at a certain point with full force. The coolest thing about getting a script has been getting to be surprised. One of the most special things about these characters is how complex they are and how surprising. None of them is just even-keeled; they're all at some points bad, at some points good. When you think someone is the bad guy, you can also see their vulnerability and why they're the way they are now. And an opposite point when you see the good side of someone, you also can see that hurt part and then you know, the overcompensating with or the search for power. So all of them, I think, will surprise you."
According to ABC, Promised Land airs Mondays at 10 p.m. EST.