Prosecutors Present Audio of R. Kelly Threatening His Accusers at Trial
For weeks, witnesses have taken the stand in R. Kelly's criminal trial currently underway in Brooklyn, New York. Male and female accusers have testified that Kelly enforced strict rules for his alleged victims to follow. If said rules were not followed, they'd be punished. Now, there's alleged audio of a few of those severe punishments. Prosecutors played the tapes in court and it exposes an alleged Kelly unhinged.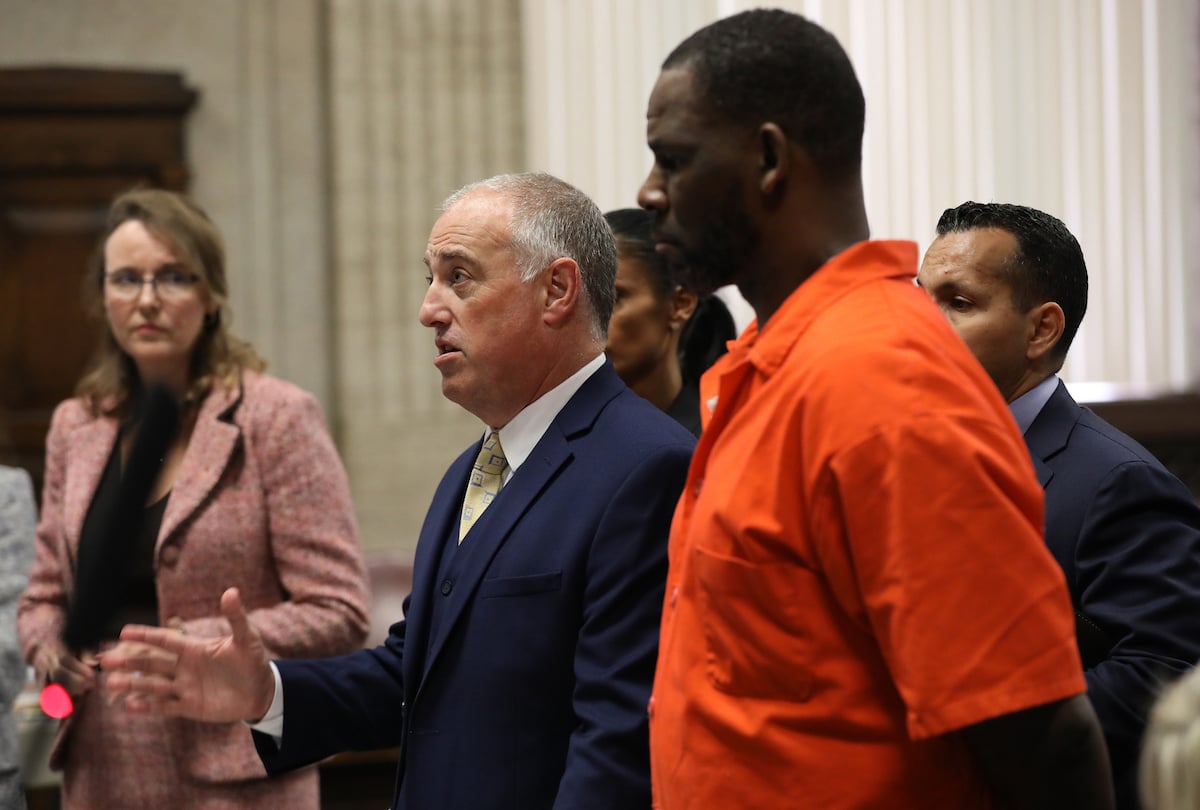 Prosecutors reveal shocking audio of R. Kelly allegedly verbally and physically assaulting accusers
The Daily Mail reports that prosecutors played the courtroom terrifying audio of an alleged Kelly in a rampage while punishing his accusers. Prosecutors played the clips to prove Kelly's years of abusing his victims for not following his rigid rules. 
In one clip, the disgraced R&B singer could be heard yelling at a woman that he was going to "f— her up" if she "lie[s]' to him." He then begins beating her. In another recording, the 'I Believe I Can Fly' singer could be heard allegedly threatening another woman who he accuses of stealing a Rolex watch. The woman in question is from Florida.
Related: First Male Accuser in R. Kelly Trial Testifies – Says He Met Kelly at McDonald's as a Teen and Was Groomed
"You better not ever…take from me again or I will be in Florida and something will happen to you," Kelly allegedly says in the audio. Court documents reveal that the audio is dated back to 2008.
Prosecutors revealed the Florida woman, listed as Jane Doe, was set to testify against the singer. But after hearing the audio, the woman reportedly suffered an "emotional breakdown." It was also revealed in court that one audio recording has Kelly stating he has "cameras everywhere" throughout his Chicago studio and in other locations to keep a close watch on his victims.
Witnesses claim R. Kelly has strict rules
Kelly former assistant, Diana Copeland, testified on Tuesday, Sept. 14, and corroborated his accuser's claim that they were under Kelly's control. Per his accusers, Kelly's female girlfriends could not have any contact with other men. Copeland says Kelly was so controlling that he would not allow his girlfriends to ride in an Uber with a male driver. Per Copeland, she'd have to keep ordering ride-shares until a female driver arrived.
She also said that Kelly limited his girlfriends' interactions with men by instructing them to turn around in public places, including stores and elevators. The purpose was so that they would not look men in the eyes. Copeland told one story regarding how she left one of Kelly's girlfriend's in an elevator because the woman was turned to the wall after another man walked in, and she did not see Copeland leave.
Related: R. Kelly's Ex-Wife, Andrea Kelly, Reveals Why She Did Not Come Forward About Abuse in Their Marriage
Victims have testified that they had to call Kelly "daddy," ask permission to eat and use the restroom, as permission to leave, and beyond. Copeland admits that she was expected to knock on walls "to make sure that I announced my presence," a rule that she says was enacted by Kelly's ex-wife. Everyone who worked for Kelly was expected to knock upon entering a space, Copeland explained. 
If any one of Kelly's accusers broke a rule, they'd be severely punished. Punishments could include a verbal bashing, a physical beating, food, and water being withheld, and women having to perform sexually for Kelly and others.