A 'Psych 3' Movie Is in Development With Gus as Its Focus
'Psych 3' is on the way with a special spin on Gus. What will Shawn get him into next?
USA scored big when Psych premiered back in 2006, and the series grew a cult fan base. It's hard to believe it's been 15 years since Dulé Hill and James Roday Rodriguez introduced everyone to Shawn and Gus. Psych is still one of the most binge-able TV shows around, and the best part is USA keeps gifting fans with fresh spinoffs and musical specials.
And the network is doing it again with Psych 3, a new movie centered on Burton "Gus" Guster, a.k.a. Ovaltine Jenkins, a.k.a. Lavender Gooms.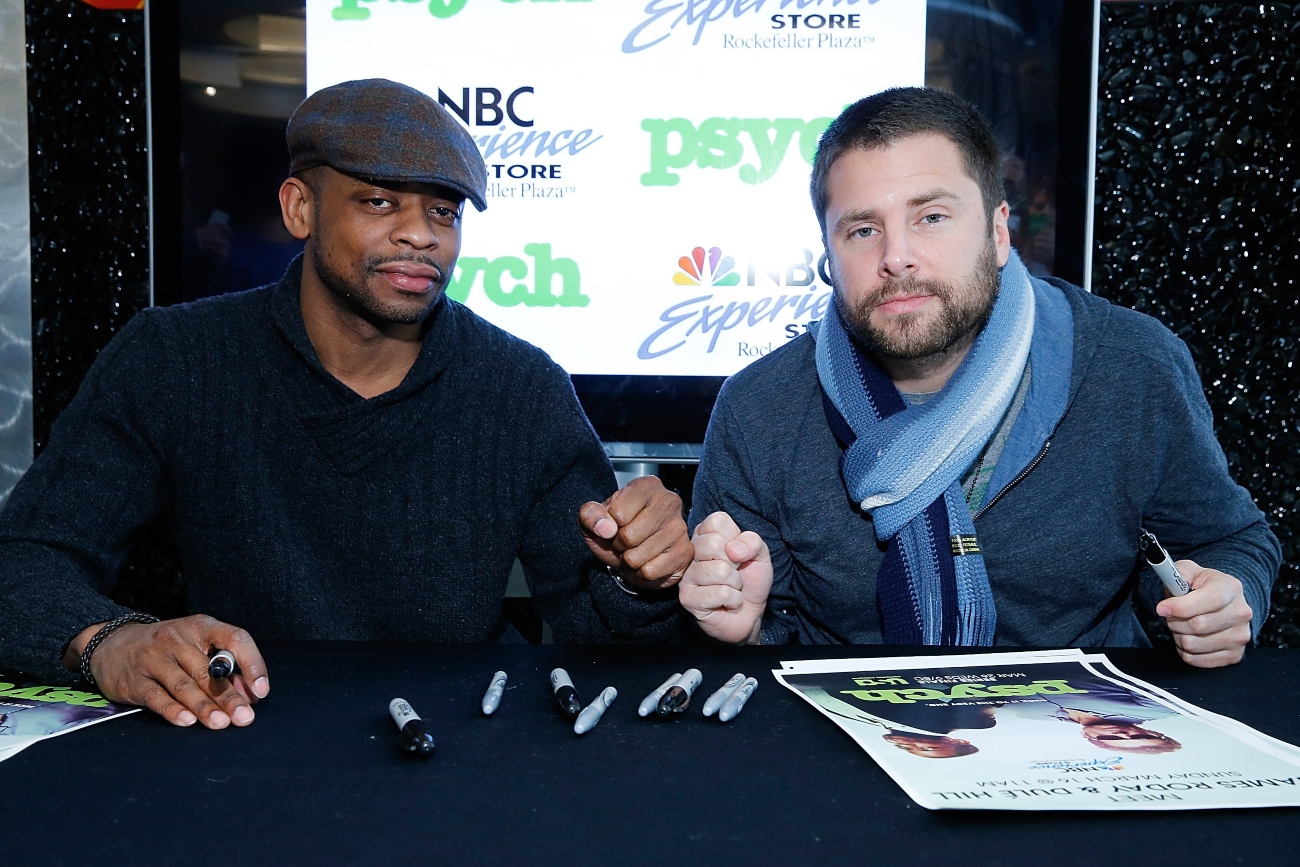 'Psych 3: This Is Gus' to air on Peacock
All the Psych OGs are reuniting like Voltron to film the third installment in what's become a collection of sequels.
According to Deadline, Peacock ordered the movie and it's set to begin production this summer in Vancouver. Dulé Hill and James Roday Rodriguez's characters will be up to new hijinks in this feature.
Per the logline, This Is Gus is about:
"In preparation for a shotgun wedding before the birth of Baby Guster, Shawn (James Roday Rodriguez) and Groomzilla Gus (Dulé Hill) go rogue in an attempt to track down Selene's (Jazmyn Simon) estranged husband, as Lassiter (Timothy Omundson) grapples with the future of his career."
Corbin Bernsen, Maggie Lawson, and Kirsten Nelson will reprise their roles as Henry Spencer, Juliet, and Chief Karen Vick, respectively.
'Psych 2' found Lassie in recovery
Psych 2: Lassie Come Home put the spotlight on Detective Lassiter. Ol' Lassie went through the ringer after being shot multiple times during an ambush.
The film dropped on Peacock in July 2020 and followed 2017's Psych: The Movie. Fans appreciated the Hitchcock-themed mystery blended with silliness (like the cat café) and the well-placed pop culture references that are part of Psych's signature.
Lassie was forced to rely on everyone's favorite dynamic duo to solve the odd occurrences in his recovery home. By the end of the story, Shawn and Gus figure out the Herschel House puzzle and Juliet catches the Norwegian who shot Lassie. Best of all, the surly cop walked again.
And there were some jokes about Rodriguez's role on A Million Little Things and its "competitor," This Is Us. Fans probably caught on when Shawn's dad remarked, "You left behind a slow cooker with a three-pound roast in it. You nearly 'This Is Us'd' the entire block!" Then Shawn responded with, "This Is Us? Dad, why are you watching that show? They have the same show on ABC, but newer." Ha.
Since the title of the new film is Psych 3: This Is Gus, expect more shady and hilarious references to the other show. Bear in mind Rodriguez is one of the writers for the three-quel.
How to catch up on 'Psych'
All seasons of Psych and the film specials are available to stream on Peacock. Seasons 1-8 of the series are on Amazon Prime Video and they're accessible via Apple TV.
Those who don't want to subscribe to a streaming service will also find all eight seasons on YouTube for a fee. And adventurous fans wanting to go the extra mile can check out USA's merchandise store to buy a pineapple hat for their binge sessions.