Queen Elizabeth II Owns a Tiara That Protects Her From Evil Spirits and Recently Wore It for This Occasion
Queen Elizabeth II has inherited and been gifted a number of stunning jewels over the years and just about every piece has a story and special meaning behind it.
The monarch recently wore one of her glamourous headpieces for a high-profile occasion and raised quite a few eyebrows because that particular tiara is said to ward of evil. Read on to find out when the queen chose to wear her Burmese Ruby and Diamond Tiara.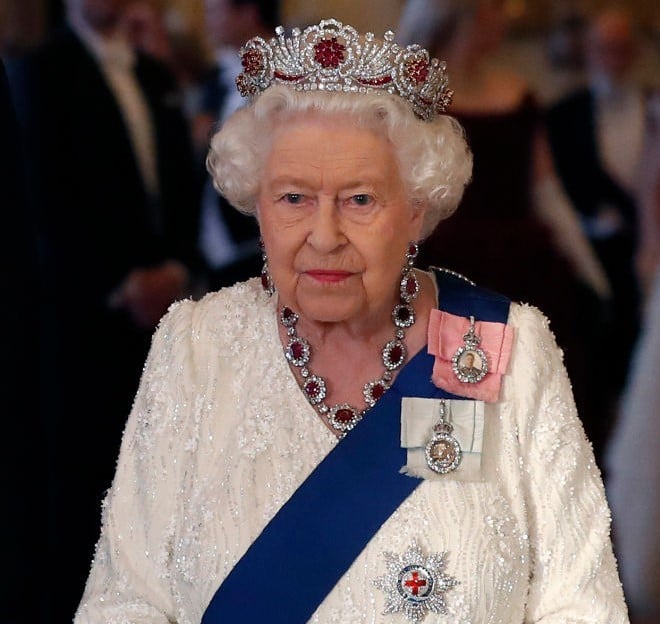 The story behind Queen Elizabeth's Burmese tiara
Queen Elizabeth's Burmese Ruby and Diamond Tiara, which was made by the House of Garrard, was commissioned by the monarch in 1973 to include rubies she received as a wedding gift from the people of Myanmar (formerly known as Burma).  
The rubies gifted to then-Princess Elizabeth in 1947 hold a specific meaning.
According to the House of Garrad, "The 96 rubies are a symbolic gesture, as rubies in Burmese culture protect from illness and evil."
The monarch raised eyebrows when she wore it for this occasion
A Twitter firestorm erupted in July 2019 when the royal family matriarch donned that tiara to a state banquet held at Buckingham Palace for U.S. President Donald Trump. The headpiece and its meaning wasn't lost on royal fans.
"Did you see the tiara? The rubies guard against evil and illness," one user stated.
Another wrote, "Queen Elizabeth II wearing the Burmese Ruby Tiara for tonight's banquet. Rubies are supposed to protect the wearer from evil. More subtle shade?"
"The Queen has 41 tiaras! All spectacular. She chose the rarely worn Burmese Ruby tiara…Why? Hmmm. Rubies are associated with: warding off plague, fighting illness, antidote to evil spirits and bad vibes," a third person tweeted.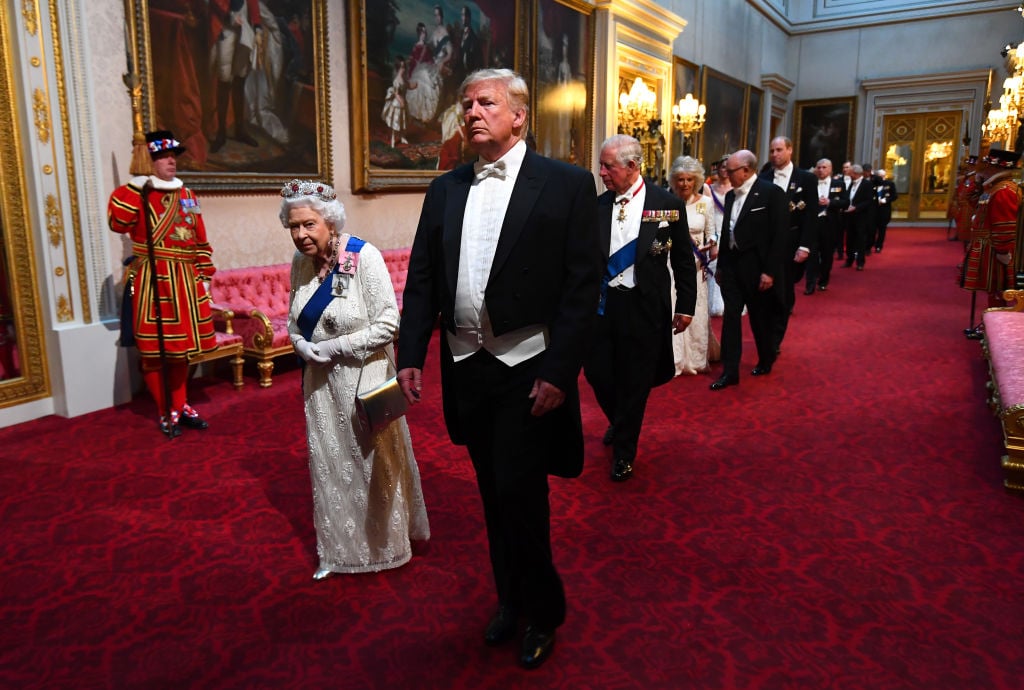 Was the queen really sending a message by wearing the tiara?
While a number of royal fans took to social media claiming that the monarch was shading the POTUS with her tiara choice, royal commentator Victoria Arbiter responded and stressed that's not something the queen would do.
"The purpose of a state visit is to make the guest feel as welcome as possible," Arbiter tweeted. "It's about reaffirming relationships and it is the queen's constitutional duty to lead the visit regardless of how controversial the figure might be."
Royal jewelry expert Ella Kay weighed in as well in telling Town & Country that the gemstones in the headpiece don't have anything to do with politics or how the queen personally feels about the U.S. president.
"The rubies in the tiara are a symbol of the long, healthy life that people wish the queen to have," Kay said.