Queen Elizabeth Not Stripping Meghan Markle of Her Title May Have Everything to Do With Sarah Ferguson
Following Prince Harry and Meghan, Duchess of Sussex's exit from the Firm as well as their bombshell interviews and public revelations, Queen Elizabeth II has been urged to strip the pair of their duke and duchess titles.
At this point, a number of people, especially those on the opposite side of the pond, believe that the two are simply cashing in on the Sussex name as Mr. and Mrs. Mountbatten-Windsor doesn't seem to carry that same celebrity weight. But the monarch actually removing their titles because the Sussexes are using every media outlet to bash the royal family, isn't so easy. In fact, the queen could face criticism and be seen as a hypocrite if she were to take away Meghan's duchess title because of the scenario with her former daughter-in-law Sarah Ferguson.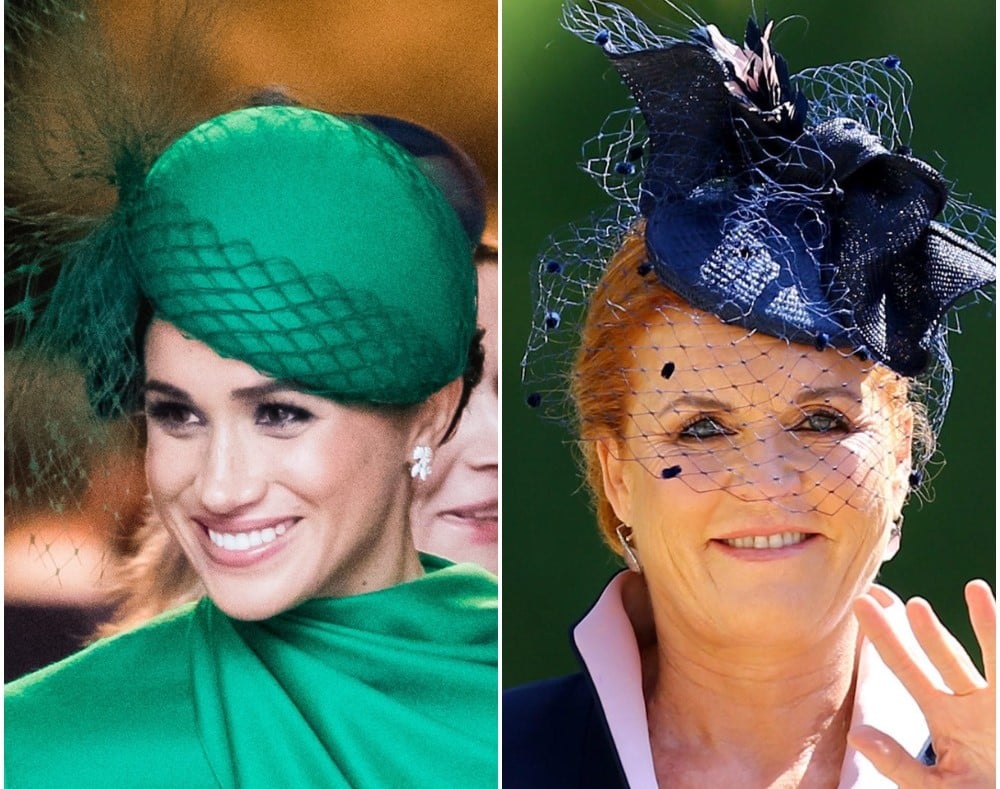 The titles Harry and Meghan do not use anymore
In their initial announcement via Instagram on Jan. 8, 2020, the couple said: "We intend to step back as 'senior' members of the royal family." Many questions followed as did approval from the queen and an agreement was settled on.
Post-Megxit, it was agreed that Harry and Meghan would keep their titles, the Duke and Duchess of Sussex, but will continue not to use the HRH (His/Her Royal Highness) in their titles.
"The Sussexes will not use their HRH titles as they are no longer working members of the Royal Family," Buckingham Palace's official statement read.
What Sarah Ferguson has to do with Meghan keeping her Duchess of Sussex title
RELATED: The Real Reason Prince Andrew's Ex-Wife Sarah Ferguson Has to Spend Christmas Alone Every Year
Of course things have changed since then with the couple now publicly throwing out allegations of what they say occurred when they were senior royals so the calls to strip them of their titles, mainly Meghan's, have grown louder. But not allowing Meghan to keep her Duchess of Sussex title could actually make Queen Elizabeth look like a hypocrite. That's because the monarch allowed Sarah Ferguson to keep hers even after she divorced Prince Andrew and released books about her time in the royal family.
After her marriage to the Duke of York came to an end, Sarah continued to use not only her Duchess of York title but also the style "Her Royal Highness." Within months, a letters patent regulating post-divorce royal titles was issued. It stated that Fergie could not use HRH anymore since she was no longer married to the prince. However, she would still able to retain her duchess title which didn't hurt when she signed deals with companies like Weight Watchers.
Today, Andrew's ex is officially known as Sarah, Duchess of York. But as The Express noted, if she were to ever remarry that title would be removed from her name.
Harry won't lose his title because he was born a prince
RELATED: Prince Harry Was Able to Marry Meghan Markle Because She Didn't Do This 1 Thing in Her Past
No matter how loud the calls to strip Meghan and Harry of their titles become constitutional expert Iain MacMarthanne doesn't see a scenario in which that ever happens for the Duke of Sussex since he is a prince by birthright.
MacMarthanne told The Express: "There is in some quarters a feeding frenzy at present for the removal of all or some of Prince Harry's titles… Within the context of present circumstances, Prince Harry was born an HRH and prince, and there is no modern precedent for someone born as such being stripped of these styles and titles. The Sussex peerage is a hereditary creation and was given as a gift by the queen [on his wedding day]."