Queen Elizabeth's Corgis: Inside Their Lives at Buckingham Palace
Queen Elizabeth II has said goodbye to her last corgi, Whisper. The 12-year-old pooch reportedly passed away last week at Windsor Castle. According to reports, the queen inherited the purebred from Bill Fenwick, a former member of staff at Sandringham, in 2016. And, It had been one of her most trusted companions ever since — especially after the loss of her beloved corgi, Willow, earlier this year. But while Queen Elizabeth's corgis are no longer, she still has two dorgis — a mix of corgi and dachshund, her two favorite breeds — named Candy and Vulcan to keep her company.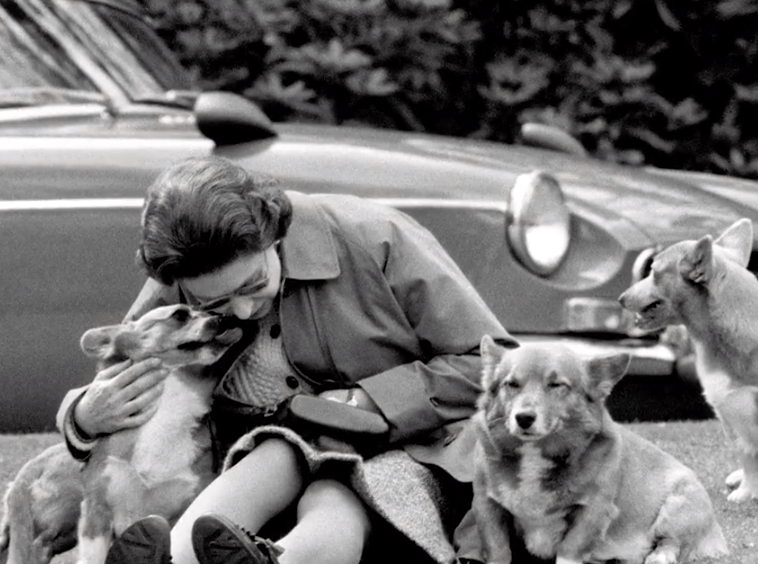 Up ahead, we take an inside look at the lives of Queen Elizabeth's corgis and dorgis. Spoiler alert: The queen treats her furbabies like royalty.
Queen Elizabeth's corgis
Queen Elizabeth has had a thing for corgis nearly all her life. In fact, it sort of runs in the family. According to Fox News, corgis have been apart of the royal family since 1933, when King George VI (Queen Elizabeth's father) brought a corgi pup named Dookie home for the family. Needless to say, the Winsdors were obsessed and soon acquired another corgi puppy named Jane, who was the Windsors' family pet until her passing in 1944.
That same year, on her 18th birthday, the then Princess Elizabeth received a corgi pup of her own named Susan. And, according to Vanity Fair, it sparked a life-long love for the breed. Elizabeth and Susan were allegedly so inseparable that Her Majesty even snuck the purebred on her honeymoon with Prince Philip in 1947. And, she bred many of her dogs from Susan's lineage. In fact, the queen has had 30 or more Pembroke Welsh corgis, all of which came from Susan's bloodline. Willow was the last descendant, as Queen Elizabeth stopped breeding dogs when her mother, Elizabeth Bowes-Lyon passed away in 2002.
Like many dog owners, the queen treats her companions as if they were her own. Here are some of the perks Queen Elizabeth's corgis and dorgis have enjoyed over the years:
Buckingham Palace has a 'Corgi Room'
The queen wants nothing but the best for her furbabies — so she gave them their own room at Buckingham Palace. According to reports, the so-called "Corgi Room" features elevated wicker baskets that the dogs sleep in and a place for them to play (or lounge, as corgis do).
They eat gourmet meals
Queen Elizabeth's corgis and dorgis get fed the best of the best. "When I worked at the palace, we actually had a royal menu for the dogs," Darren McGrady, a former royal chef told Hello! Magazine. "It would list each day what the dogs were to have. One day it would be beef, the next day chicken, the next day lamb, the next da rabbit, and it alternated through those days," he added. "The beef could come in, we would cook it, dice it into really fine pieces and then we did same with the chicken. We'd poach them, and again chop them really, really, small to make sure there were no bones so the dogs wouldn't choke," he concluded.
They travel with the queen
Queen Elizabeth's corgis and dorgis also travel with her. Though, these days, she typically only goes from Buckingham Palace to Windsor Castle and other royal residences.
The queen takes them for walks
The queen reportedly likes to get her exercise in with her furbabies. She allegedly takes them for walks on the palace grounds every day.
She once hired an animal psychologist for them
According to reports, Queen Elizabeth's corgis and dorgis aren't the most friendly. So much so, that they have snapped at a police officer, staff members, and the postman at Balmoral Castle (fun fact: They had to put a "beware of dog" sign up at the castle because of it). They even bit the queen after she tried to break up a fight between them. Her Majesty was fine, but needed stitches after the incident.
To help with their nipping, the royal family allegedly hired an animal psychologist in 1989. No word on whether or not it worked, though.
Check out The Cheat Sheet on Facebook!