Queen: How Michael Jackson Helped the Band Earn Their Biggest Hit
Queen might be the most beloved band of the 1970s. One of their most popular songs is "Another One Bites the Dust." Interestingly, the inspiration for the track came from another band.
Queen didn't make their music in a vacuum. "Another One Bites the Dust," like many other Queen songs, was inspired by the work of another band – Chic.and interestingly Michael Jackson also had a major role in making the song a hit.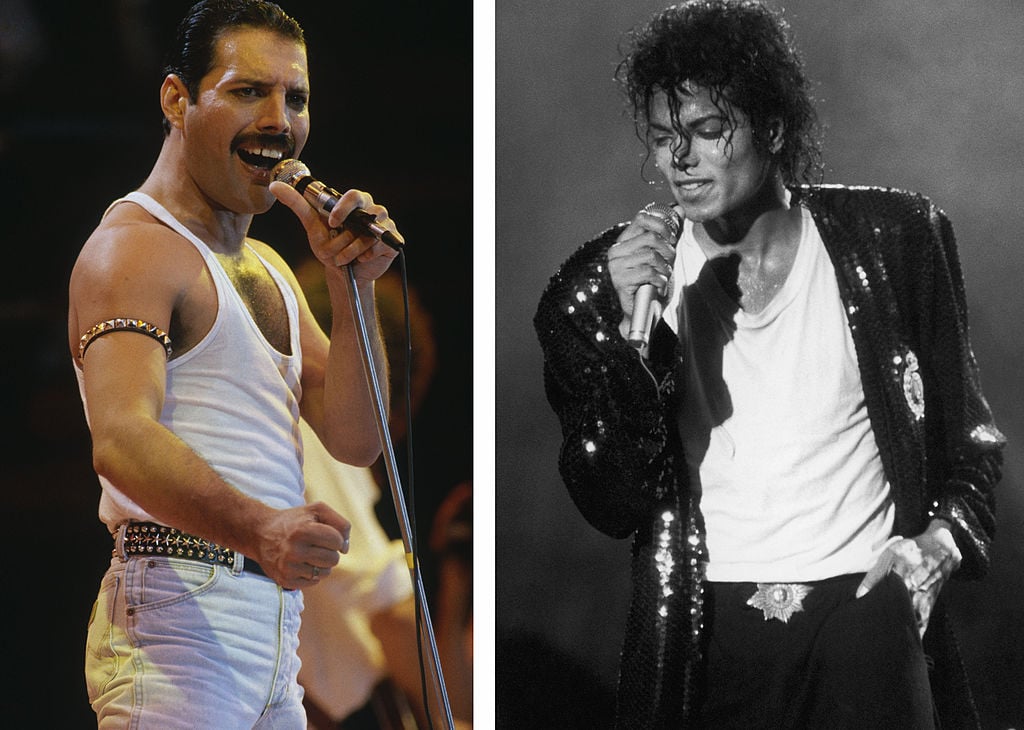 How another song inspired Queen's 'Another One Bites the Dust'
John Deacon was Queen's bassist. Not only did he have the privilege of being in Queen, he also got to hang around with another musical icon: Nile Rodgers of Chic. Deacon was in the room when Rodgers composed "Good Times," one of Chic's most indelible hits.
Rodgers said "Another One Bites the Dust" was an homage to "Good Times." The two songs have very similar bass lines. Once you know one song influenced the other, it's impossible not to notice the resemblance between the two.
How Michael Jackson helped the song become a hit
"Another One Bites the Dust" could have been an album track. Then, Michael Jackson listened to "Another One Bites the Dust." Jackson told Freddie Mercury the band should release the song as a single from the album.
Roger Taylor, another member of Queen, thought Jackson was sorely mistaken. However, when the band did release the song as a single, it became the most successful single of their career. Billboard reports it's the only Queen song to hit number-one on the Billboard Hot 100 besides "Crazy Little Thing Called Love."
The track also did phenomenally well on the R&B charts in the United States. This feat is even more impressive because Queen had not previously found any success in the R&B market. Queen member Brian May attributed part of the song's success to African-American audiences. According to Contactmusic.com, he recalled, "Apparently most of the DJs playing it thought we were a black group and that Freddie was black." That's certainly not a misconception which could exist in the internet era, as fans can look up anything they could want to know about heir favorite artists.
How Chic responded to 'Another One Bites the Dust'
Interestingly, "Another One Bites the Dust" became a number-one hit exactly one year after "Good Times" became a number-one hit. Did Chic have an issue with Queen taking inspiration from their music? No. Rodgers explained his influence on Queen to The Guardian, saying "Good composers borrow, great composers steal." Another Chic member, Bernard Edwards, said he was alright with the fact that Queen took inspiration from his band.
However, the critical reaction to "Another One Bites the Dust" did irk Edwards. Many people assumed "Good Times" was inspired by "Another One Bites the Dust" rather than the other way around. According to The Billboard Book of Number-One Hits, Edwards said "'Good Times' came out more than a year before, but it was inconceivable to these people that black musicians could possibly be innovative like that. It was just these disco guys ripping off this rock 'n' roll song." Luckily, in the modern era, people justly give Chic credit for inspiring "Another One Bites the Dust."
Also see: How a Queen Song About a Prostitute Inspired Katy Perry's Career