Queen Latifah and Adam Sandler's 'Hustle' Is Buzzing But Can Adam Sandler Shoot Hoops? Shaquille O'Neal Grades His Basketball Moves
Queen Latifah and Adam Sandler will soon be bringing the basketball film Hustle to Netflix, but how well can Sandler shoot? Pretty freaking well, according to NBA great and Sandler pal Shaquille O'Neal. O'Neal wasn't too hard on Sandler, adding some of his signature humor. But O'Neal isn't the only one giving Sandler props for basketball. Sandler's skills were seen in the past that surprised some fans.
Adam Sandler has 'LA Fitness' hoop skills, Shaquille O'Neal says
O'Neal was asked about Sandler's basketball mastery on a podcast and he offered his honest evaluation. "He's legit," O'Neal said. "Not pro legit, but he's definitely LA Fitness, 24-Hour Fitness legit."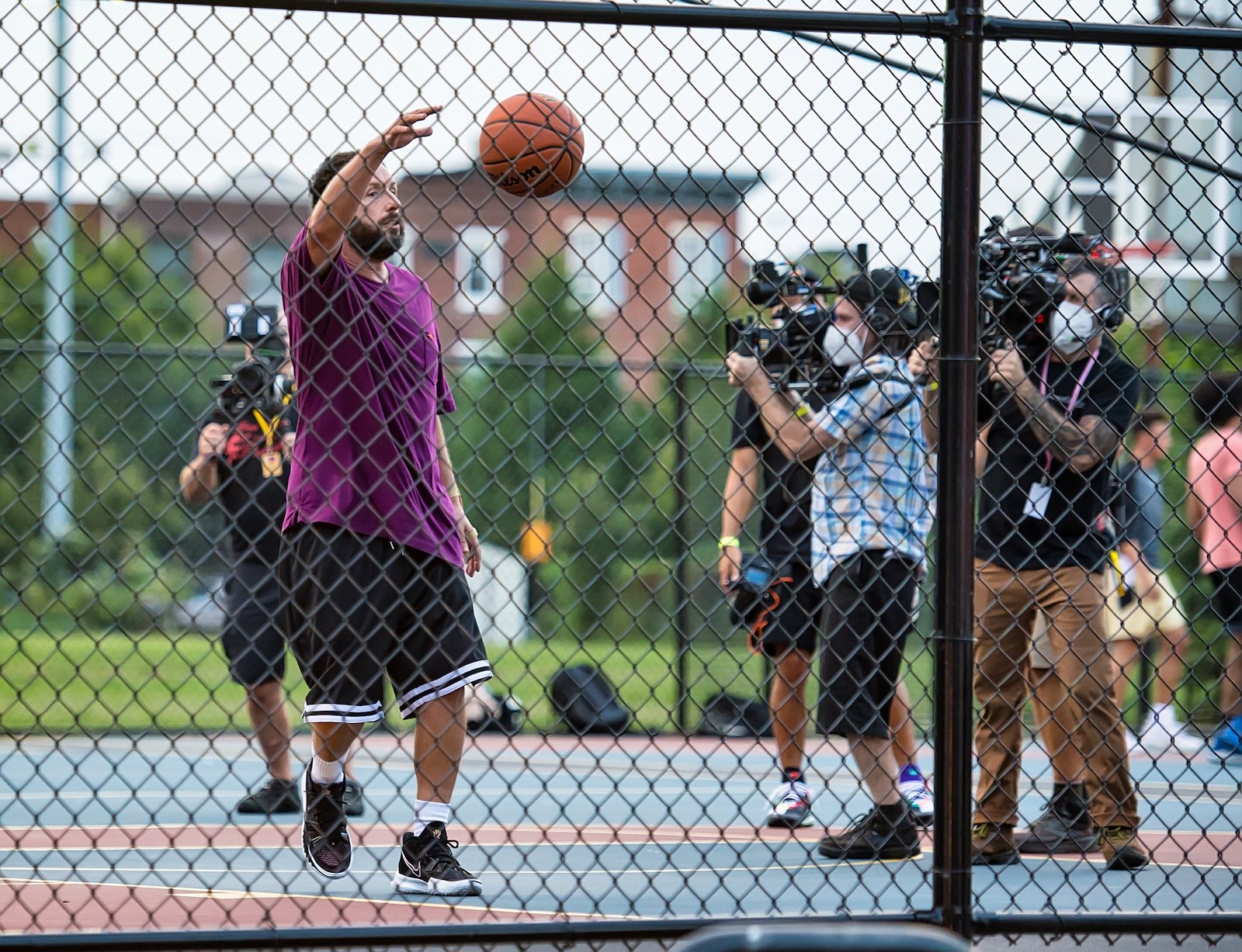 Sandler's basketball talent is no big secret as fans have seen how good he is at the game. His skills were on full display in 2019 when he played a pickup game at (none other than) an LA Fitness in Atlanta, CBS News reports. Videos shot and shared on Twitter showed Sandler in a full hustle. "Adam Sandler pulled up to a pickup game and got buckets," Sports Center shared on Twitter along with a video of Sandler in action. NBA on ESPN also tweeted a video. He shoots and it's nothing but net. "[Adam Sandler] is joining The Jump today, and if you didn't know … he's a bucket."
Adam Sandler shared a hilarious story of what happened after he played basketball with Shaquille O'Neal
Sandler shared a hilarious story of how his curiosity got the best of him after playing a quick game of basketball with O'Neal. He first shared that O'Neal is funnier than just about anyone on set.
"He's funnier than all of us," Sandler told Conan O'Brien. Adding that O'Neal was funnier than most people in his films. "He's like the nicest, greatest guy. And we hung out with the Shaq and we all played basketball. So we play basketball. We have to get back to the movie set. Shaq has to take a shower. So everyone's like alright we'll see you later Shaq." But then Sandler wondered what was under "the hood." He tried to slink into the showers to see if O'Neal was anatomically correct, but was blocked by O'Neal's massive bodyguard.
"So I said … sorry … I was just trying to … see Shaq's penis," Sandler recalled laughing. "I apologize and I'm outa here." Then added, "Please don't tell Shaq!" Later, Sandler came clean with O'Neal. Sandler said he was sorry about the "security guard." O'Neal's reply: "I don't have a security guard, that was my d*ck!"
Queen Latifah and Adam Sandler's 'Hustle' also stars Seth Curry, Kyle Lowry and more basketball stars
Hustle is about a down on his luck NBA scout who takes a chance on an overseas recruit. Latifah plays Sandler's wife in the film and she recently admitted she had a little crush on Sandler during an appearance on The Tonight Show Starring Jimmy Fallon. "[Sandler] is the best," she said during her appearance. "It was just so much fun working with him. He's carrying around a bucket of music, it's like this bucket box of sound. He's a sweetheart just having fun and just making everybody happy."
Sandler was spotted filming all over Philadelphia, to the delight of many fans. The film's release date has not yet been announced.
RELATED: David Spade Reveals Why Adam Sandler Casts Friends in So Many of His Movies: 'It Was a Good Trick'