Queen Latifah Earned This Nickname During Disney's 'The Country Bears' Movie
Queen Latifah portrayed a bartender and restaurant owner in this Disney theme park-inspired movie. However, her character earned an unfortunate nickname from one of the Country Bears.
Here's what we know about this original movie, now available on Disney's streaming platform, Disney+.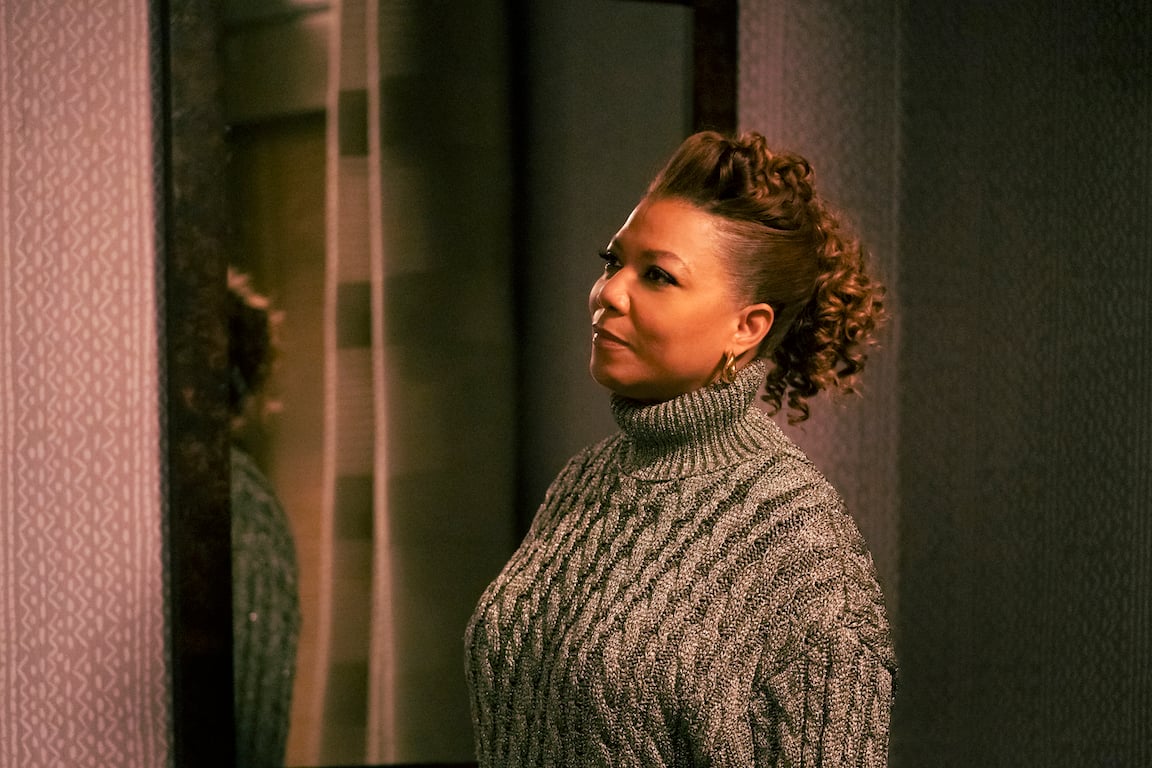 Singer and actor, Queen Latifah, appeared in the Disney live-action film, 'The Country Bears'
They're one of the greatest fictional rock bands of all time. The Country Bears and their film originated from the Walt Disney World animatronic attraction, The Country Bear Jamboree. The 2002 live-action film, however, introduced Disney fans to a few new characters, some bears and some humans. 
That includes the Country Bears mega-fan named Beary, who convinced the band to reunite for a benefit concert. There was also one character portrayed by the Chicago, Hairspray, and The Secret Life of Bees actor, Latifah. 
Her character didn't actually have a name, but she was very close with one Country Bear. That was the honey addict and violin player, Zeb Zoober.
RELATED: How 1 Amusement Park Ride Inspired the 'Pirates of the Caribbean' Franchise
Zeb Zoober called Queen Latifah's character 'Cha-Cha'
This store owner, portrayed by Latifah, didn't have an actual name. There was one nickname that she went by, though, coined by the former Country Bear member, Zeb Zoober. When others stopped by the restaurant, Latifah's character knew precisely who they were searching for.
"Zeb Zoober," Latifah said as her character. "The Zeb Zoober that sleeps on my floor? The Zeb Zoober that won't stop calling me Cha-Cha?"
Just then, Zeb Zoober called to the bartender, asking for more honey as he used the back scratcher. Eventually, Latifah's character came up with an idea of how to let Zeb Zoober go without owing her any money.
He appeared in a musical duel with her house band, performing the song "I'm Only In It For the Honey." Of course, Zeb Zoober won and was free to perform with his former bandmates and save Country Bear Hall.
RELATED: Waiting for Disney World to Reopen? Here Are a Few Disney Parks-Related Shows and Movies Only Available on Disney+
Celebrities like Elton John and Christopher Walken acted in 'The Country Bears'
Latifah wouldn't be the only celebrity who had a cameo in this Disney movie. For one scene, Elton John appeared as himself, offering information to the Country Bears. Some band members thought he was a gardener, but others noticed that he looked like the "Goodbye Yellow Brick Road" singer.
Christopher Walken acted as the evil banker in this film, Thimple. While the credits rolled, celebrities shared their love for this fictional rock band, including Queen Latifah, Xzibit, Don Was, Wyclef Jean.
The Country Bears is available on Disney's streaming platform, along with movies like Pirates of the Caribbean: The Curse of the Black Pearl and The Haunted Mansion. To learn more about Disney+ and to subscribe, visit their website.