'Queen of the South' Season 5 Premiere Recap: Teresa Has Old and New Enemies
It's the season 5 premiere of Queen of the South, and the gang's all here. Teresa, Pote, Kelly Anne, Chicho, and King George had the feet on James' neck and their guard up about the judge. The TV show kicked off with a familiar sight — Teresa in her suit — and slew of problems for the boss. Here's a recap of episode 1 of the series' final season.
[Spoiler Alert: This article contains spoilers for Queen of the South Season 5 Episode 1]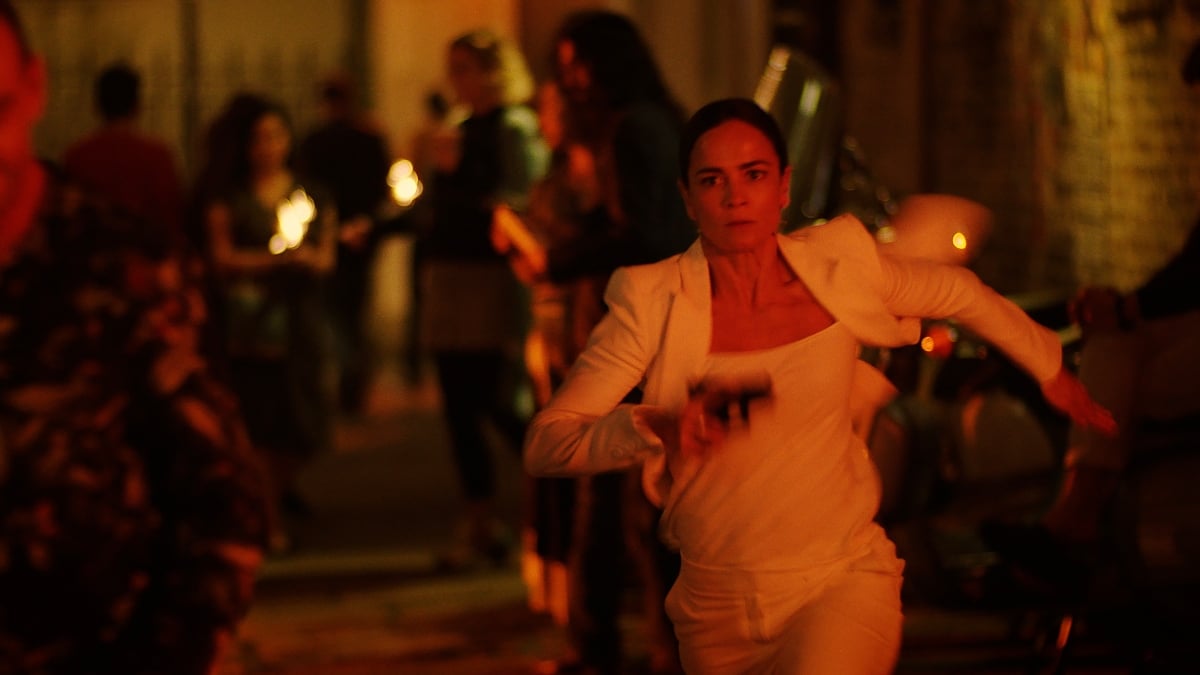 No one trusts James
Teresa runs barefoot through the streets with blood on her feeet and a gun in her hand. Dressed in a white suit, she chases a woman as Pote trails behind her. She and the woman shoot at each other. The chase moves into a building with a narrow, winding staircase. Teresa is on the roof and is caught off guard by the woman. She looks like her — at first.
James rests in a bed, connected to an IV as Teresa watches him.
Meanwhile, the judge is at the police station lying about his son's death. He makes up a story about an intruder fighting his son. The detective says the officers found no evidence of forced entry, and the cameras weren't working on the day of his son's death. She reminds him her son had a history of mental illness. She is not buying the murder story.
A captain enters the detective's office and says the M.E. reversed her statement about self-inflicted wounds versus murder. Obviously, he's in cahoots with the judge, and they want it treated as a murder. The captain says he's taking over the investigation to the annoyed detective. Lafayette then gives a description of the "suspect."
A TV broadcast comes on at Teresa's house, and Marcel's photo pops up on the screen. The judge is back to his dirty games, and Pote, King George, Kelly Anne, and Teresa are concerned. Further, George found a tracker in James' car.
James wakes up in a daze, and Teresa explains he's in a safe house and a doctor treated him. George, Pote and Teresa question him. He tells them about his deal with Devon Finch. They parted ways, and Devon only gave up one detail about: a kill team was ordered to hit Teresa.
James traced them to New Orleans. He found surveillance photos at a warehouse and got into a gunfight with one of the guys. They tell him he has to stay put.
Kelly Anne has a one-on-one conversation with James, thanking him for letting her live. He believes he trusted his instincts, but she warns that Teresa is in charge and everyone needs to follow her orders.
The gang huddles up about James. George is not convinced and thinks James could've shot himself. Pote wants to find the hitmen. Teresa preps to go to New York and tells George to find the mysterious warehouse.
He tells Teresa he's only loved two women in his life, her and his mama. He wants to protect her. If James isn't being honest, they agree he's toast.
Judge Lafayette shows his hand
Judge Lafayette bursts into Teresa's office with Captain Gamble to posture about Marcel. She pushes back, but he warns her to stay out of his beef with Marcel. Pote is seething, and Teresa wants to find dirt on the judge.
Kelly Anne lets her know their waterfront property deal is in jeopardy and they need $200 million in clean cash. Teresa is stressed. She calls Oksana about Kostya, her cousin the Russian mob boss. He likes their product, but Teresa wants to sell him some surplus.
But Kostya likes to be a ghost and use intermediaries. Oksana will try. They need more cash and Pote says he may know a guy. He'll reach out. They're interrupted by a visitor.
Boaz and one of his cousins make a surprise visit from Miami. He wants to talk about Javier. They want revenge for him and Emelia. Teresa wants Boaz to be patient and reminds him the judge killed Tony too. Boaz is not easy to please and says he'll only hold back for so long. Things are tense as he leaves.
Pote leaves the room to call his contact in New York, and Teresa takes a bump of cocaine.
Back at the house, George and Chicho wake James. George asks why James tracked Teresa and Pote's phones. He explains that he wanted to find her to warn her, but couldn't since she was off grid. Chicho backs that up, but George is forcing James on a ride-along to the supposed warehouse.
Teresa creates new problems with Kostya
Teresa and Pote land in NYC. Potes set up a meeting with a Dominican kingpin who used to run with Epifanio. After the guy went to prison, he moved to New York and runs several boroughs. But Kelly Anne is worried about betraying Kostya with new competition. Teresa is not.
George and James arrive at the warehouse, and it's clean. No blood. No equipment. Nothing. George goes off on James and threatens him at gunpoint.
James swears they were there and wants to find proof at the distillery. He says either kill him, risking Teresa's safety, or follow the lead. George warns James he better be honest otherwise "You're dead, Roger Moore. I swear to God."
Teresa meets with Oscar, the local coke dealer. He too is worried about the Russians. He can buy a metric ton from her but says that when Kostya's team finds out, there will be problems.
Teresa then meets with a banker who offers to manage her money for and 8% cut. That includes cleaning it and handling paperwork for her real estate ventures. Teresa warns her that the last banker she worked with is dead for stealing from her. They lady gets the message and promises no problems.
Oksana comes in as the banker walks out. She's pissed Teresa met with Oscar Polanco, the competition. Kostya has a problem, and Teresa demands to meet with him directly. Oksana huffs and insists it's not possible.
James leads George and crew to another site. George makes him go inside and leaves their two guys outside. There are trash bags around and James says it's sign they're still around. George doesn't believe it until he hears gunshots.
James pushes George and takes off through a back exit. Teresa's men get into a gunfight with the kill team, and they're backed into a corner. One of them is hit, and James comes back in, grabs the gun, and starts shooting the hitmen.
George, James, and Chicho survive. They check one of the hitmen and find tattoos on his chest. King George recognizes them.
Teresa is in a car and receives a call from Oksana. Kostya will only meet now.
In another part of town, Boaz shows up at a bar where the judge is drinking, and says he recognizes him from TV. Boaz toys with the judge about losing a son and finding peace through revenge. Lafayette has no idea who he is.
Teresa arrives at the meet point for Kostya when George calls. The guys who were sent to kill her are Russian. She hangs up and tells Pote to turn around. Oksana looks annoyed.