Queen's Brian May Said the Guitar Community Underrated George Harrison
Queen's Brian May claims the guitar community underrated George Harrison. May loved George's playing a lot.
Queen's Brian May might be one of the best guitarists worldwide, but even he has idols, including George Harrison. When Queen first started, The Beatles were their "Bible." May looked up to George specifically because he was a legend behind the guitar. However, May thinks that the guitar community underrated George.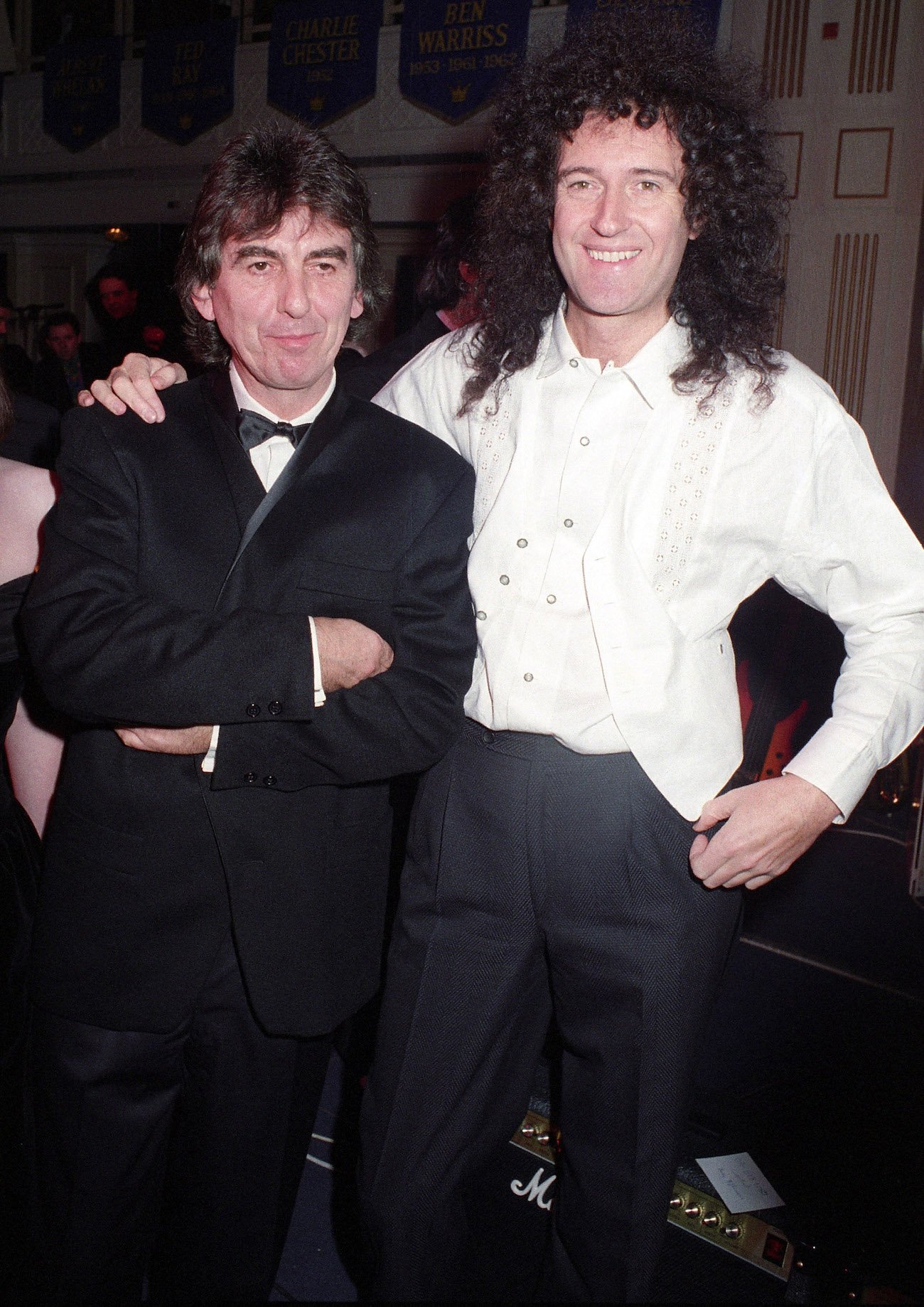 Brian May said the guitar community underrated George Harrison
Out of all The Beatles, May had a special connection with George because they were both guitarists for popular bands. However, they only got to meet once. They worked together at the Water Rats Charity Ball in 1992. May told Express, "He played one of my guitars which is nice! I love George, I love his playing. I think he's still underrated," he said.
Before George's death in 2001, May told Guitarist Magazine (per his website) that he thought the guitar community underrated George. "I wish I'd had the balls to say what I really wanted to at the time," May said of his meeting with George.
"I hold George in such reverence and I think he's so underrated by the guitar community. Everyone raves about people who play fast, but if you look at the catalog of stuff he's produced, it's colossal."
May said George and Freddie Mercury went through similar things in their last months
The Queen guitarist also explained to Guitarist Magazine that George and Freddie Mercury went through similar things in their final months. May said it was obscene that helicopters were constantly flying over George's house because word got out that he was ill. The press did the same to Mercury.
"I've been thinking about George a lot recently and I really wish him well," May said. "And just before you came I was thinking about how the press treated Freddie when he was ill.
"You know, he literally couldn't step outside his door for photographers. They were even trying to get in the windows and there's absolutely nothing you can do; you have no protection."
The Queen guitarist said The Beatles were Queen's Bible
May told Express that The Fab Four was one of his and Queen's most significant influences.
"The Beatles were our bible," he said. "Absolutely at every stage in their career and their music development, they were models. And they still are to me, I must say. I love all those albums. To me, they are the greatest.
"They are the pinnacle of writing, performance and ethos of rock music. They broke down so many barriers, they changed the world many times. I will always love The Beatles without any reservation."
In a 2019 interview with Guitar World, May explained that The White Album inspired them the most.
"The White Album is a complete catalog of how you should use a studio to build songs," May said. "'Happiness Is a Warm Gun' and 'Dear Prudence' are blinding examples of how music can be like painting a picture on a canvas.
"In a sense, the Beatles were unburdened because they didn't have to play the songs live. We became passionate about building stuff in the studio but also making it come to life on a stage."
May also thinks that The Beatles are underrepresented compared to Queen.
He told Express, "I feel like they've been underrepresented in the world as it is today. The kids today don't know The Beatles as much as they ought to. The Beatles should be woven into people's lives in the way Queen music is these days."
Although, May admitted Queen was a little jealous that so many bands covered The Beatles' music. He told NME, "When we were going round the world getting hits, we'd think: 'Everybody covers Beatles and [Led] Zeppelin, why don't they cover Queen songs?'"
May had a special connection with George. It's too bad they never got the chance to collaborate.