'Queer Eye' Star Jonathan Van Ness Proved How Much He Loves 'Game of Thrones' When Meeting Sophie Turner
Queer Eye's grooming expert, Jonathan Van Ness is a person of many interests. He loves haircare, competitive figure skating, and the award-winning HBO fantasy series Game of Thrones. 
In fact, his inner-Game of Thrones fan was freaking out when he met one of the show's stars. Here's what happened when Van Ness finally met Sophie Turner.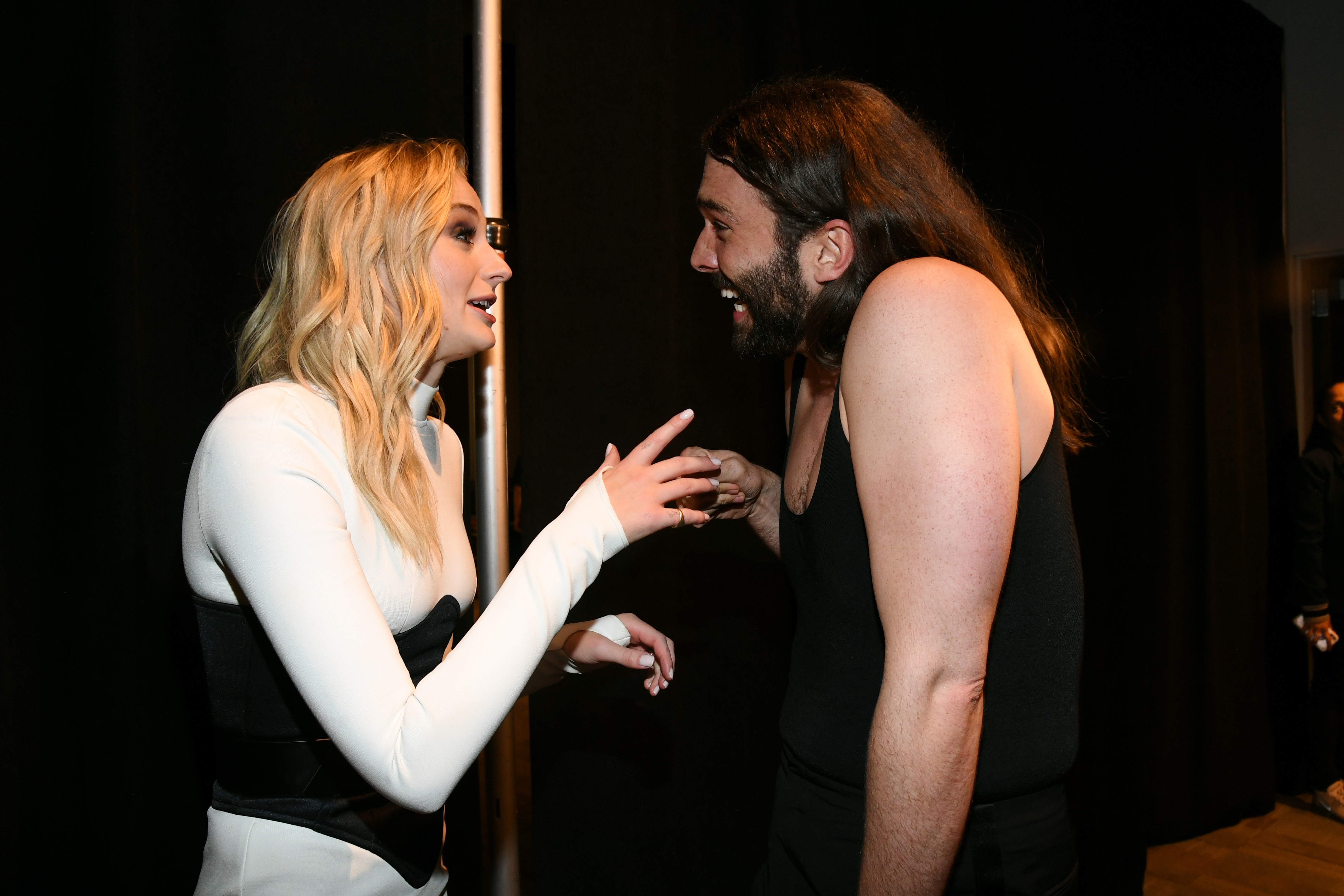 Jonathan Van Ness is a huge 'Game of Thrones' fan
Van Ness is the grooming expert and resident self-care enthusiast of Netflix's original reality series, Queer Eye. He also gymnastics, cheerleading, and spending time with the other members of the Fab Five. Outside of this show Van Ness is a big fan of HBO's award-winning drama, Game of Thrones.
Van Ness actually rose to fame with Funny Or Die's Game of Thrones parody recap show, titled "Gay of Thrones," where this hairdresser functioned as the host. There, he shared his love for some characters and the actors behind them. 
Particularly, Van Ness shared his love for Turner, the actor behind Game of Thrones' Sansa Stark. After months of talking about the series, Van Ness finally met the actor at an award show.
When Jonathan Van Ness finally met Sophie Turner and Joe Jonas
The 2019 MTV VMAs were filled with noteworthy moments. The Jonas Brothers reunited and performed at the ceremony and that's when Van Ness met Turner backstage. He wasn't fully prepared to see her, though, and when the actor called out his name, he screamed. 
"I love you so much, oh my God," Van Ness said, embracing Turner. 
"So happy for your ending, oh my God, I was so relieved," the Queer Eye Fab Five member said of her Game of Thrones character, before whispering something in her ear. "I was so happy."
Van Ness also congratulated the actor on her "gorgeous summer," which, of course, included her wedding to singer Joe Jonas. He shared her love for her many hair colors and then Turner invited over her husband to meet Van Ness.
JVN has rubbed elbows with a few other celebrities
This Queer Eye member has been seen in a few surprising places, along with the other members of the Fab Five. While in Washington D.C. these Emmy Award-winning hosts spent time with U.S. Representative Alexandria Ocasio-Cortez.
In one episode of Queer Eye, Van Ness hung out with one of his personal heroes, legendary Olympic figure skater Michelle Kwan.
Moreover, while partnering with Uber Eats, Van Ness appears in a commercial with Olympian Simone Biles and for a spinoff season, Queer Eye: We're In Japan, the Fab Five spent time with celebrities, including the culture expert and model, Kiko Mizuhara.
Episodes of Queer Eye are available for streaming on Netflix.