Quentin Tarantino Narrates 'Super Pumped' Because He's a Fan of 'Billions'
Viewers of Showtime's drama Super Pumped: The Battle for Uber will also hear a familiar voice narrating the story. Quentin Tarantino narrates the story of Uber CEO Travis Kalanick and venture capitalist Bill Gurley (Kyle Chandler). Prior to the series premiere, Super Pumped writers and executive producers Brian Koppelman and David Levien explained to The Wrap how they landed Tarantino.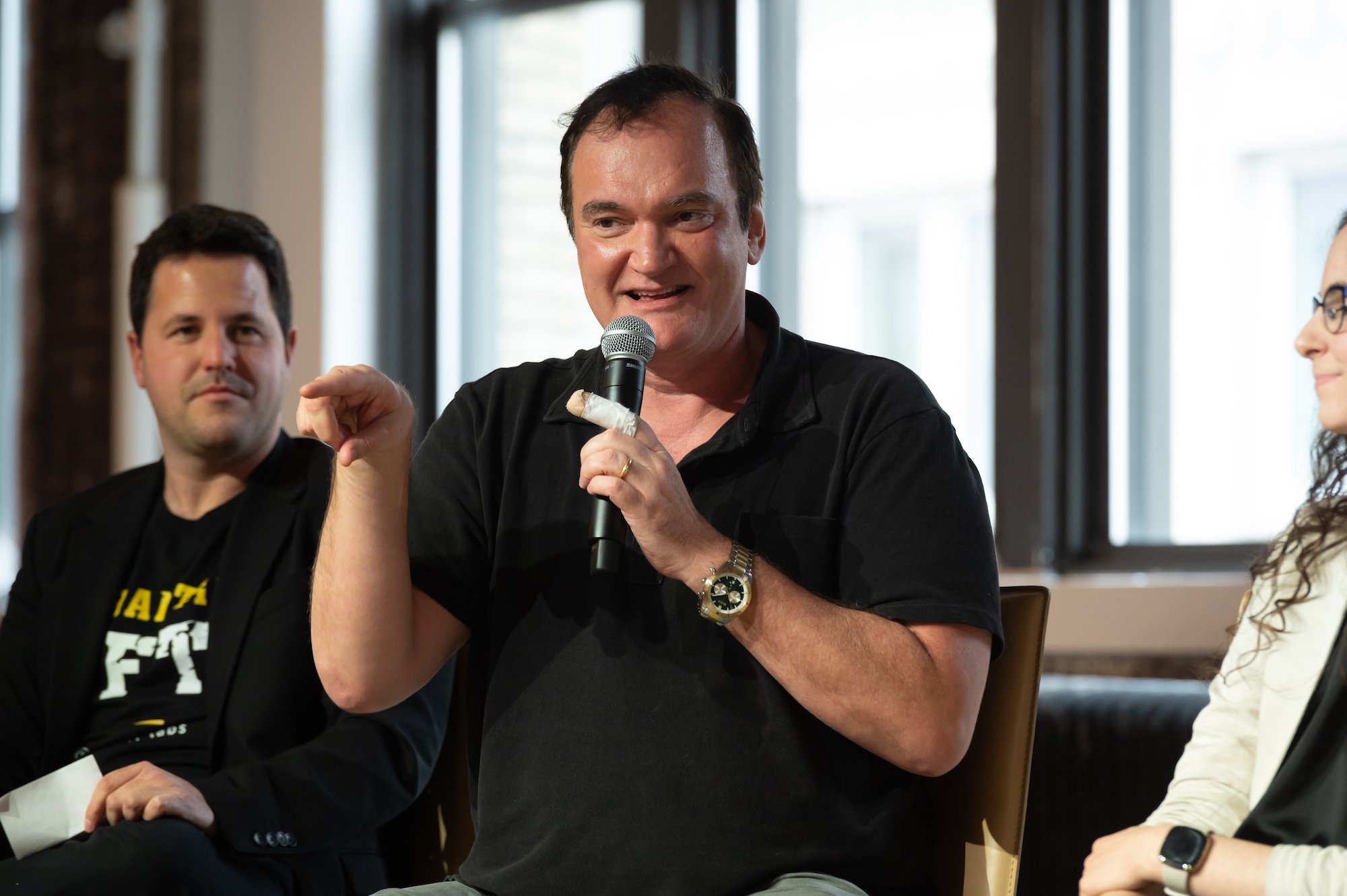 Quentin Tarantino is super pumped about 'Billions'
Koppelman and Levien also co-created Billions. With their Billions writer and executive producer Beth Schacter, they developed Super Pumped: The Battle for Uber. Super Pumped is based on Mike Isaac's book, but it turns out Tarantino is a big Billions fan.
RELATED: Quentin Tarantino Cracked Himself up Describing a Comedy Western He Wants to Make
"What David [Levien] and I knew was in the last two years – if you listen to the podcast you know what a big deal Quentin's work is to us – he wrote to us that he had become a really big Billions watcher and fan," Koppelman told The Wrap. "He watches it very closely and is very engaged with every reference and every character's journey. So that's why we thought maybe it was possible he would do it. We knew he liked our work to some extent, or was engaging it."
'Super Pumped': Quentin Tarantino gave them an 'in'
While developing Super Pumped, Koppelman invited Tarantino to be on his podcast, The Moment, in July 2021. He knew the role of narrator would be available. 
"When I asked him to do the podcast, in the same email I asked him to do this," Koppelman said. "He said yes to both and I wrote back, 'You know you said yes to both things?' and he said, perfect Tarantino-ish, 'Yeah I know what I said yes to.'"
So what makes Tarantino the right voice of Super Pumped?
"When people ask why Quentin Tarantino the only answer I can come up with is, 'Because he said yes,'" Koppelman said.
They got the full QT package
Tarantino, of course, is the writer/director of Pulp Fiction, The Hateful Eight, Once Upon a Time… in Hollywood and more. Koppelman said Tarantino took their direction well. He has, after all, appeared in other directors' movies as an actor. However, Tarantino did put on his director's hat occasionally.
"The only time Quentin got directorial at all, we did two sessions and the second session he was over in Israel where he lives part of the time," Koppelman said. "So it was over Zoom, and the only directorial thing was he was like, 'I don't really love how this camera is with the Zoom,' and we were like, 'You know what, you set that up!'"
Other than that, Levien said Tarantino got the delivery without much prompting. 
"He was amazing because he showed up like a performer and was totally open to our input and wanted us to be happy with it," Levien said. "He didn't bring his directorial authority to it, he was like, 'Let me just read it out loud, you'll hear what I do, and then you'll tell me,' basically. And of course he was basically right on it when he read it, and we would just give tiny thoughts about things. He was so enthusiastic and game, honestly it was surreal and one of the most fun things we've ever done in our career."
RELATED: 'Super Pumped': Travis Kalanick Was Not Involved With the Series