How Did Quentin Tarantino and Robert Rodriguez Meet and Become Friends?
Genre moviegoers highly respect filmmakers Quentin Tarantino and Robert Rodriguez. They both have a strong understanding of how to best captivate an audience with over-the-top violence and genre filters that hang over their narratives. Tarantino and Rodriguez are real-life friends who previously worked on multiple projects together and took part in interviews to discuss their movies. A lot of fans wonder how the two filmmakers met and became such good friends.
Robert Rodriguez and Quentin Tarantino movies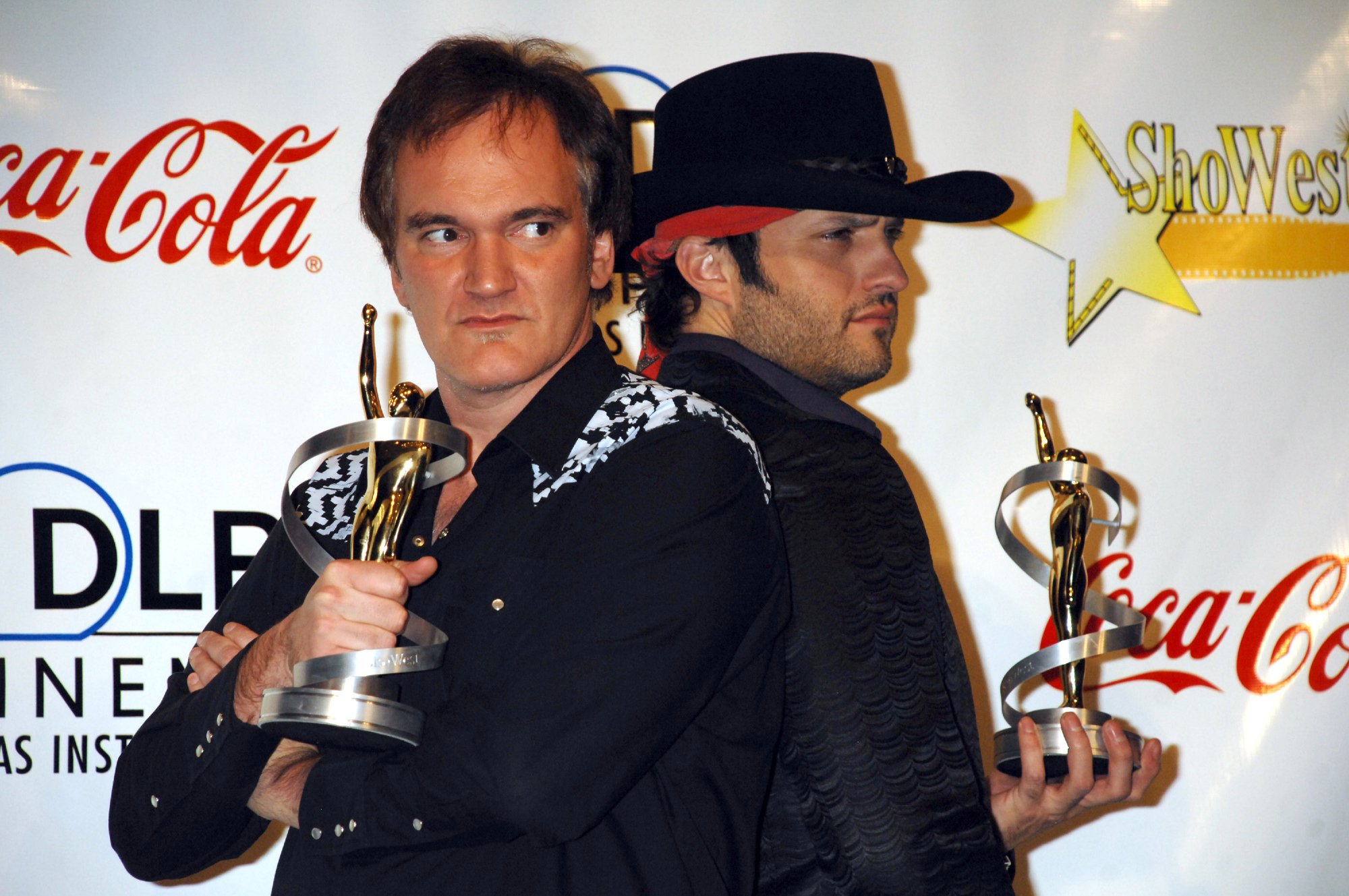 Tarantino and Rodriguez have collaborated on several projects in various ways. The most obvious is with 2007's Grindhouse. Tarantino made Death Proof and Rodriguez made Planet Terror. However, they also helped with each other's projects by producing each other's features. Additionally, Tarantino briefly starred in Planet Terror under the credit of Rapist #1 and Zombie Eating Road Kill.
The other titles that they collaborated on together include Desperado, From Dusk till Dawn, From Dusk till Dawn 2: Texas Blood Money, From Dusk till Dawn 3: The Hangman's Daughter, Sin City, Kill Bill Vol. 2, Full Tilt Boogie, Fantastic Flesh: The Art of Make-Up EFX, and Four Rooms. Their friendship and love for genre filmmaking clearly keep the two artists close.
How did Robert Rodriguez and Quentin Tarantino's friendship start?
Entertainment Weekly interviewed Tarantino and Rodriguez. The interviewer asked them how they originally met and became friends. Tarantino responded, "We first met at the Toronto Film Festival, and we talked for about an hour and a half in a crowded hotel lobby."
"He had Reservoir Dogs, and I had El Mariachi," Rodriguez said. "We were on panel discussions together about violence in the movies. And when we first met, he said to me, 'My next project, you're gonna like. It's called Pulp Fiction!'"
Pulp Fiction is now one of the most iconic movies of all time. It's also frequently known for being one of Tarantino's very best films of his career. However, the Toronto Film Festival wouldn't be the last time that Tarantino and Rodriguez would cross paths.
Rodriguez continued: "And then I got back to Sony and found we had offices next to each other. That's how we hung out. He would read me stuff from Pulp Fiction, and I would show him storyboards for Desperado."
The Grindhouse downturn
Grindhouse performed poorly at the box office. Tarantino fans commonly refer to Death Proof as his obvious worst film. It bombed at the box office and made Tarantino question the future of his career. He wasn't entirely sure if he would be able to recover from audience reactions and the poor box office performance.
However, Rodriguez went in the other direction. Instead, he doubled down on the franchise. He made Machete and Machete Kills to expand upon the Grindhouse universe. However, Tarantino couldn't get away from the franchise fast enough. He went on to make Inglourious Basterds, which is considered another one of his very best movies.