R. Kelly Hires Bill Cosby's Lawyer To Help Appeal His Recent Guilty Verdict
R. Kelly and his legal team are keeping their promise to appeal his recent guilty verdict. Kelly was found guilty of all charges in his sexual assault and racketeering trial in Brooklyn, New York.
The trial was the first of at least three others in several states to go before a jury. Witnesses spoke of years of sexual, physical, emotional, and financial abuse allegedly suffered at the hands of the disgraced R&B singer. Jurors also heard testimony about Kelly's illegal marriage to Aaliyah. 
Now, R. Kelly is looking for help in his case by turning to a lawyer known for representing defamed celebrity in Bill Cosby.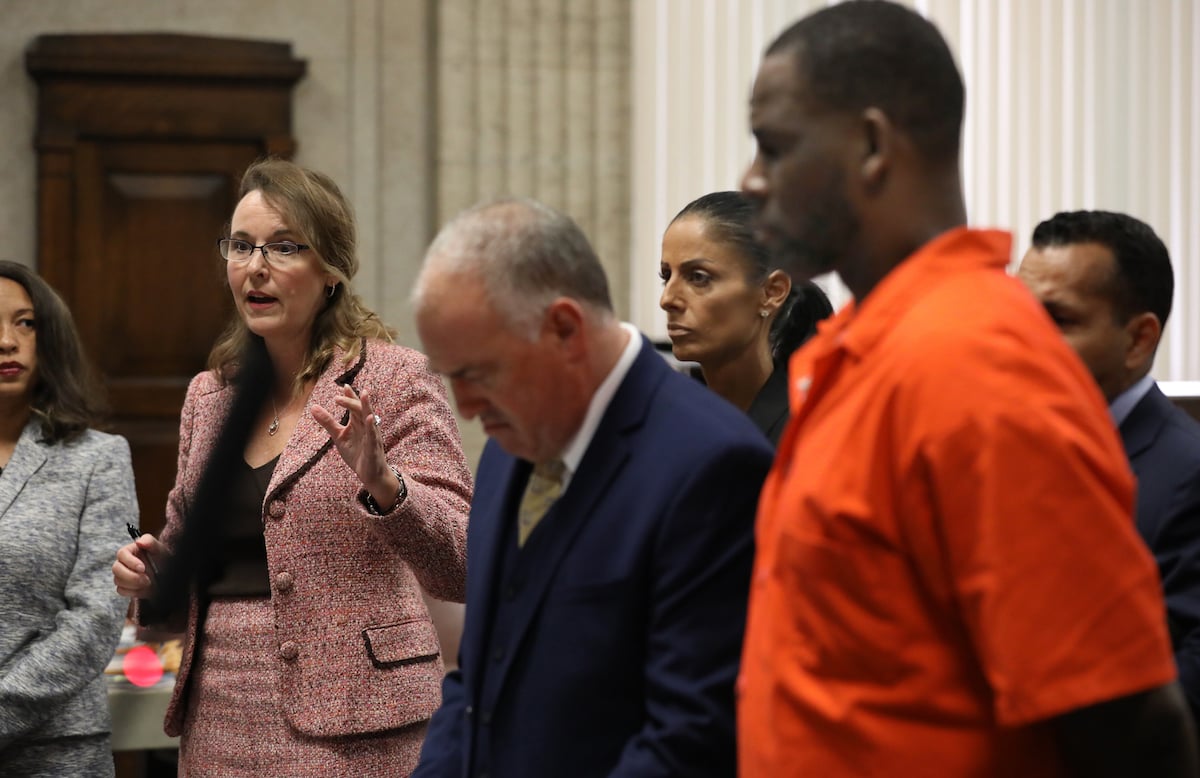 R. Kelly hires Bill Cosby's attorney to help
Kelly is hoping to appeal his racketeering and sex trafficking conviction. To help him, he's hired Jennifer Bonjean — the same lawyer who helped to overturn Bill Cosby's sexual assault case.
The Chicago Tribune reports that Bonjean appeared in the U.S. District Court in Brooklyn, where Kelly was found guilty. Bonjean registered alongside Kelly's current legal team. She's made it known that she is looking to push for a new trial. Bonjean is set to present her case to the 2nd U.S. Circuit Court of Appeals.
Related: R. Kelly's Ex-Wife Speaks on His Guilty Verdict
On Sept. 27, the "I Believe I Can Fly" singer was found guilty on all nine counts he faced: one count of racketeering and eight counts of violating the Mann Act for transporting minors across state lines. His sentencing hearing is scheduled for May 2022. He faces 10 years in prison to life.
Bonjean will now oversee having the conviction prepared for a new trial. The decision on a new trial will be up to Judge Ann Donnelly, who will approve or deny the request. Bonjean has "already asked for a two-month extension on post-trial motions." The original deadline was for Nov. 1.
"I am becoming increasingly concerned with how the government is abusing the RICO statute in order to plead around the statute of limitations and essentially put people's entire lives on trial," she said in a statement. "It's becoming a formula for the government. You have a right to defend yourself against specific allegations."
How Bill Cosby's case was overturned
Bonjean played a major role in Bill Cosby's successfully overturning his sexual assault conviction in July 2021 in the Pennsylvania Supreme Court. The Cosby Show creator was originally found guilty of rapping and drugging Andrea Constand, who met Cosby while working at Cosby's alma mater Temple University.
Related: R. Kelly's Legal Team Admits to His Relationship With Aaliyah as Part of Defense Strategy During Criminal Trial
Cosby's alleged rape of Constant occurred in 2005. He served three years of his 10-year sentence before his release in July 2021. Cosby's legal team argued that he faced unfair prosecution. They cited a previous judge's promise that Cosby wouldn't face charges connected to Constand's accusations. But, another prosecutor charged Cosby. The prosecutor alleged that he wasn't bound by the agreement set by the previous judge and Cosby.
"Mr. Cosby should have never been prosecuted for these offenses. District attorneys can't change it up simply because of their political motivation," Bonjean previously told The Chicago Sun-Times in a report.
R. Kelly is set to go to trial for another case
Kelly will next stand trial in August 2022. This case centers around child pornography, as Kelly allegedly videotaped sexual encounters with minors. 
The singer is going to trial with two alleged co-conspirators. Just as in his last trial, Kelly is pleading not guilty. He also faces similar cases and allegations in Georgia, Florida, and Missouri. 
How to get help: In the U.S., call the RAINN National Sexual Assault Telephone Hotline at 1-800-656-4673 to connect with a trained staff member from a sexual assault service provider in your area.