R. Kelly's Ex-Girlfriend Azriel Clary Explains Why She Was 'Aggressive' in First Interview With Gayle King
R. Kelly is currently facing up to life in prison for being found guilty of racketeering. The singer's ex-girlfriend, Azriel Clary, testified against him. Clary says she stood by Kelly previously to protect herself against his abuse.
It's been three years since R. Kelly became the subject of public scrutiny for his relationships and alleged abuse of young girls. The disgraced R&B singer was recently found guilty on racketeering charges and is awaiting sentencing for the criminal case. Kelly faces similar charges in several other states. His ex-girlfriend Azriel Clary, who once defended him publicly, is speaking about her infamous interview with Gayle King. Clary says she stood beside Kelly to protect herself against being physically abused by Kelly.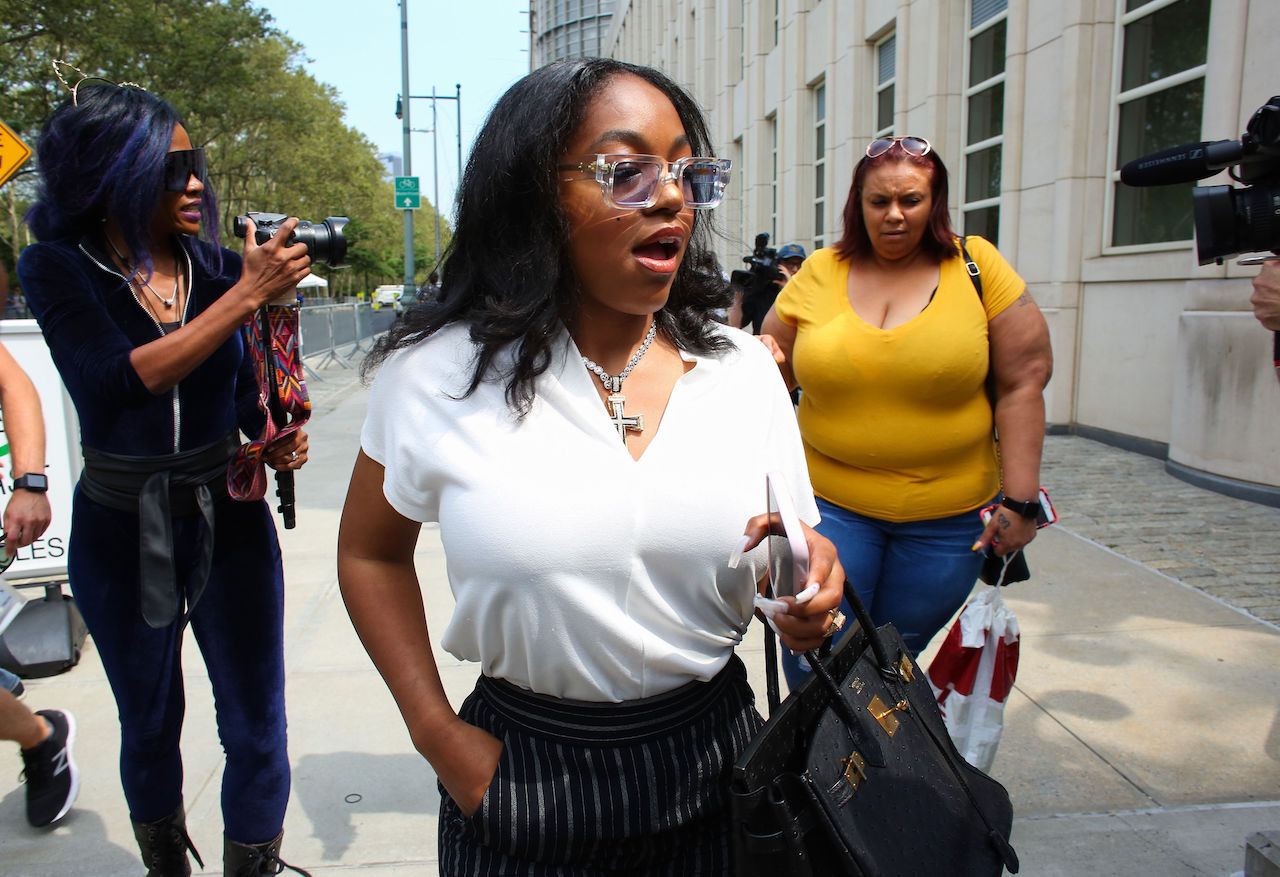 She says her attitude during her first Gayle King interview was to protect herself against R. Kelly's wrath
In 2019, Clary and Kelly's other live-in girlfriend, Joycelyn Savage, sat with King to dispel speculation that they were under Kelly's control and manipulation. The interview came amid the fallout of the Lifetime docuseries Surviving R. Kelly, which detailed Kelly's abuse of young girls and women. Clary and Savage told King that their relationship with Kelly was consensual and that their decision to be estranged from their families was their own.
In a recent interview with Hollywood Unlocked, Clary says she lied to King. She says she did so to protect herself from Kelly's abuse. When asked why Clary would tell herself now in retrospect, she said:
I just think that she was scared and I feel like regardless of how anybody wants to perceive an interview through their screen, at the end of the day, I had to go back to whatever I was going back to, and the rest of the world continued to go on with their lives. So for me, I feel like at that point I had to do what I felt would protect me most in that situation as a young woman. I look back and I just wish that I could give her a big hug and say, 'You do not have to be scared and it is so OK to stand up for yourself'
Clary said that because of all of the abuse she'd experienced from Kelly, she was afraid that if she didn't do what he demanded of her in the interview, she'd be beaten when they went back home. "I was protecting myself because I was scared and I feel like anybody that watches that [can see that] I'm super aggressive, I'm super mean for no reason, just on standby," she added.
Azriel Clary later told Gayle King that speaking with her was a turning point in her relationship with R. Kelly
Clary didn't do any press until after she left Kelly at the end of 2019. She immediately began therapy and worked to rebuild her relationship with her family. But she credits King with inspiring her to leave the singer. Clary told King in a follow up 2021 interview:
I feel like that interview was a blessing because for five years, since I was 17, I didn't have any other relationship with any other women except for women that he had been intimate with. And so when I did that interview with you, I instantly regretted, immediately, how I reacted. Something about just watching you be very casual and calm and collected, it just reminded me of me. I was like, 'Wait a minute, I used to be that poised, I used to be that calm…What happened to that girl? Where did she go?' And after that interview, when we went back to Trump Towers, I knew that he knew that by seeing you, it had shifted something in me…it king of made me wake up in a sense and realize, 'Why am I acting like this? Why am I putting myself through all of this mystery? Why am I exploiting myself for a man whom has me in this position in the first place?'
Clary didn't discuss whether or not Kelly ever confronted her about her feelings after the interview. But she did say the interview was the first step of her breaking free from the relationship. "Definitely sitting there and just watching you, I was so taken aback," Clary said. "I was like wow, 'I have to get back to that. Where is that girl?' So it was very important for me to slowly but surely rebel."
She is now focused on her life since surviving R. Kelly's abuse and is releasing new music
Clary met Kelly and began working with him to help her music career before their relationship transitioned to an intimate one. But throughout their relationship, she says she lost her passion for music. She told Jason Lee of Hollywood Unlocked that she was so broken after the relationship that she didn't want to pursue music anymore. But since beginning therapy, her love for music has returned.
Clary recently released her debut single, "Sounds of An Angel." There's also an accompanying music video for the single.