R. Kelly's Former Bandmate Allegedly Caught Him in a Sexual Act With an Underage Aaliyah
R. Kelly's former bandmates claim another member of the group told them he caught Kelly in a sexual act with Aaliyah when she was a teen. he quit the group as a result.
R. Kelly and his marriage to Aaliyah have been central testimony during his current criminal trial. MTV News reported on the marriage in the mid-90s after obtaining their Illinois wedding certificate. Many in Kelly's inner circle claim they knew of his relationship with Aaliyah and one member of Kelly's group allegedly quit after discovering the two in an intimate act.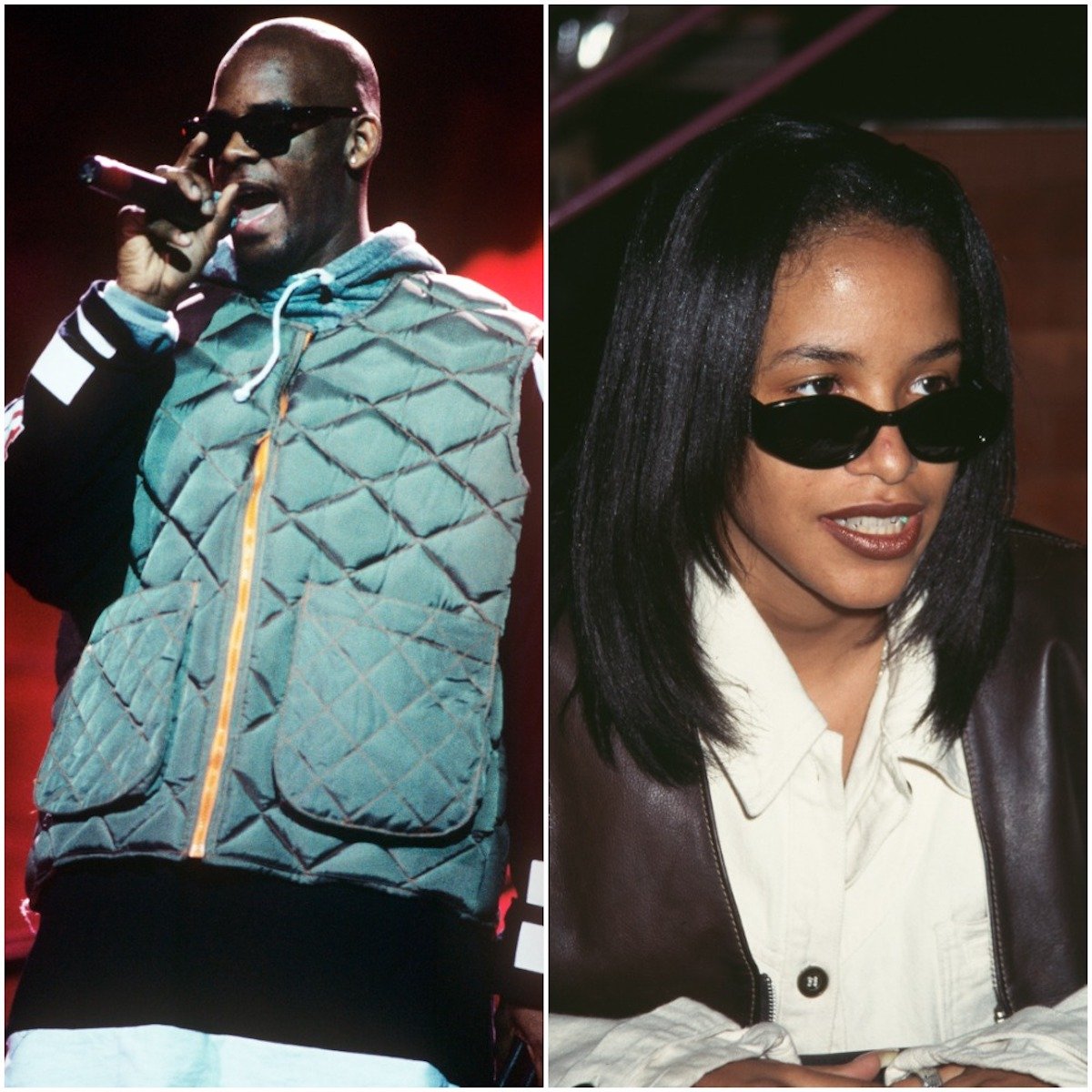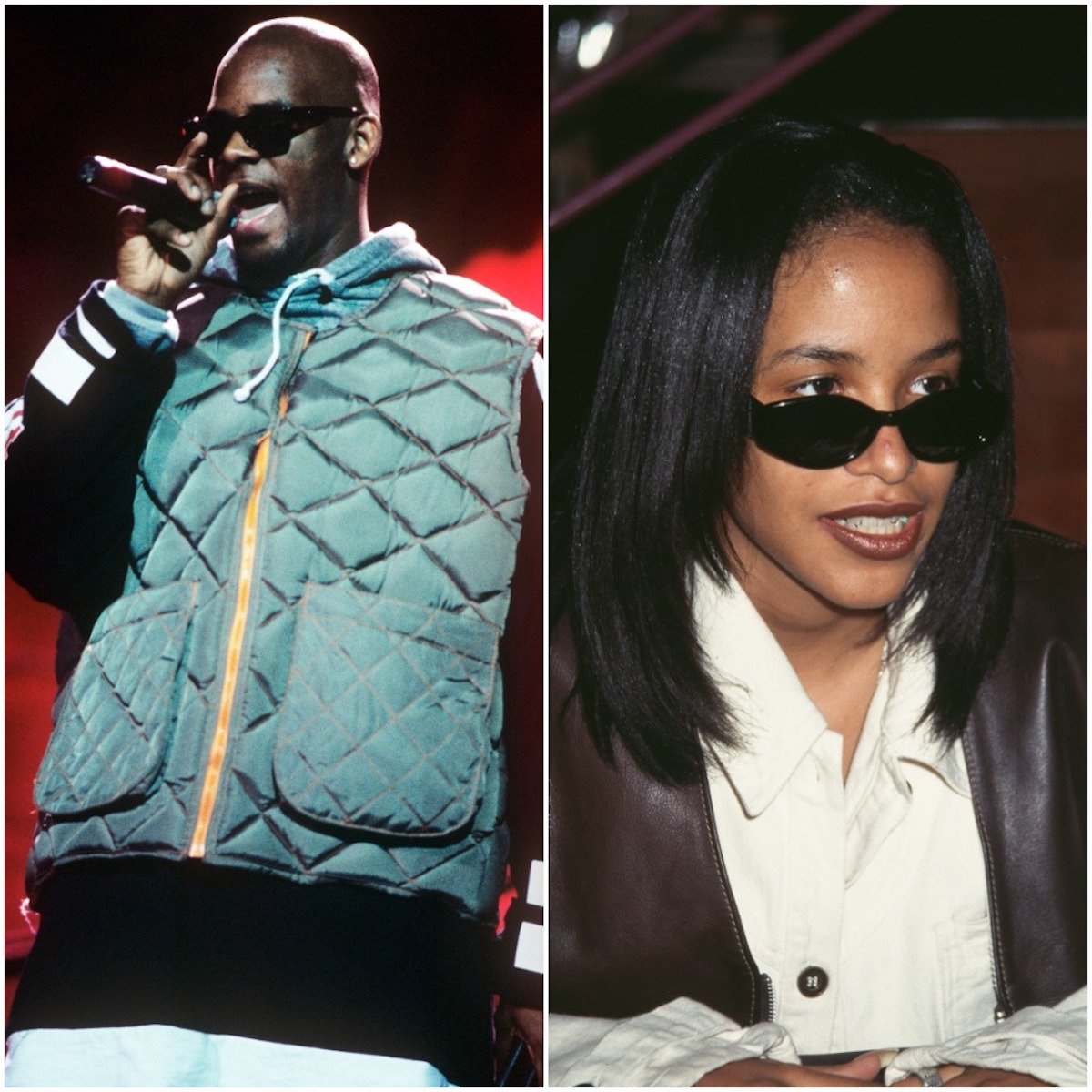 Public Announcement members recall learning from former bandmate about R. Kelly and Aaliyah
While the remaining two members of the Public Announcement say they did not see anything inappropriate between Kelly and Aaliyah, they claim that former member, Earl Robinson, did.
"He said he did [see something inappropriate] – that's what he said – he told me that," Andre Boykins says in a 2019 interview with Vlad TV. "He said he saw Rob (Kelly) and Aaliyah on the back of the bus [having sex]."
Related: Sinbad Ended His Friendship With R. Kelly When Kelly Married Aaliyah
Initially, he admits he didn't believe Robinson because Robinson and Kelly's relationship was strained. 
"My exact words were, 'Stop it. You didn't see it. Stop it,'" he says he told him. "And he swore he seen it. But my thing was, I didn't know to believe it because, at that point, Earl's relationship with Rob wasn't that great. So I'm looking at it like, 'Maybe you're on some craziness' – so I really didn't look at it in no type of way at that stage."
In the Lifetime docuseries Surviving R. Kelly, Kelly's former background singer Jovante Cunningham also said she saw Kelly and Aaliyah together.
"So, it just so happened we were all laying in our bunks and the curtains are open, everybody's communicating, laughing," she recalls in the first episode of the series. "When the [room] door flew open on the bus, Robert was having sex with Aaliyah."
The group alleges R. Kelly controlled the way they interacted with women and other artists
In Surviving R. Kelly, the singer's accusers and others in his camp insist Kelly has strict control over his artists and inner circle. So much so that no one is able to formulate individual relationships with one another if Kelly isn't part of it. Public Announcement corroborates similar sentiments.
"For the most part, when it came to any females or anything like that, we really could not be involved in that for real," Boykins says. "So you would see her passing by, but to sit and hang out and do that? Nah, that wasn't happening…He keeps everything under control – everybody that's there, I don't care what capacity you work in, you're only going to do what he wants you to do and you're only going to be in things that he allows you to be involved in."
Related: Damon Dash on R. Kelly and Aaliyah's Marriage: 'I Knew All of That'
The other also maintains he didn't interact with Aaliyah or anyone else who surrounded Kelly at the time.
"I didn't know because I treated it like it was a job," Ricky Webster claims. "I'd go to the studio, work, and then I'd go home. I remember seeing her once, but I was in and out … there was a lot of separation. We were always separated from everybody else because we were always in the studio working on what we were working on and two studios down, there could be somebody else."
R. Kelly's former road manager testifies the singers illegally married when Aaliyah became pregnant
During a recent testimony at Kelly's Brooklyn criminal trial, his former road manager Demetrius Smith testified that he helped orchestrate Kelly and Aaliyah's illegal 1994 marriage by paying an Illinois government employee a bribe of $500 to obtain a fake ID for Aaliyah.
At the time, the ID alleged Aaliyah was 18 and Kelly was 27. Aaliyah was really 15 at the time. Smith claims the illegal wedding happened because Kelly thought Aaliyah was pregnant and wanted to avoid jail time. 
Public Announcement also alleges that despite Kelly and his camp claiming they did not know Aaliyah was underage, he was well aware of Aaliyah's age, as was everyone else.
Kelly and Aaliyah's family have always denied there was a marriage but court records show Aaliyah's parents had the marriage annulled in 1995.