R. Kelly's Legal Team Requests Minimal Sentence as More Sexual Abuse Allegations Surface
R. Kelly has a long legal road ahead of him. He is set to face sentencing in his first sexual abuse and trafficking case that concluded last year. The case was opened following the Surviving R. Kelly docuseries that aired on Lifetime in 2019. Since then, more allegations have surfaced. Kelly is currently awaiting sentencing in his home state of Illinois.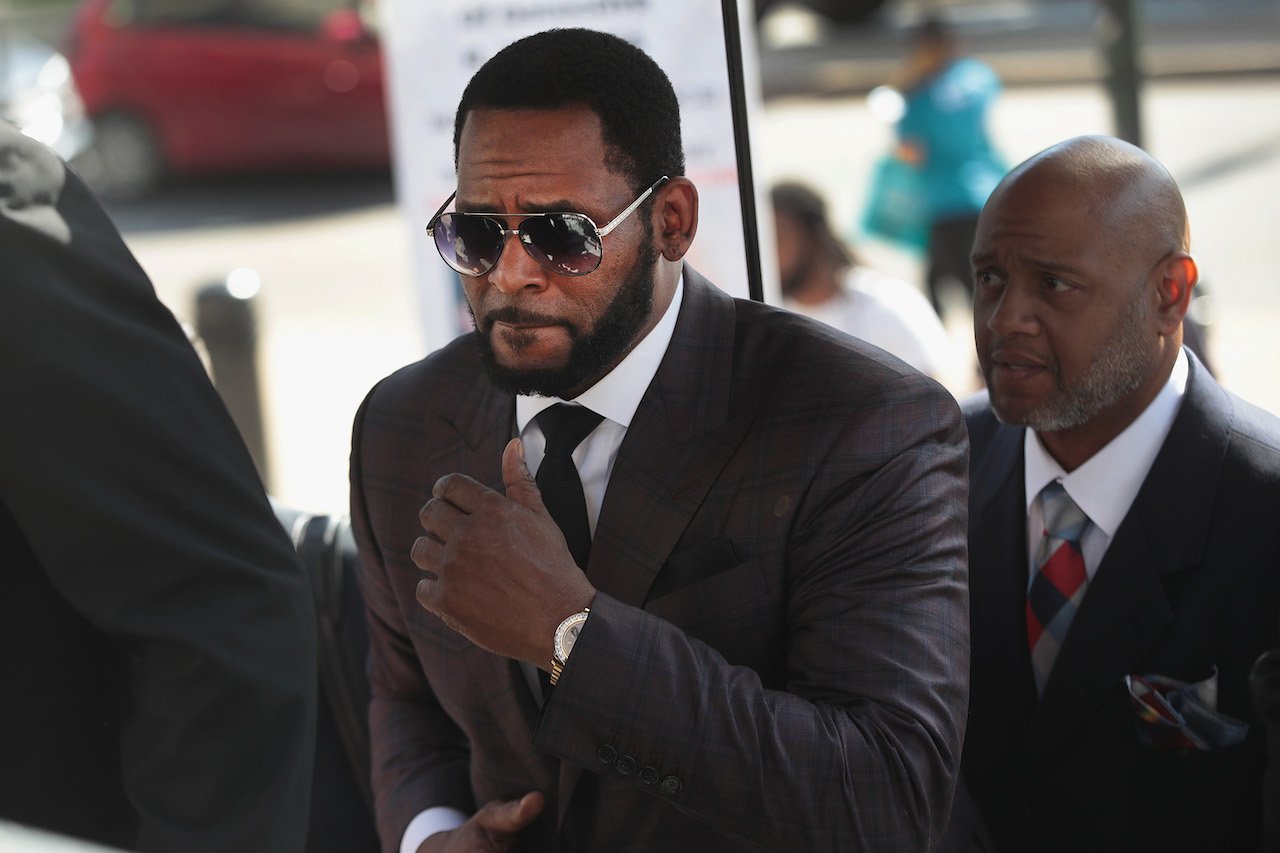 More allegations of sexual abuse against R. Kelly have surfaced
Kelly's team is trying to avoid a life sentence at the upcoming court hearing. Last summer, Kelly was found guilty of racketeering in New York. His legal team is requesting a 14-17 year sentence, but it comes amid prosecutors releasing more allegations. 
The Jasmine Brand reports that the government is accusing Kelly of methodically grooming "the women and girls in his orbit to meet all of his sexual needs, with Kelly controlling their every move. " Some victims even testified that they were forbidden from making eye contact with other men, were coerced into writing letters confessing to false crimes, and eating feces on camera for bribery.
"In these letters, they falsely confessed to stealing money and jewelry; they falsely admitted concocting elaborate robberies; one falsely claimed that she seduced the defendant when she was underage and threatened to claim he raped her if he would not engage in sexual activity with her," the documents state. "[Kelly] regularly required Jane to have sexual contact with other men and women at his direction, including the women living with him, his assistants…And a man he referred to as "nephew" who she had never even seen prior to [Kelly] directing her to have sex with him."
R. Kelly's lawyers are using his illegal marriage to Aaliyah in his sentencing
New allegations came as Kelly's legal team used his marriage to Aaliyah to try and steer his sentencing in their favor. Radar Online reports that the singer is denying "using" Aaliyah in a bribery scheme ahead of their 1994 wedding. 
Jennifer Bonjean, Kelly's lawyer, denies the allegations against Kelly regarding his marriage to Aaliyah. Kelly and his camp reportedly obtained an identification card that listed Aaliyah's age as 18 at the time of their wedding. She was actually just 15.
"The government's evidence failed to show that Defendant knew that Demetrius Smith paid money to influence a public aid officer to produce an identification card for Aaliyah," Bonjean told the federal judge per the court records. "The record is also devoid of any evidence that Defendant used Aaliyah in connection with the bribery. Of course, the bribery committed by Smith produced a fraudulent public aid card for Aaliyah. But it does not follow that Defendant used Aaliyah in the bribery."
The singer is facing life in prison, and additional trials are pending
Immediately after the verdict in his Brooklyn trial, Kelly's team announced their plan to appeal. He also hired Bonjean, the same lawyer who successfully had Bill Cosby's verdict overturned.
Kelly is facing similar charges in multiple states. He has pending trials scheduled in Minnesota, Georgia, Illinois, and Florida. As in his New York case, Kelly is pleading not guilty.
RELATED: R. Kelly's Former Road Manager Testifies About Kelly's Illegal Marriage to Aaliyah