Rachael Ray's Classic Party Recipes for Your Super Bowl Menu
Get Super Bowl party-ready with these crowd-pleasing recipes from Rachael Ray!
Working on your Super Bowl party menu? These crowd-pleasing recipes from Rachael Ray are quick fan favorites that will allow you to feed guests and enjoy the game. For your Super Bowl party, count on these easy-to-make Food Network favorites.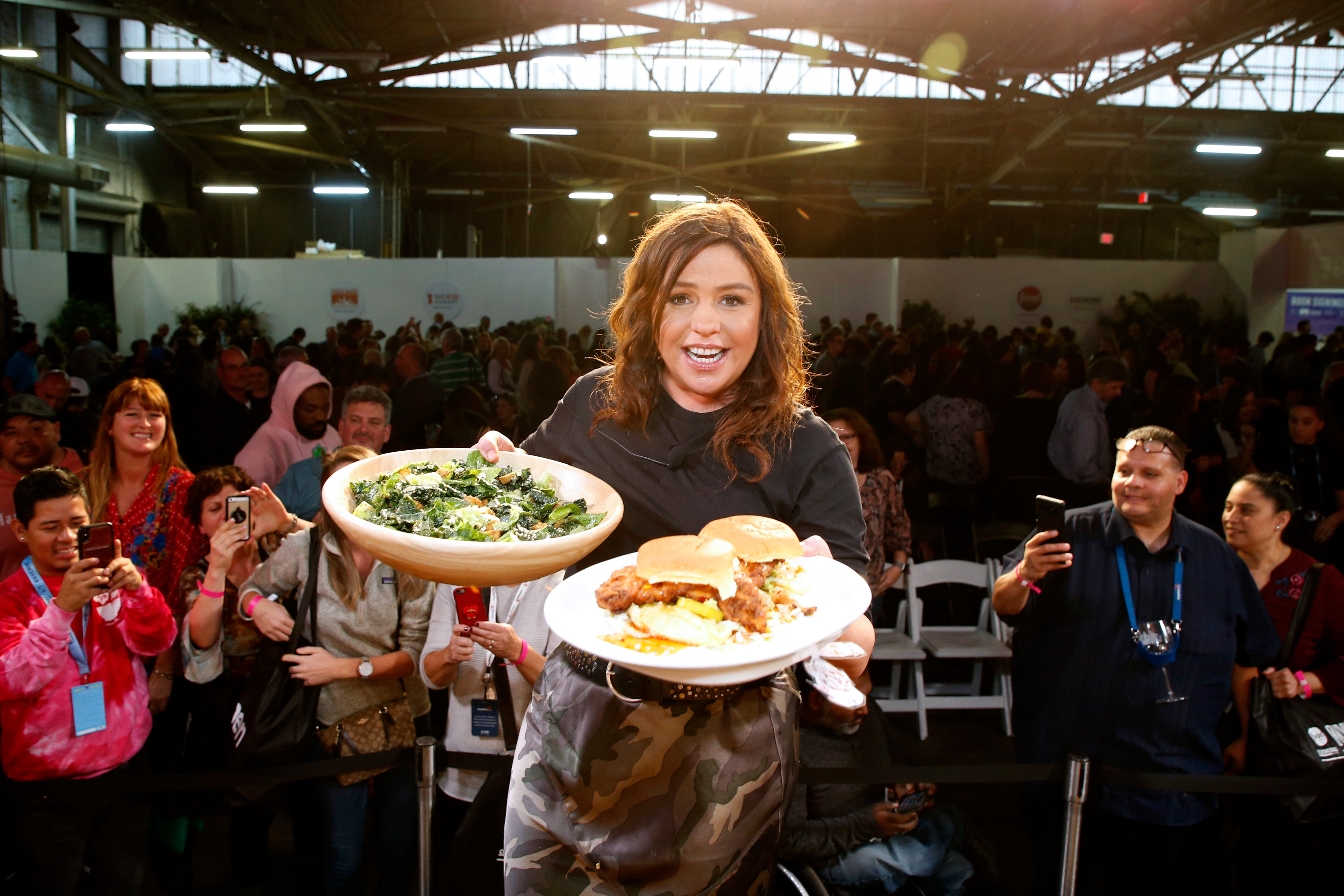 Rachael Ray's Super Nachos are perfect for Super Bowl Sunday
With tomatoes, jalapeno pepper, onion, cilantro leaves, and a robust beef and bean topping, Ray's nachos will wow your game-day crowd. This appetizer also gets a kick from a pepper jack cheese-based sauce.
Fans from Super Bowls past praised the This Must Be the Place author's nachos on Food Network's site. One reviewer wrote, "These were amazing!!!! Made them for Super Bowl and will be making them again," and another added, "I made this for Super Bowl Sunday. It was a hit. We ate so much of the nachos we were too full to eat the pizza!"
Find the full recipe, reviews, and video on Food Network's site.
Ray's Steakhouse Sliders are the perfect quick meal for a party
In the Food Network video for this recipe, Rachael Ray calls this appetizer "Almost too cute to eat. Almost."
The television cook uses a pizza cutter to simplify cutting the cooked meat into 24 "little baby burgers" once they're out of the oven. Her tangy "special sauce" includes grainy mustard and steak sauce. With arugula, sliced tomatoes, red onion, and bacon topping them off, these sliders are satisfying snacks.
Food Network reviewers said of the recipe, "Great recipe! It was great because it did not take a lot of work and I did not have to miss any football to prepare/get the meal ready" and "YUMMY! Used 1 lb of beef and it was perfect for a fast weeknight dinner! LOVE IT!"
Go to Food Network's site for the full recipe, video, and reviews.
Ray's Hot Buffalo Chicken Sandwiches put everyone's favorite wings in a sandwich
Two cups of sour cream and a half-pound of blue cheese dress up the Rachael Ray Show star's zingy sandwiches while chili powder and sweet paprika give the chicken a kick of its own.
Football fans cheered Ray's recipe, writing on Food Network's site, "This recipe is great! Made it for Super Bowl last Sunday and it was a big hit!" and "This is a great recipe for Super Bowl Sunday. … I get small rolls and make them finger sandwiches. Everybody loves em."
Visit Food Network's website for the complete recipe and reviews.
Rachael Ray's Swiss and Bacon Dip is a 'winner'
Cooked chopped bacon, cream cheese, mayonnaise, Dijon-style mustard, Swiss cheese, and chopped scallions and almonds make this dip a game-day champ. Ray also suggests trying pepperoni instead of the bacon and horseradish instead of the mustard.
"Oh, is this a winner!," Ray said of the dip on the Food Network video. "All of your friends are going to want to have this recipe. They're going to nag you for it. It travels really well, it's great to take over to somebody's house, it is a party favorite."
Once all of the ingredients are combined, it's finished in the oven for a gooey, cheesy appetizer.
One happy reviewer on Food Network's site summed it up, writing, "Made this for a Super Bowl party; everyone LOVED it. All I heard were happy groans!"
Go to Food Network's site for this recipe.