Rachael Ray Shares Cutest Post of Her Puppy Cuddling Its Plush Toy in Celebration of National Puppy Day
Every fan of celebrity chef Rachael Ray's knows that, next to her family and food, her heart belongs to furry, four-legged creatures.
A staunch animal advocate, the Food Network star posted this week a sweet photo of her puppy, Bella Boo Blue, to mark National Puppy Day.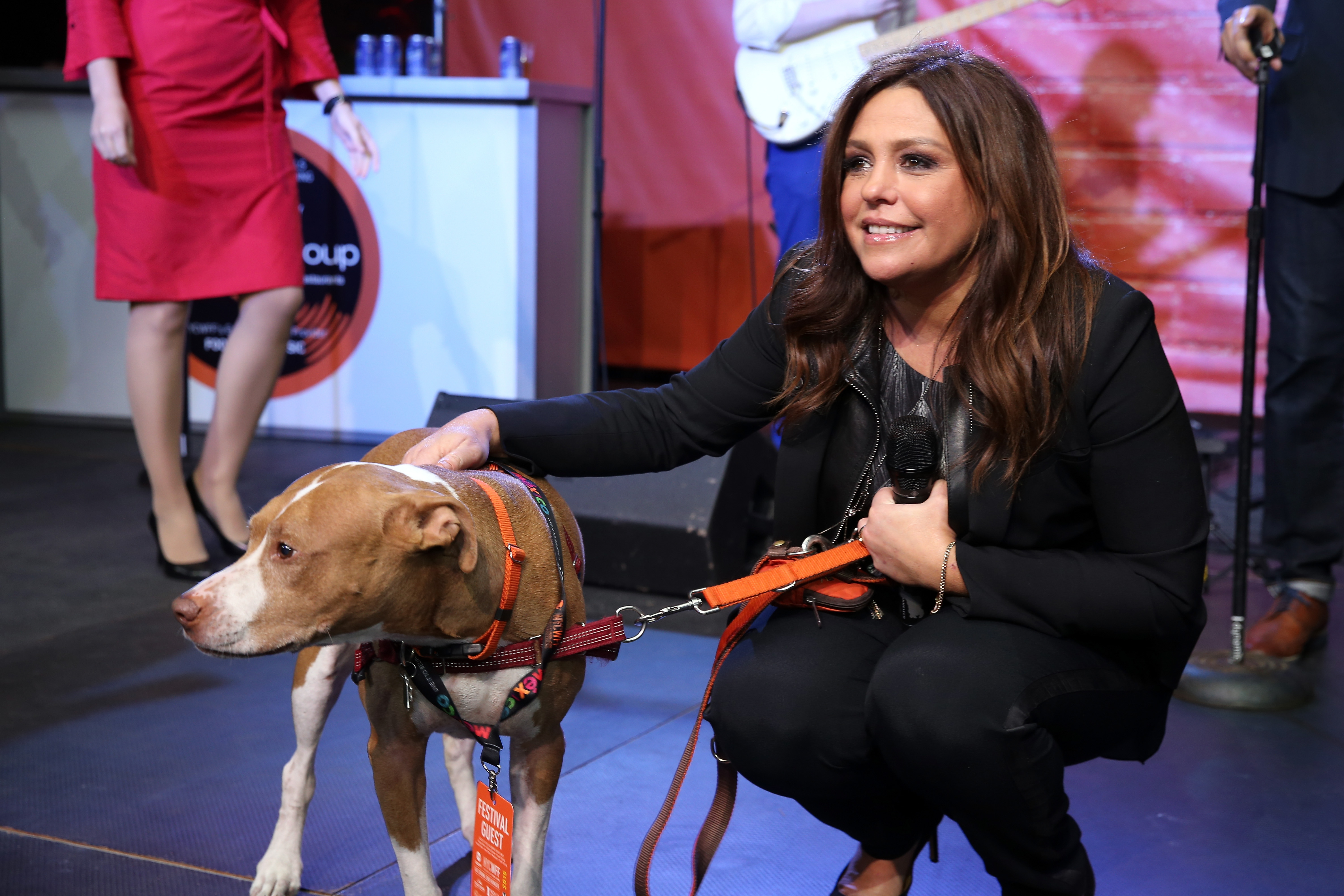 Ray's beloved Isaboo died last year
In May of 2020, Ray's cherished pit bull Isaboo of 15 years died. By her side were the television personality and her husband John Cusimano.
Isaboo was, as pet owners understand, part of Ray's family. After her loss, Ray posted on social media saying, "Our beloved Isaboo passed today in her backyard in the sun in the Adirondack Mountains in New York. In our arms. Peacefully. "
As she does at each opportunity that presents itself, Ray at the time asked her followers to honor Isaboo by considering adoption of a pet of their own.
"If you have room in your heart, your home, and your budget, I say from experience that bringing an animal in need into your home can help you become a better human being," she added.
Rachael Ray adopted Bella Boo Blue in the summer
A few months after Isaboo's death, Ray and Cusimano adopted from the North Shore Animal League a pit bull puppy that they named Bella Boo Blue.
RELATED: 'Barefoot Contessa' Ina Garten Recommends 1 Ingredient Rachael Ray Won't Touch
"Happy Adoption Day to Bella Boo Blue, who we welcome to our family today! She loves how we roll! (…in the outdoor carpeting) Look at those baby BLUES," Ray said on social media at the time.
Their puppy's new name was "Bella," a favorite name of Ray's, "Boo," in honor of Isaboo, and "Blue," in tribute to the puppy's striking blue eyes.
Naturally, the celebrated cook had to include a full menu to celebrate her new family member's arrival. She served potato and pea samosas; succotash; grilled marinated paneer, peppers, and onions; and spatchcock chickens with curry leaves and green garlic under the skin.
For the new arrival? Bella Boo Blue enjoyed at her party "minced chicken and naan bread with a spoonful of yogurt to celebrate."
Bella Boo Blue snuggling is all you need today
Observed on March 23 each year, National Puppy Day is most definitely a holiday in Ray and Cusimano's household.
In honor of the day, Ray posted a very cute photo of Bella Boo Blue napping with her teddy. Her stuffed friend appears to be a teddy cat but regardless, this puppy was fully at rest.
In her post along with the photo of a clearly tuckered out Bella Boo Blue, Ray simply wrote, "#NationalPuppyDay Hangover."
Ray noted on another post this week relating to National Puppy Day her gratitude to several no-kill animal shelters that have countless fur friends needing homes.
She provided the names and links to these shelters that work tirelessly on behalf of animals in need of forever families: "Today, we THANK our #RachaelRayFoundation partners for the work they do everyday to save lives + help find fur-ever homes for animals in need of all ages from huggable pups to adorable seniors and everyone in between."