Rachel Lindsay Said 'The Bachelor' 'Perpetuates… Exactly What Is Wrong in Our Society'
Rachel Lindsay has always been an outspoken member of the Bachelor franchise. She was the first Black lead on The Bachelorette and also the only Black lead on the franchise, ever. She's often the one to talk about diversity or racism, but there also hasn't been a push by the franchise to bring more diversity into their shows. Lindsay is speaking out, yet again, and this time really putting pressure on Bachelor Nation.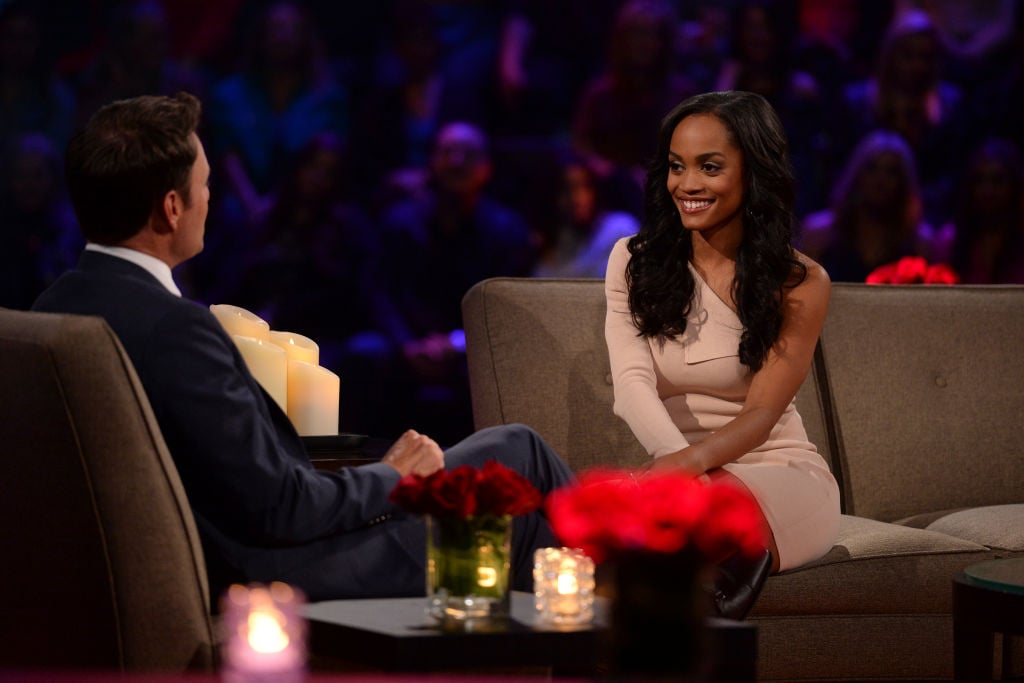 RELATED: Rachel Lindsay Pushed Back Against Becca Kufrin's Remarks of Garret Yrigoyen's 'Tone-Deaf' Posts
Lindsay said that Black people and other people of color don't watch the show for a specific reason
On June 9's episode of the Bachelor Happy Hour podcast, Lindsay and co-host Becca Kufrin, who was also a lead on The Bachelorette, talked about racism in the world and also within the Bachelor franchise.
Before getting into Kufrin's fiance, Garret Yrigoyen's controversial Instagram post and past, Lindsay touched on the problems within the franchise they're a part of. Lindsay explained that she's not unique in not watching The Bachelor before her time on the show. But what is more unique about her decision — at least amongst the contestants — is that she didn't watch it because Black people were hardly featured on the show. And when they were, there was a running joke that they didn't make it past Week 3, which had truth to it.
She stated that it's different when people of color say they don't watch the show because there's hardly an appeal for them to do so. There's a tone that "it's not for us," Lindsay stated.
Lindsay, of course, did eventually agree to be on the show because it was a way to possibly break barriers, which she has done. However, since then, she's received little to no support from the franchise in addressing racism among the alum and in making the show more diverse. People of color aren't cast in large numbers on the show, and when they are and make it far, they still don't become leads.
RELATED: Rachel Lindsay Is 'Offended' That Hannah Brown Didn't Take Her Advice On How to Apologize Following Her Saying a Racial Slur
The lack of diversity in the franchise is a 'form of subtle racism'
When it came down to Mike Johnson and Peter Weber, the franchise chose Weber and it brought about one of the most frustrating seasons for fans in recent years. Weber wasn't ready for marriage, yet was chosen to find a wife. The resulting season was a mess for everyone, and it shows that the best candidate wasn't picked when there were other options.
In a blog post on her website on June 8, Lindsay addressed the choice not to pick Johnson, too. She reiterated what she'd said before on the matter which is, "when you have a contestant like Mike Johnson, who seems to check all the boxes, how is he not the Bachelor… the system isn't working in giving us a Bachelor who is a person of color. So we need to change the system. Something has to be done."
She then said on her podcast that it's "embarrassing" to her to be "affiliated" with the Bachelor franchise. She's "tired of pretending and making excuses for the lack of diversity" when there are qualified candidates.
Not to mention, Lindsay said she's also just "tired of having to be the Black person to speak out about what happens to Black people." And the franchise should do more to "stand up for Black contestants," because when they don't, they're part of the problem and it's a "form of subtle racism."
Lindsay shared that 'The Bachelor' franchise isn't doing enough for their Black contestants
What are the ways that the series doesn't support their Black contestants and other contestants of color? Well, for starters, it's the utter lack of leads who aren't white. In continuing not to cast Black or brown leads, they've "built a franchise that perpetuates and mirrors exactly what is wrong in our society," Lindsay said.
This choice "plays into an audience that accepts it" and continues to deepen that divide between people of color who watch the show and want to participate in it and those that don't want that. This carves out the type of people watching, and also contributes to the hate Rachel and other people of color from the show receive.
Another way is how the franchise doesn't seem to have her back, according to Lindsay. They stay silent about the racist actions of contestants. Lindsay pointed out a few, like their silence on Victoria Fuller's "White Lives Matter" fiasco and also when Hannah Brown recently said the n-word. And bringing it back to Kufrin, the Garret Yrigoyen situation right after Kufrin's season. They also cast Lee Garrett on Lindsay's season, who was openly racist.
Lindsay also brought up the fact that the Bachelor franchise has shown that they can do whatever they want in terms of bending rules to enact change. Last season on Bachelor in Paradise saw its first-ever same-sex couple with Demi Burnett and Kristian Haggerty. Haggerty wasn't a member of Bachelor Nation, but they brought her on to get that diversity, again, showing they can make necessary changes when they want to.
RELATED: 'The Bachelor': Shiann Defends Victoria F. For White Lives Matter Scandal — 'She's One of Those Pure People'