'Raised by Wolves' Cast and Fans Team Up to Try to Save Series
HBO's visually stunning sci-fi drama Raised By Wolves ended with season 2. But fans of the show are teaming up to save the canceled series.
'Raised By Wolves' was canceled by HBO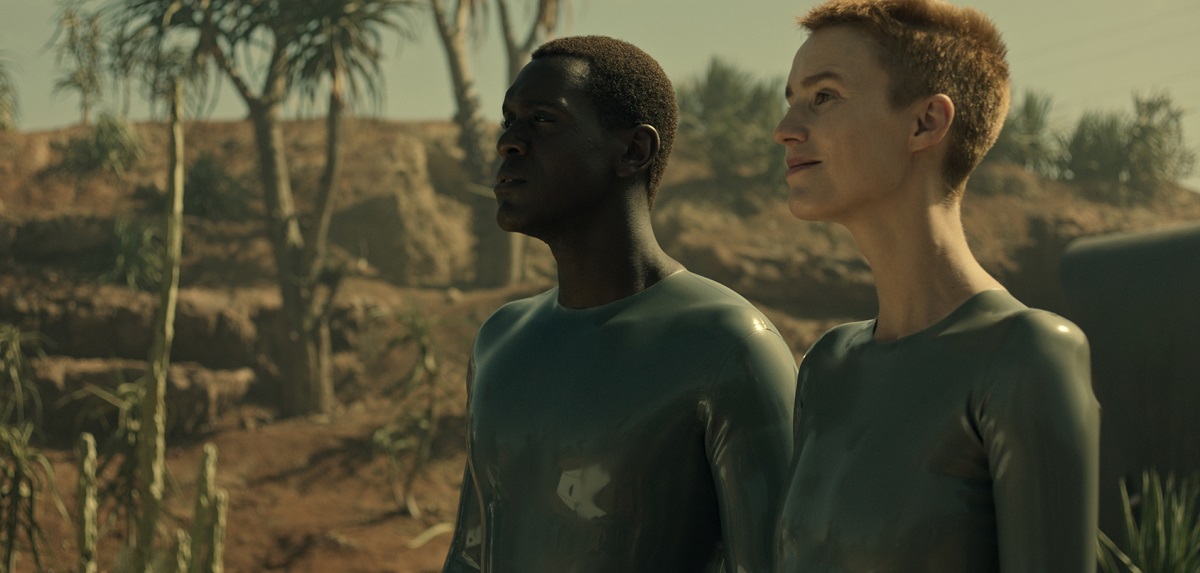 The series Raised By Wolves premiered on HBO in September 2020. It follows the story of two intelligent Androids, Mother (Amanda Collin) and Father (Abubakar Salim), charged with birthing and raising human children on Kepler-22B after war destroys Earth. Programmed to protect the children at all costs, the robots must fight off a mysterious religious faction as well as a variety of wild creatures native to the planet. 
Season 2, which dives deeper into the series' mythology, debuted in February 2022. But a few months later, in June, HBO announced the show's cancelation.
"While we are not proceeding with a third season of Raised by Wolves, we are beyond grateful to the stellar cast and crew — [and] our creators Aaron Guzikowski, Ridley Scott, David W. Zucker, and the entire team at Scott Free Productions, for their beautiful artistry and unique ability to immerse fans into the world of Kepler-22b," an HBO Max statement reads.
'Raised By Wolves' fans are trying to save the show 
Because Season 2 of Raised By Wolves ended with significant cliffhangers, its cancellation became a major disappointment for fans counting on finding answers in Season 3.
Some took to Twitter to share their frustrations. And a fan-generated online petition calling for renewal garnered nearly 15,000 signatures in the first two weeks.
"Raised By Wolves is one of the most original and thought-provoking shows to come to HBO!" the Change.org petition reads. "We only got 2 seasons of this wild ride before it was canceled in favor of different projects nowhere near as unique and fun as RBW. Help us get it renewed or picked up by another station that deserves it, #SAVERAISEDBYWOLVES! #RENEWRAISEDBYWOLVES!"
There is 'hope' suggests 'Raised By Wolves' star Abubakar Salim
Fans aren't the only ones campaigning for a Raised By Wolves Season 3 renewal. Series star Abubakar Salim recently took to Twitter to reveal that showrunners are shopping for a new home. "Nothing has been publicly shared yet," Salim wrote. "And there is a reason for that. An important one. One which I'm here to share with you now. There is hope."
"You see, we're in a unique position: we have a fully fleshed out and planned storyline, a Goliath of a production team behind us, incredible reception from critics and reviewers alike, and most crucially, a community base that is so strong internationally, it can not be ignored," he continued.
The British actor added, "As we speak, Scott Free [Productions] and the creatives are pushing for the show to be continued in other homes — sharing the reception and pull of the show to other storytellers…. So I'm asking for action. I see the pure love, passion, and questions (too too many) that arise DAILY on Twitter for RBW. I'm now asking that you continue to, and with even more vigor, show that genuine love here, there, and everywhere as we search for that new home."
The future of Raised By Wolves is still uncertain. But with producer Ridley Scott's team behind the project, there is a chance it will find a new home.
RELATED: 'Batwoman,' 'Legends of Tomorrow' Cancellations Prompt Calls for HBO Max to Save Both Shows