'Raised By Wolves' Season 3: Showrunner 'Working Away' on Scripts While Unsure of Renewal
Raised By Wolves Season 2 came to a close with the March 17 finale. And while there's no news of a Season 3 renewal from HBO, showrunner Aaron Guzikowski continues to flesh out a future for the thrilling sci-fi story.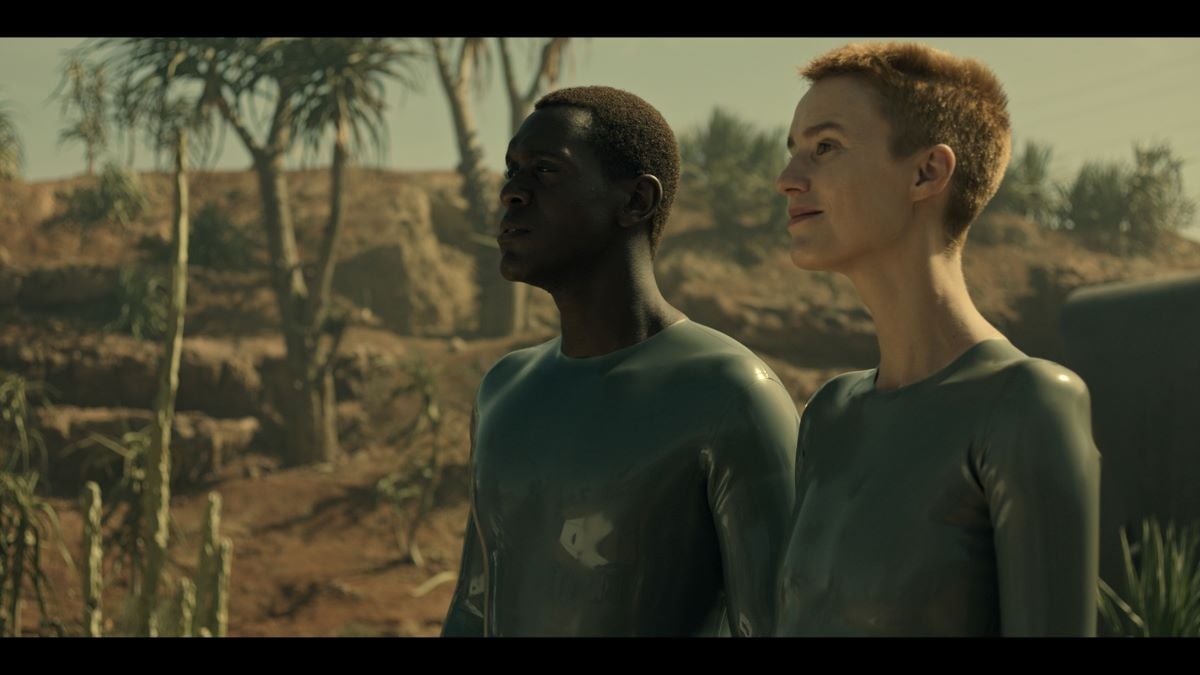 'Raised By Wolves' Season 2 finale left fans with a few cliffhangers
In the Raised By Wolves season finale, "Happiness," Mother (Amanda Collin) wears Grandmother's (Selina Jones) veil and uses its emotion-blocking ability to kill her flying serpent baby. Meanwhile, Grandmother spends time with the children and decides that the only way to save humanity is to devolve them.
When Mother discovers this plan she confronts Grandmother. But the older android overpowers Mother and entraps her mind and body, only to lie and tell the family and Father (Abubakar Salim) that she's alright.
Elsewhere, Lucius (Matias Varela), who is being controlled by the Entity, hangs Marcus (Travis Fimmel) upside down on a tree and attempts to kill him. But mysteriously, Marcus' body rises and levitates, similar to the way Mother does when her eyes are in.
Aaron Guzikowski isn't sure there will be a 'Raised By Wolves' Season 3, but he's still writing it
After the season 2 finale, fans are left with plenty of questions about Marcus, Mother, Father, and their children's futures. HBO hasn't announced a third season yet. But in the meantime, fans can take comfort in knowing that Guzikowski is working on The Raised By Wolves Season 3 story.
"Who's to say whether or not it will get ordered to production if we'll get to that point," the showrunner told Collider. "But I have to keep working on it because if it does get ordered – we have no source material, so I have to keep writing it."
Guzikowski also revealed that he's immersed in the show's fantastical world. And he wants to continue writing it for as long as he can.
"So as long as the show goes on, I imagine that's my entire universe," he said. "I'm like a method actor, except I'm a method writer. I just have to live in this universe."
The showrunner teases what 'Raised By Wolves' Season 3 will be about
In a recent interview, Guzikowski talked about some of the show's continuing storylines. He kept mum on whether Marcus is dead or alive, teasing only that the character's story "has to exist on its own in that sense being what it is." But he did reveal that Raised By Wolves Season 3 may dive into more of Father, Mother, and Grandmother's relationship and potential love triangle.
"It's really interesting to start thinking about different pieces of technology and how they regard one another," he told Entertainment Weekly. "And I think it's fascinating. It's definitely something we're going to delve into."
Guzikowski noted that he's working on delivering a great story to fans. And he also suggested that he's in the process of mapping out future seasons as well.
"I'm working on season 3 now," the showrunner said. "Quite a bit is worked out beyond that, and there's quite a bit that will change, I think."
"I'm just looking for the best possible way to tell the story, so every day that changes a little bit to make it better," he added. "But the plan and the themes and the point of it all, the soul of it, is definitely worked out."
Raised By Wolves Seasons 1 and 2 are streaming on HBO Max.