Rashida Jones Says She and Ed Helms 'Were so Freaked out' When They First Started on 'The Office'
Today, Rashida Jones is known for quite a few notable roles. But her big break was starring in The Office as Karen Filippelli, Jim's girlfriend who schooled him in Call of Duty and liked to indulge in lots of long talks whenever they experienced a hiccup in their relationship.
When Jones first began playing Karen, she was worried fans would hate her. She was, after all, another wedge between Jim and Pam.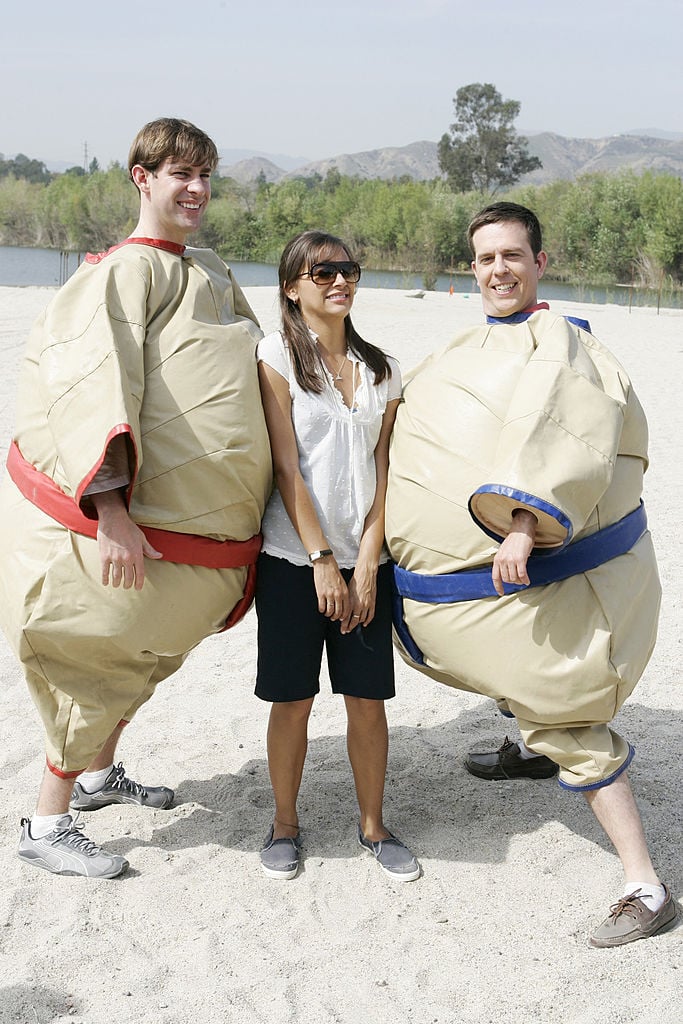 "I mean, Karen really is smitten by Jim — she has no other design, she's not trying to break them up…. She didn't even know about Pam!" she said in an interview with Entertainment Weekly back in 2007. "Well, nobody has thrown anything at me at least."
When Rashida Jones and Ed Helms started acting on 'The Office'
Jones started on The Office around the same time as Ed Helms. Helms played a character named Andy Bernard, a suck-up employee who loves the sound of his own (acapella) singing voice and has a bit of an anger problem.
Because The Office was such a big hit, Jones said both she and Helms were incredibly nervous to be acting opposite such big-time comedic forces.
RELATED: 'The Office': Jenna Fischer Reveals What Pam Says to Michael at the Airport in Season 7
"The first day on set I was terrified," Jones told EW. "I kept saying to Ed Helms, I felt like I had won some radio contest and they had thrown me into my favorite show. How is this possible? What am I going to do?"
In a more recent interview Jones did with Off Camera, she spoke again about how nerve-racking starting on The Office was for her and Helms.
"We were both so freaked out when we first got there and like spent a ton of time together, like, 'What is going on?' It just felt like our lives were changing a little bit," she said.  
Andy Bernard [Ed Helms] stayed on 'The Office' but Karen Filippelli [Rashida Jones] was written off
But as Office fans know, Karen was eventually written out of the show and Andy remained. When that happened, Jones took it hard.
"I knew it was going to happen because there was emotionally nowhere else to go with my character. But I was pretty crushed," she said.
Jones said that she'd always had a feeling that Karen wouldn't be sticking around (you know, because Jim and Pam were destined to be together). But that didn't make it any easier.
RELATED: The Interesting Reason 'The Office' Writers Were Also Actors on the Show
"I always felt like a guest star on The Office. Everybody was so nice to me but I always felt like a guest star. I never felt comfortable. I knew because I was the small point of a love triangle that eventually I'd have to be sacrificed," she said.
Fast forward about 13 years and both Jones and Helms have hugely successful careers. It's funny to think about them being so nervous on one of their first big acting gigs.
Read more: 'The Office': Jenna Fischer Initially Thought Rainn Wilson Was 'the Weirdest Person I Ever Met' Because He Was in Character as Dwight