'Rebel' TV Series: Katey Sagal Has a Fantastic Reason She Won't Play a Lawyer
Katey Sagal is Annie Flynn Ray Bello in 'Rebel' TV series. She's the star of the show, but would not be if she had to play a lawyer. Here's why she would have turned it down.
The new Erin Brokovich inspired drama on ABC, the Rebel TV Series, starring Katey Sagal and Andy Garcia, premiered on April 8, 2021. Grey's Anatomy and Station 19 showrunner Krista Vernoff created the series. However, Sagal wouldn't be in the lead role if she had to play a lawyer. The reason behind her decision has nothing to do with the law and everything to do with the wardrobe.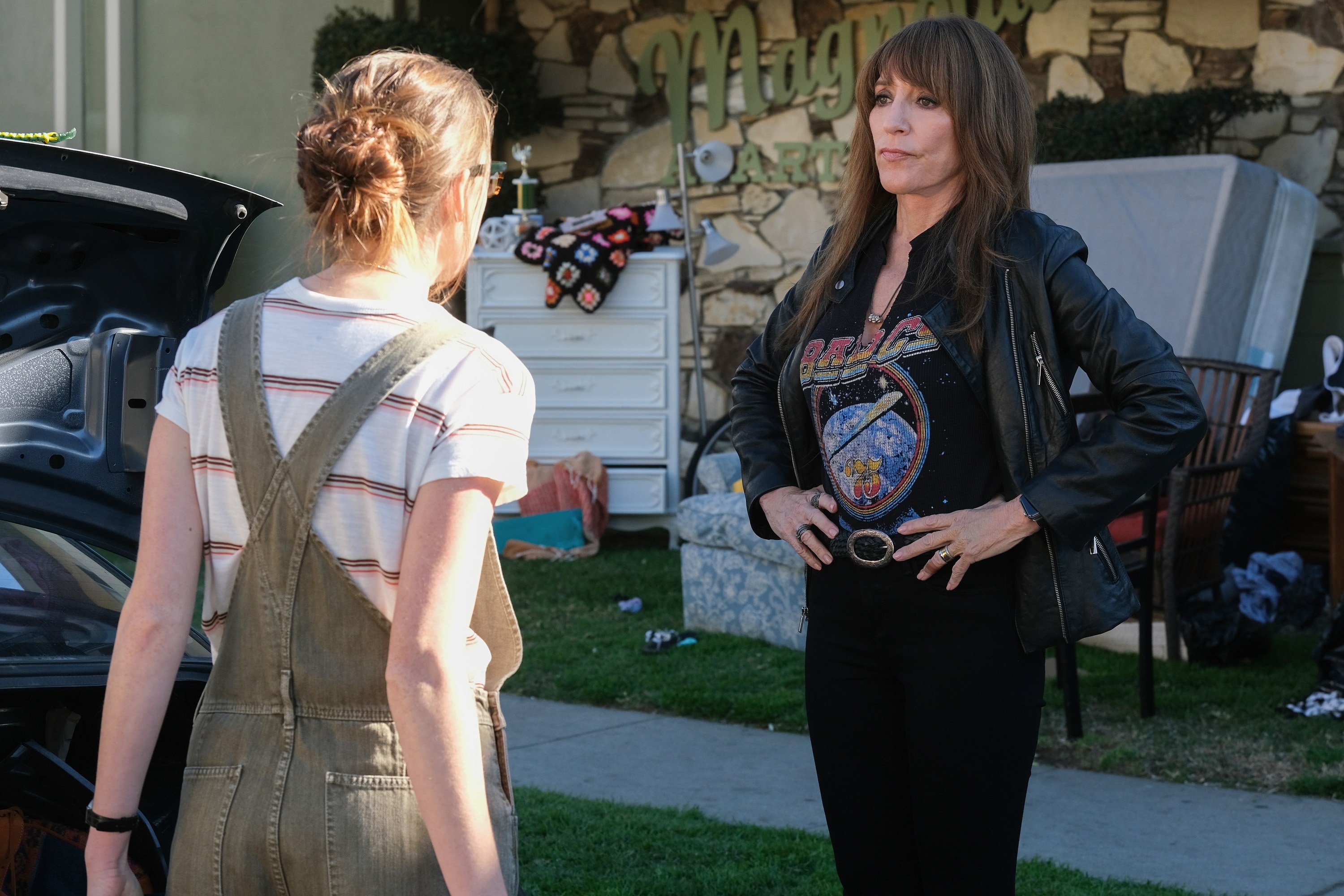 'Rebel TV Series' cast includes many familiar faces
John Corbett portrays Rebel's (Katey Sagal) current husband, Grady Bello. You might remember him from his role on Sex and the City as Aidan or My Big Fat Greek Wedding.
Andy Garcia plays the lawyer that Rebel works for, Julia Cruz. He lost his wife two years ago, who also happened to be Rebel's best friend. Garcia's breakout role was in The Untouchables.
Adam Arkin plays the CEO of Stonemore Medical Corporation. In the pilot episode, Rebel tries to take down Mark Duncan and his faulty heart valve. Arkin starred on Chicago Hope, Northern Exposure, and Sons of Anarchy.
James Lesure plays Rebel's ex-husband, Benji. In the pilot, he attempts to persuade Rebel's daughter, Cassidy, to join his firm defending large corporations. Lesure had a recurring role in Good Girls and guest-starred on Mad About You and Seinfeld.
Additionally, Tamala Jones stars as Lana, Rebel's ex-sister-in-law and former police officer. She helps investigate cases for Rebel. Ariela Barer portrays Rebel's 16-year-old daughter, Ziggy.
Lex Scott Davis plays another one of Rebel's three children, Cassidy. She works with her mother in the law firm, mostly taking on pro-bono cases that Rebel sends her way. Although Cassidy quickly flipped sides within the first few episodes of the Rebel TV series with Katey Sagal. Kevin Zegers plays Rebel's son Nate, who is a gynecologist and gets roped into helping Rebel's case against Stonemore.
How Katey Sagal ended up in the 'Rebel TV series'
Sagal is no stranger to television. Her breakout role was Peg Bundy on Married with Children. She also starred as Cate Hennessy on 8 Simple Rules and Gemma Teller Morrow on Sons of Anarchy. Before the Rebel pilot aired on ABC on April 8, Katey Sagal spoke to Good Morning America about her new role in the Rebel TV series. 
"We heard you definitely didn't want to be an actual lawyer because you didn't love their wardrobes?" the outlet asked Katey Sagal about the new Rebel TV series.
She confirmed that she wouldn't be part of the Rebel TV series cast if she had to play a lawyer.
"I've played a few lawyers or been in legal situations on television, and I don't like all the clothes and the high heels," Sagal admitted. "So yes, that was a consideration, so if someone would have asked me to play a lawyer, I might not have done that."
Luckily, Rebel can wear what she wants as she tries to take down corporations and fight for the rights of those who need it most.
'Rebel' airs Thursdays on ABC
When the Rebel TV series with Katey Sagal returned for episode 2, she continued to build her case against the Stonemore corporation. Lana jumped in to assist Rebel in convincing a former patient to join the cause. The patient had the faulty heart valve removed and looks considerably healthier than the other Stonemore patients. 
Katey Sagal and the cast of the Rebel TV series return to ABC at 10 p.m EST every Thursday following Grey's Anatomy.