'Red Notice': Dwayne Johnson, Ryan Reynolds, and Gal Gadot – Who Has the Highest Net Worth?
The Netflix film Red Notice is already a huge hit for the streaming service. The action-comedy stars Dwayne Johnson as an FBI profiler who is required to join forces with a renowned art thief, played by Ryan Reynolds. The pair is tasked with tracking down the world's most notorious art thief known as "The Bishop", portrayed by Wonder Woman star Gal Gadot.
With three superstars headlining the Netflix caper, fans are speculating which actor may have the biggest bank account.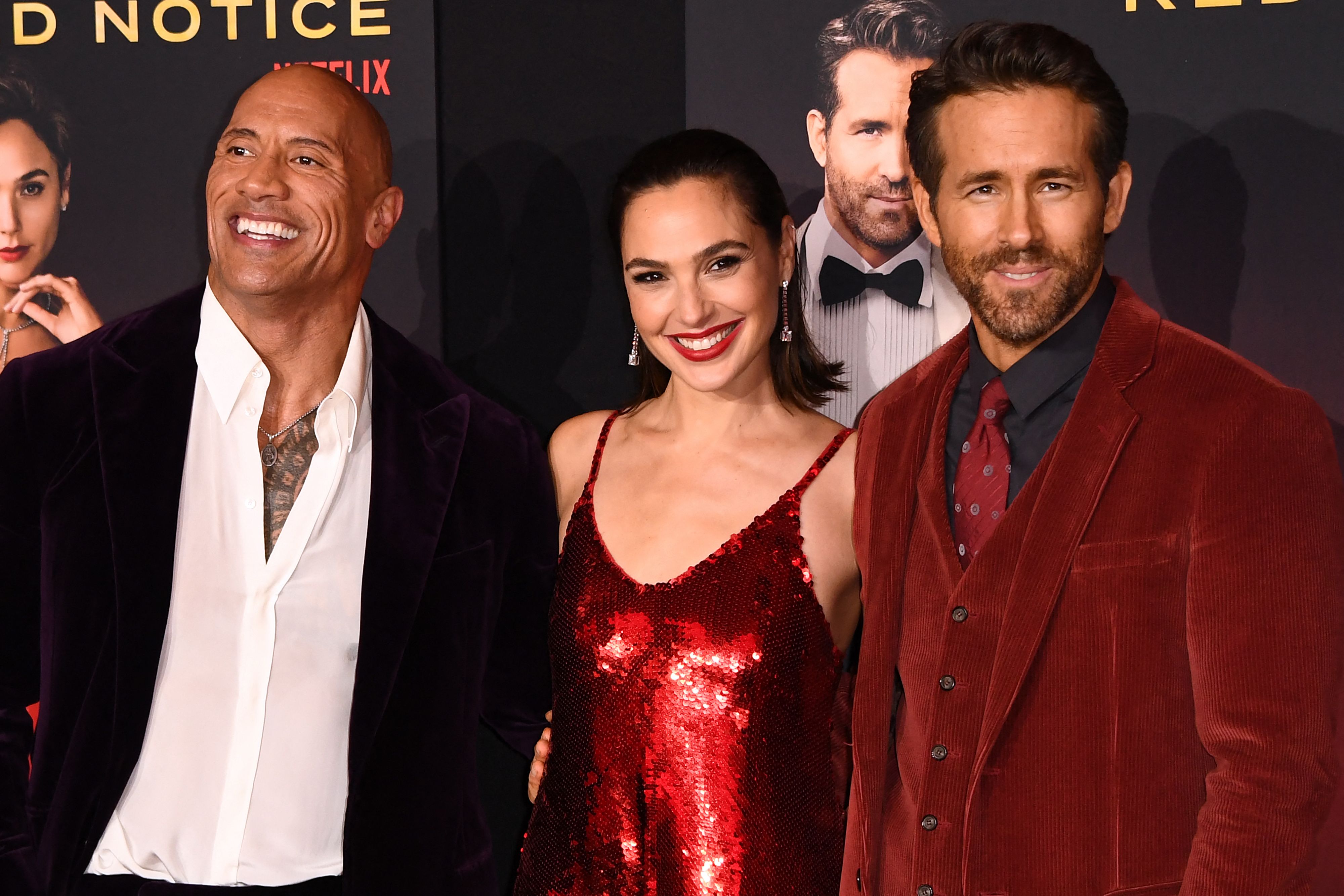 Dwayne 'The Rock' Johnson
Johnson was born in California but briefly moved to New Zealand with his family at a young age. They continued relocating with moves to Connecticut, Hawaii, and Tennessee. Wrestling was a family sport, with his father and grandfather both being pro wrestlers. Yet Johnson was drawn to football and earned a scholarship from the University of Miami. He was part of the national championship team but was replaced due to an injury and ended up playing for the Canadian Football League after graduation.
After getting cut in the first season, Johnson decided to follow in his dad's footsteps and became a professional wrestler. Rising to fame with World Wrestling Entertainment from 1996 to 2004 as "The Rock", he was a nine-time world heavyweight champion for the WWE. 
Johnson penned his best-selling autobiography, "The Rock Says", in 2000 and began his acting career in 2001. He switched to full time acting in 2004 and has headlined films including The Scorpion King, Walking Tall, Gridiron Gang, Get Smart, The Tooth Fairy, Race to Witch Mountain, and The Game Plan.
According to Celebrity Net Worth, Johnson's massive earnings total $400 million.
Ryan Reynolds
Born in Vancouver, British Columbia, Reynolds began his acting career while he was still in high schoo in 1991. Starring in the Canadian teen soap opera Hillside, Reynolds moved onto other TV parts when the series ended in 1993. Gaining traction with roles in Sabrina the Teenage Witch and Two Guys, A Girl and a Pizza Place, he transitioned to the silver screen with films like National Lampoon's Van Wilder, Blade: Trinity, The Proposal, and Mississippi Grind.
Reynolds is also a fan favorite in the superhero genre with his roles as Hal Jordon/Green Lantern in DC Comic's film Green Lantern and his Marvel character of Deadpool. The MCU persona was derived from his portrayal of Wade Wilson/Weapon XI in X-Men Origins: Wolverine. The 2016 Marvel film set several box office records and went on to launch a 2017 sequel, Deadpool 2.
The actor is also known for his voice roles in the animated films Turbo, The Croods franchise, and Pokémon Detective Pikachu. Reynolds is an established businessman, with an equity stake in Aviation American Gin and serves as the brand's spokesperson and creative director. He is married to actor Blake Lively and the couple has two daughters.
Reynold's impressive net worth is listed at $150 million.
Gal Gadot
Gadot was born in Petah Tikva, Israel, and served a two-year tour of duty in the Israel Defense Forces as a combat instructor. She began her career as a fashion model and won the Miss Israel Pageant at just 18 years old. Gadot became the face for high-profile brands including Miss Sixty, Captain Morgan, Gucci, and Jaguar, and appeared in top magazines like Cosmopolitan, Glamour, Bride Magazine, and FHM. 
She eventually pursued acting and appeared in films such as the Fast & Furious franchise and Keeping Up With the Joneses. Her first appearance as Wonder Woman was in the 2016 film Batman v Superman: Dawn of Justice, and in 2017 she headlined the title role which catapulted her to A-list status. Starring in the 2020 Wonder Woman sequel and the next installment now in the works, Gadot has become synonymous with the DC character.
Time magazine included Gadot in their coveted "100 Most Influential People" roundup in 2018 and she made the list of one of the five highest-paid actresses in 2020, partly due to her $20 million salary for Red Notice.
Celebrity Net Worth reports Godot's sizable total at $30 million.
While Johnson comes out with the highest net worth, the three Red Notice actors clearly have a tidy sum to their names.