Red Velvet Returns With EP 'The ReVe Festival 2022 – Feel My Rhythm'
The soundtrack to spring has arrived. K-pop group Red Velvet's latest release, The ReVe Festival 2022 – Feel My Rhythm, is full of airy sounds, rich vocals, and the signature Red Velvet attitude fans have come to love.
The veteran quintet from SM Entertainment is celebrating its eighth anniversary by releasing its 14th EP. The ReVe Festival 2022 – Feel My Rhythm is an extension of the ReVe Festival series started in 2019. Red Velvet departed from the concept when it released Queendom in 2021 but has returned with six new songs.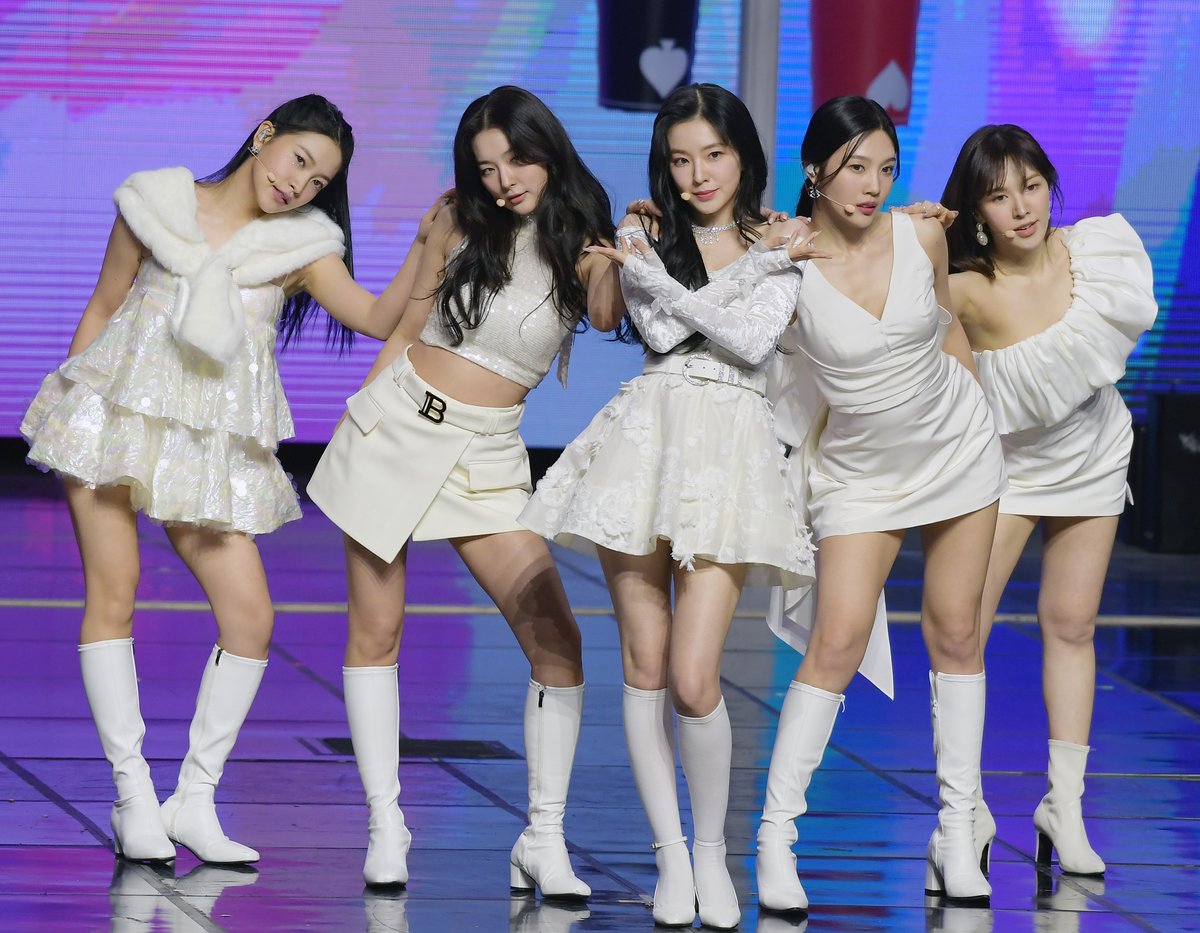 Red Velvet samples composer Johann Sebastian Bach
"Feel My Rhythm" is a surprising single. The name may have listeners expecting an uptempo dance track, but Red Velvet rarely does what's expected of it. While K-pop stars like BTS have collaborated with some of today's most prominent musicians, Red Velvet decided to go in a different direction.  
The veteran group samples German composer ​​Johann Sebastian Bach's "Air on the G String." The result is a blend of classic richness and K-pop chaos. The bold move pays off thanks to SM producers who have become masters at layering sounds. 
The lyrics reference this blend of old and new with "Blow confetti/ Let off more fireworks/ Pride and prejudice got nothing on us." They invite the listener to follow the fantasy with "Feel my rhythm, come with me/ Imagine anything/ Follow the music/ dance to the moonlight/ Right in this moment (Play my rhythm)."
Spring queens showcase the warmth of a new beginning
During an online press conference, as reported by Soompi, Irene, the group's leader, said, "When you think of spring, there's that feeling of a new beginning. As Red Velvet is starting anew with our unique 'ReVe Festival,' we wanted to showcase the cold of winter and the warmth of spring together."
Along with "Feel My Rhythm," the five remaining songs achieve this goal with whimsy, fun, and a bittersweet goodbye.
The ReVe Festival 2022 – Feel My Rhythm tracklist includes:
"Feel My Rhythm"
"Rainbow Halo"
"Beg for Me"
"BAMBOLEO"
"Good, Bad, Ugly"
"In My Dreams"
"Beg for Me" is a signature Red Velvet track with R&B melodies and plenty of sass. Lyrics "Dance for me/ Beg for me/ Work for me" seem made for a girl's night out. "BAMBOLEO," the Spanish word for sway, is a bright, retro track perfect for warm spring nights. 
Many fans have designated the final song, "In My Dreams," as the album standout. A haunting ballad reminiscent of an early '60s innocence, "In My Dreams" showcases Red Velvet's vocal talent. A Twitter user wrote, "No one come near red velvet vocals….the refrain in in my dreams are just sounds unreal."
Irene, Wendy, Joy, Seulgi, and Yuri sing "In my dreams, you love me back." The aching vulnerability of this simple line resonates with each member's delivery.
'Feel My Rhythm' music video creates a 'magical world'
The music video for "Feel My Rhythm" presents a world with stunning imagery and set pieces that bring the song to life. Viewers are transported to a dreamlike fairy tale with nightmares hidden in the lush castle grounds. The choreography handles complicated melody shifts with ease, including a memorable sequence during the bridge. 
With costumes spanning casual wear to flowy dresses and crowns, the Red Velvet members look like the queens of spring. They cast a spell on the viewers and refuse to let go. As a fan commented on Twitter, "All of us are trapped inside their magical world and are obliged to love Red Velvet forever." 
RELATED: BTS' J-Hope Had 'Some Struggles' Working on Solo Music Lately