Red Velvet's Seulgi and Irene Top iTunes Charts Around the World With New Album 'Monster'
SM Entertainment's Red Velvet officially has its first sub-unit with duo Seulgi and Irene. The new K-pop sub-unit just released their first EP Monster with a title track by the same name. Already, the music video for "Monster" has over 7 million views on YouTube and the album ranked No. 1 on the iTunes Top Albums chart in 45 regions.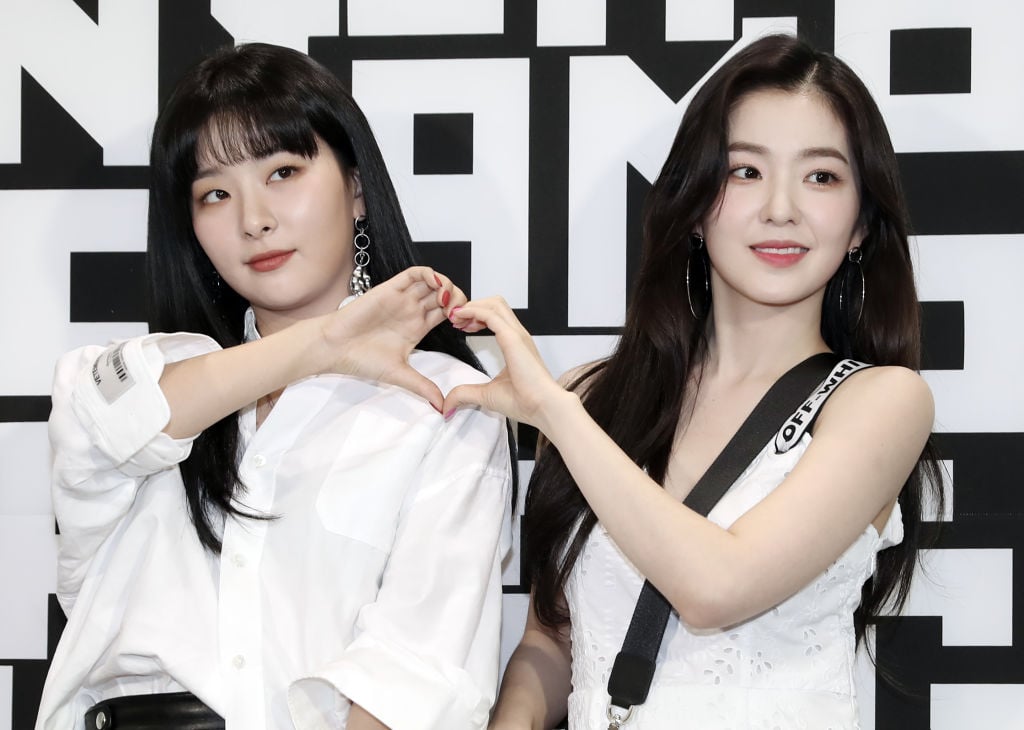 A history of Red Velvet
Red Velvet is a girl group that debuted with SM Entertainment in 2014. The group originally debuted with four members: Irene, Seulgi, Wendy, and Joy. Yeri then joined the group in 2015.
Red Velvet has won numerous awards since their debut, including the 2015 Golden Disc New Artist Award and Best Female Group at the 2017 Mnet Asian Music Awards. They are well-known in worldwide pop culture and in 2020 the group was featured in the animated musical film Trolls World Tour.
In April 2020, SM Entertainment announced that Irene and Seulgi would make up the group's first sub-unit as Red Velvet – Irene & Seulgi.
Irene and Seulgi released the EP 'Monster'
Monster was originally scheduled to be released in June 2020, but SM Entertainment delayed the EP to complete the album's production. On July 6, 2020, Red Velvet – Irene & Seulgi released Monster. The EP consists of six tracks: "Monster," "Naughty," "Diamond," "Feel Good," "Jelly," and "Uncover."
RELATED: How K-Pop Fans and TikTokers Trolled Trump Before the Tulsa Rally
The music video for "Monster" is both eerie and powerful, and the paranormal imagery and Irene and Seulgi's seductive choreography adds to the song's lyrics and meaning.
"I'm a little monster, be scared of me / I'm bothering you, making you dream only about me / I'll dance and play as I cast a spell / On your body on a nightmare," the two sing in the chorus.
Irene and Seulgi's album topped iTunes charts
After the album and music video for "Monster" dropped, Red Velvet fans expressed how much they loved the album on social media.
"monster is the best choreo in 2020 bye. argue with yourself," a fan tweeted.
"not only is their album cohesive and flawless vocally, but this debut was so well thought out.. the monster choreo, the music video and the lyrics intertwine with and reference each other multiple times not even subtly (dropping the subtleness is what i've wanted from rv)," wrote a Twitter user.
"i'm speechless, everything is absolutely perfect, the song is amazing, the choreo is mesmerizing, the mv? pure art, irene&seulgi are both breathtaking, you can clearly see how hard they worked for this debut, i am so proud of them please #WatchMonsterNOW," one fan tweeted.
With social media filled with positive reactions for Monster, it is clear that the EP is a huge hit with Red Velvet fans. It is already the best-selling girl group sub-unit album of all time with high album sales. The album also topped the iTunes Top Albums chart in 45 regions including Canada, France, Spain, Portugal, Mexico, Brazil, Singapore, Saudi Arabia, Thailand, India, Taiwan, and the Dominican Republic.