'Resident Alien' and Season 2 Had a 'Firefly' Reunion Between Alan Tudyk and a Guest Star
In the Syfy TV show Resident Alien, Alan Tudyk stars as Harry Vanderspeigle. Harry has the town believing he is the real doctor when in reality, he is an alien who was sent to destroy Earth. In season one, fans learn that Harry's alien race is a descendant of octopuses when Harry can telepathically talk to one in a sushi restaurant in Patience, Colorado. In Resident Alien Season 2, Harry remeets the octopus, and fans might have heard the sea creatures' voice before from Tudyk's days on Firefly.
[Spoiler alert: This article contains spoilers for Resident Alien.]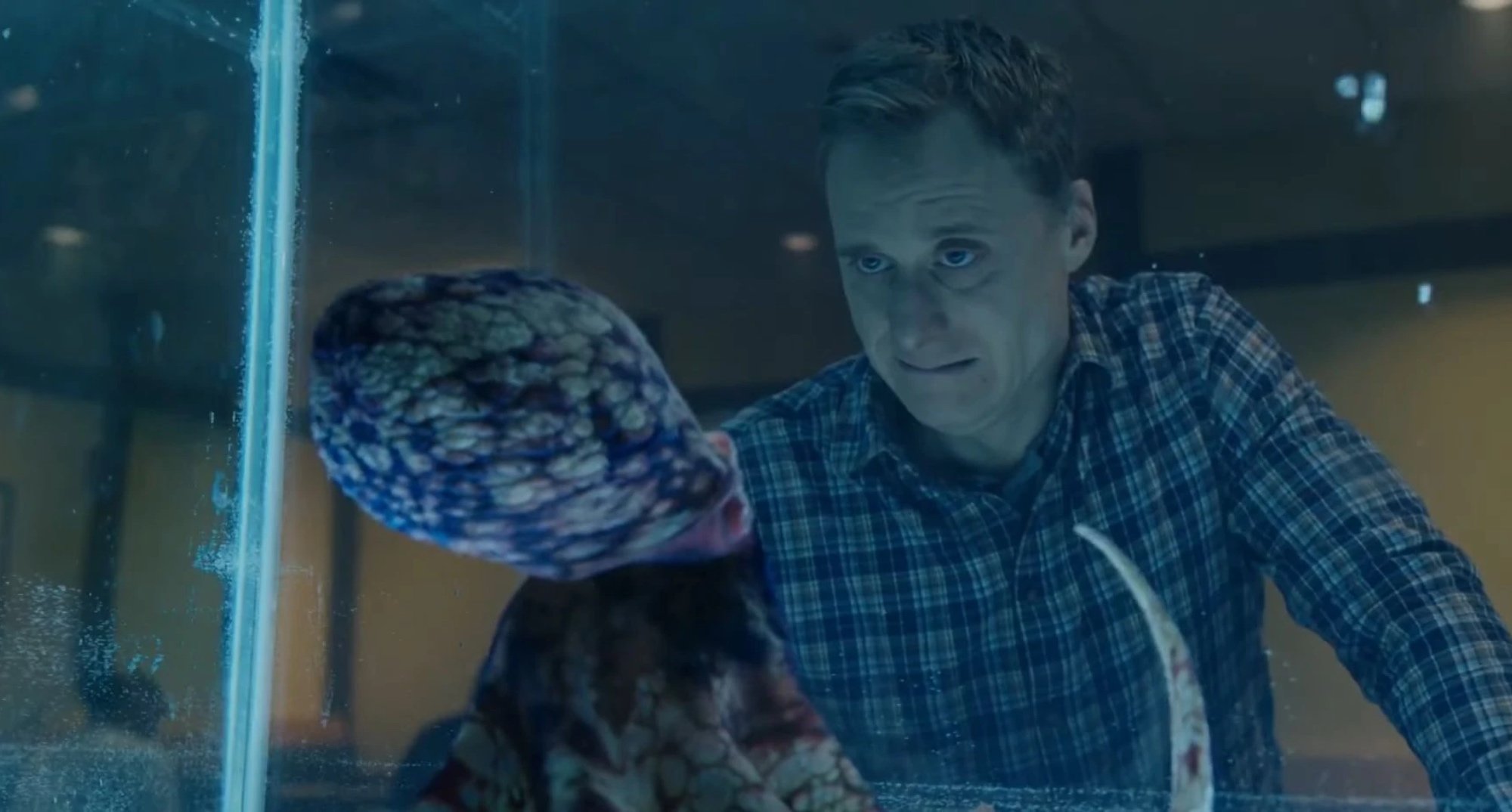 Fans first meet the octopus in 'Resident Alien' Episode 7
In season one of Resident Alien, Harry becomes wary that he might become human and failed so many times to execute his mission. In episode 7, Harry, Asta, and D'Arcy are under the influence of drugs and go to a local sushi restaurant for noodles. Harry wanders off and finds a fish tank with an octopus. The octopus happens to be a cousin to Harry's alien species.
Harry can telepathically communicate with the octopus. The voice of the octopus may go unnoticed at first until realizing the voice is oddly familiar. Once racking your brain to uncover where the octopus's voice is from, there is a eureka moment.
The voice is of none other than Nathan Fillion. While Fillion may be known for his starring role as Richard Castle in the crime drama Castle and The Rookie, he starred in a cult classic sci-fi series. Both Tudyk and Fillion were castmates in the 2002 series Firefly.
Alan Tudyk recommended 'Firefly's' Nathan Fillion for the guest role in 'Resident Alien'
RELATED: 'Resident Alien' Season 2 Episode 4: Fans Finally Know What Happened to Dr. Ethan Stone
There is no denying that Tudyk has a unique way of changing his voice when playing Harry on Resident Alien. Showrunner Chris Sheridan knew they wanted to include the octopus storyline to help flesh out more details about Harry's kind. He originally thought Tudyk could voice the sea creature.
"Maybe Alan could do it because he's so great with voices.' It was Alan's idea, I believe, to go to Nathan because they have a history together," said Sheridan to Syfy Wire. Before Resident Alien, Tudyk played the role of Hoban "Wash" Washburne on Firefly. His character was the pilot of the ship Serenity and the husband of another character. Tudyk starred alongside Fillion, who played the leading role of Malcolm "Mal" Reynolds.
Having history together, Tudyk felt Fillion's stand-out voice would be a fun detail for Resident Alien. Fillion returned to voice the octopus in season 2. When Harry unwillingly returns to Earth in "Old Friend," he loses his memory. He believes he is a character from Law & Order.
To help Harry, Asta takes him back to the sushi restaurant to jog his memory. Harry instead hears Fillion's voice coming from the octopus in the tank. The octopus realizes Harry's brain is discombobulated and helps him return to his old self. Later on, Harry steals the octopus and keeps him in his cabin as a form of a counselor.
What is 'Firefly' about?
RELATED: 'Resident Alien' Season 2 Episode 4: General McCallister's Evil Origins, Tied to Her Father, Are Revealed
Some fans of Resident Alien and season 2 will likely know why Fillion and Tudyk's reunion is so epic concerning Firefly. The 2002 series was considered a flop when it was on air in 2002. But it still developed a die-hard fan base and later became a cult classic sci-fi series. Firefly was canceled and only aired 11 of its scheduled 14 episodes. It was then followed by a movie continuation.
Created by Joss Whedon, the series takes place in the year 2517 and chronicles the adventures of a renegade crew aboard a ship called Serenity. Only two superpowers exist after a universal civil war in this distant future, the United States and China. Together they formed one federal government called Alliance.
The crew aboard Serenity takes any job to survive and puts food on the table. They face the enemies of space and flesh-eating mongrels as they evade the authorities out to get them.
RELATED: 'Resident Alien' Season 2 Tackles Global Warming, Sexual Taboos, and Real-Life Problems