'Resident Alien': Harry's Best References to the 'Law & Order' Franchise
The alien version of Harry crashed landed on Earth and learned how to be human. On the Syfy TV show Resident Alien, the best way for Harry to pass as a human in Patience, Colorado was by watching classic shows. In his new human skin, Harry spent months watching Law & Order to learn how to speak and act. Fans of Law & Order cannot help but laugh at some of Harry's small yet comical references to the franchise in Resident Alien.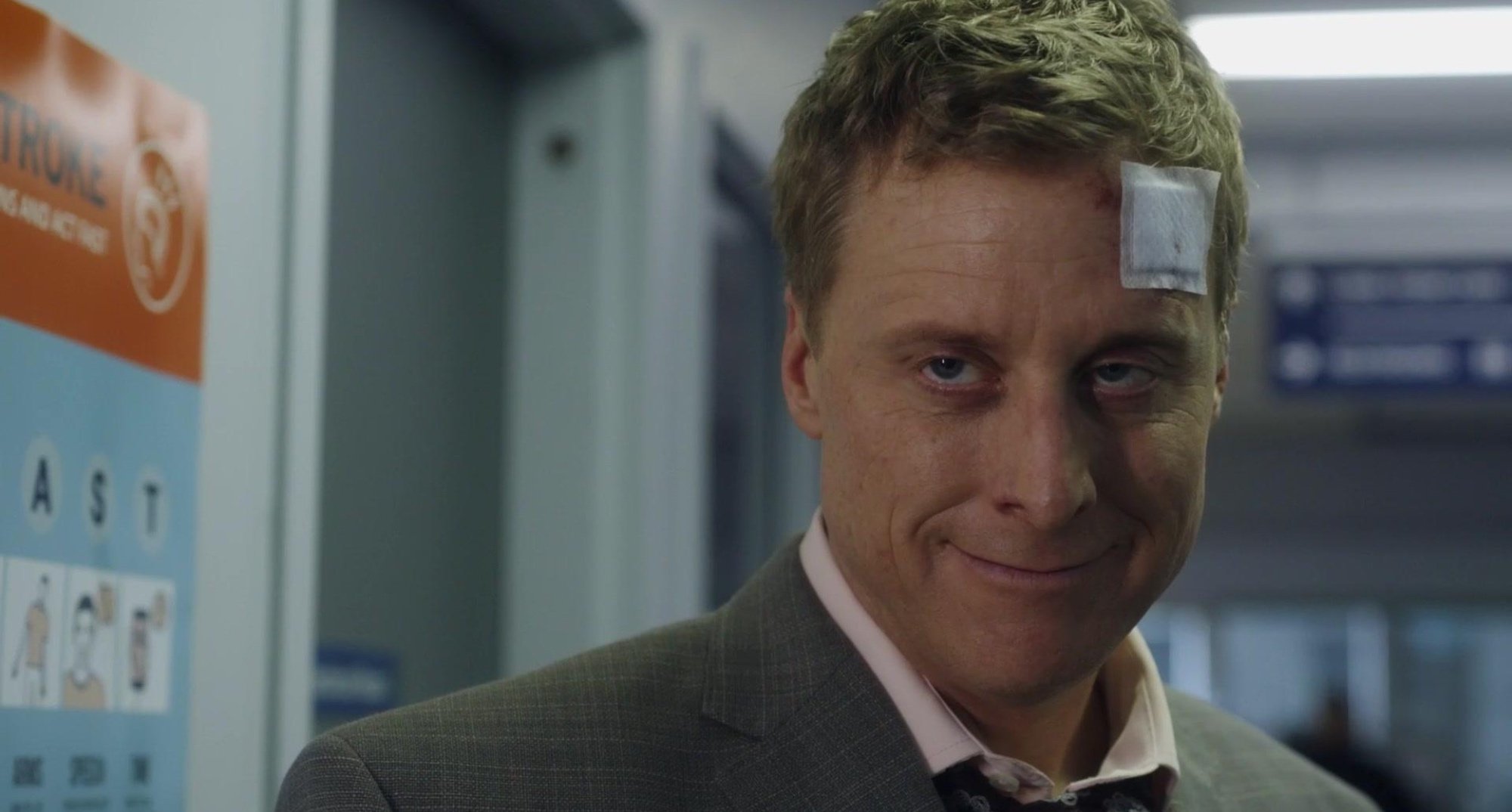 The real Harry is from the birthplace of 'Law & Order' in 'Resident Alien'
As the alien Harry is brought into Patience to become the new doctor, the town mayor and his wife invite him over for dinner. Thankfully, Harry has learned enough about the real human Harry to know he is originally from New York City. In Resident Alien Episode 4, Harry tells them he is from the city, but he does not actually know anything about it.
Harry's knowledge about New York is from watching Law & Order. He tells the Hawthornes, "New York has law, and it has order." He continues by saying there are police who investigate crimes and district attorneys who prosecute criminals. He also makes a small remark about women who have sex in the city. Harry could either be talking about Law & Order: SVU or the show Sex and the City.
In Resident Alien Season 2, Harry ventures to New York after receiving an alien phone number. When cornered by someone who knows the real Harry, alien Harry says he came to the city to see the birthplace of Law & Order.
Syfy Wire says sprinkled throughout the first season of Resident Alien, Harry makes a few mentions of Benson and Stabler. Some of the references to the crime franchise are simply saying the show's name or its popular characters.
Harry knows all about the informant Cosette
RELATED: 'Resident Alien': The Series Actors Have A Ton Of Creative License
Resident Alien uses one specific episode from Law & Order in both seasons. In the pilot episode, Harry is sitting in front of the TV, trying to learn English and speak. His program of choice? Law & Order Season 14, Episode 2. Fans can hear Detective Leonard "Lennie" Briscoe, played by Jerry Orbach, interrogating someone named Cosette, a prostitute, and later informant.
Die-hard Law & Order fans would have caught on to the reference and the distinguishable voice of Orbach. The reference appears again in the first episode of Resident Alien Season 2. Harry is found wandering after hitting his head and going unconscious. He wakes up in the hospital and spills the beans that he is an alien. No one believes him.
When he is sedated, he wakes up to Asta in his room. Instead of Harry, he thinks he is Detective Briscoe, and Asta is his informant Cosette. Harry also steals an oversized suit that looks like Briscoe's and carries around a medical file, and talks about a character named Johnny.
'Resident Alien' pilot episode has the infamous 'Law & Order' sound
RELATED: 'Resident Alien' and Season 2 Had a 'Firefly' Reunion Between Alan Tudyk and a Guest Star
Besides the well-known "Executive Producer Dick Wolf" scene in all Law & Order opening titles, the franchise is famous for its sound. One thing Harry loves about the franchise is the "Kun Kun!" In the pilot episode, Harry is brought in to examine the body of Sam Hodges, the town's doctor.
Having binged Law & Order for months, Harry gets excited to possibly solve a murder. He says, "This is awesome! A good mystery, figuring out what happened. Like Law & Order. Kun Kun!" Harry becomes invested in the case of what could have happened to Sam.
At the burial, Harry notices something is wrong, forgoes all respect, and opens the casket. He later tells Asta that Sam was murdered or poisoned, and the killer is among them. He looks excited and says, "Kun Kun!"
RELATED: 'Resident Alien' Season 2 Has a 'Back to the Future' Actor as a Guest Director