'Resident Alien' Season 2 Has a 'Back to the Future' Actor as a Guest Director
Syfy's extraterrestrial TV show Resident Alien Season 2 is shaping up to be a fun ride. So far, the second season has included the return of supporting characters and more problems for the people of Patience, Colorado. The latest episode of Resident Alien Season 2, "Family Day," has a fun treat having been directed by Back to the Future star Lea Thompson.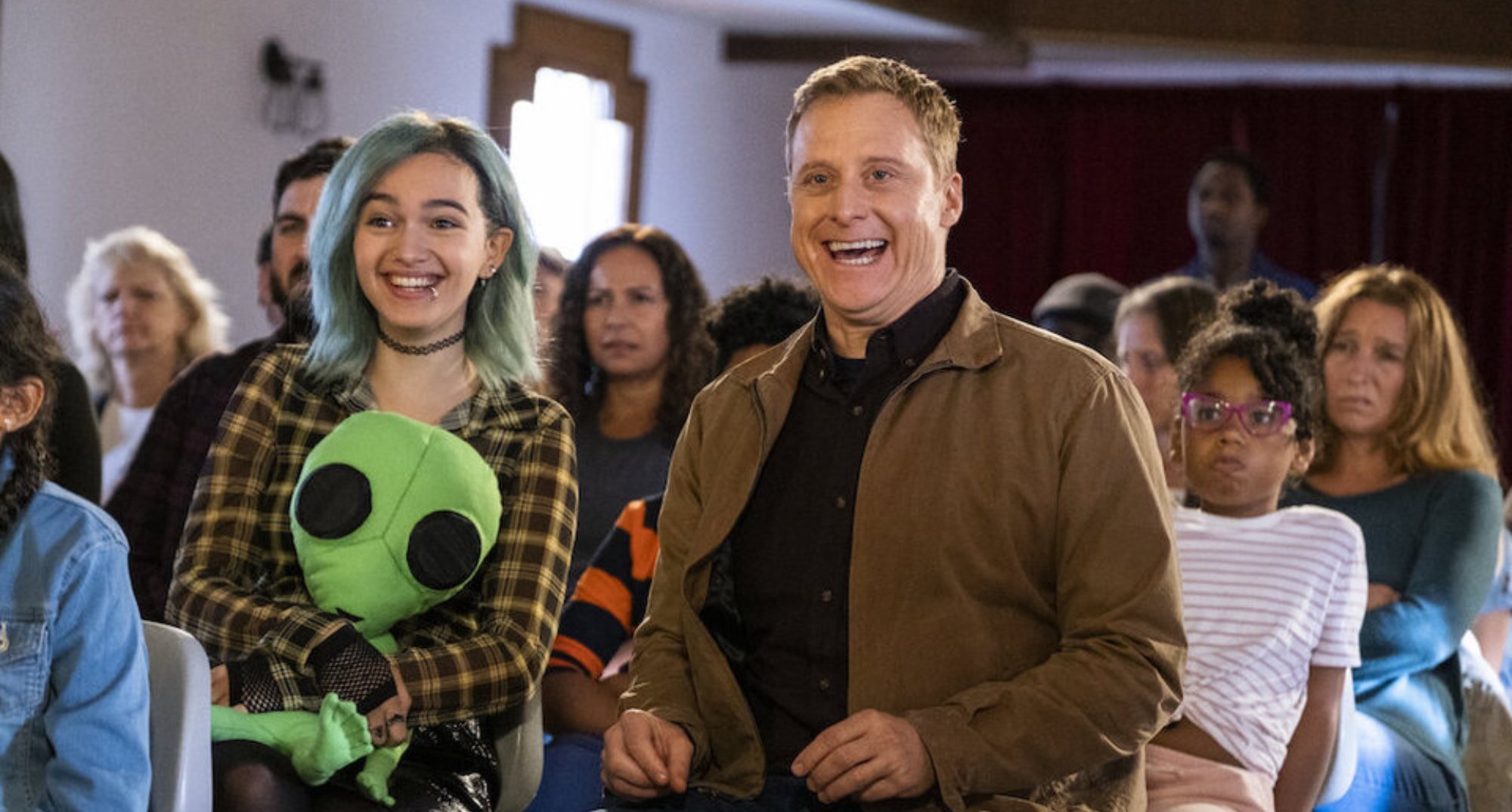 'Resident Alien' Season 2, Episode 5 gives Harry a wake-up call
The episode "Family Day" helps Harry realize what he must do. When the real Harry's daughter visits him, he is forced to try and bond with her as a father. He finds it difficult having no real experience. While his daughter knows something is different about Harry, she ends up liking him more than she ever has in her life.
In Harry's storyline, he contemplates going to New York to seek out the alien who sent him the phone number. He is afraid his kind would think he has become too human. By the end of the episode, Harry realizes he has a duty to his real alien family and says he will go to New York.
In another part of Patience, Liv starts to question what is happening to her. She is stuck on the fact she does not remember sending her dress to the dry cleaners. Sheriff Mike becomes worried when he does not remember his father's cancer biopsy. Liv suspects extraterrestrials and her experience as a child.
At the same time, mayor Ben wants to change the town's image after the murders. He suggests a town festival called "Family Day." His best efforts do not go well when the local kids participate in a gruesome and morbid play about the town's miners.
'Back to the Future' Lea Thompson directed the 'Resident Alien' Season 2 episode
RELATED: 'Resident Alien' and Season 2 Had a 'Firefly' Reunion Between Alan Tudyk and a Guest Star
In a Syfy behind-the-scenes featurette of "Family Day," Thompson explains why the episode was fun for her to direct. It has to do with the play the children of Patience act out regarding the town's tragic history.
"One of my favorite ongoing themes about this show is the 59 people who went in to save one. It's just a genius idea, and I got to work with the incredible art director and production designer and the costumes. Everybody worked together to create this play," said Thompson.
In Resident Alien Season 2, Thompson was hands-on in making the children's play dramatic and outrageous. The play depicted the town's history of a group of miners risking their lives for one trapped colleague. The 59 miners die, while one survives.
Director Robert Duncan McNeill says Thompson was perfect for directing the episode. He explains she has a background in musical theatre and has done traveling tours and more. Fans might also recall Thompson for her cult classic role in Back to the Future.
Lea Thompson played the role of Lorraine Baines-McFly in 'Back to the Future'
RELATED: 'Resident Alien' Season 2 Episode 4: General McCallister's Evil Origins, Tied to Her Father, Are Revealed
Back to the Future is an American cinema staple that was ahead of its time. The 1985 movie helped define the science fiction genre and gave time travel a cool look. Marty McFly (Michael J.Fox) is an ordinary teenager by most standards. That is until Marty is sent to the year 1955 in a decked-out time machine DeLorean created by his scientist friend Doctor Emmett "Doc" Brown (Christopher Lloyd). 
Thompson starred as Lorraine, Marty's mother who he meets when he time travels to 1955. To keep his future existence the same, he has to make sure Lorraine and his father get together. Thompson reprises her role in Back to the Future II as a happily married Lorraine who feels some disappointment toward Marty giving in to peer pressure.
RELATED: 'Resident Alien' Season 2 Episode 3: Harry's Newfound Abilities Lead to Plot Hole in Storyline That Needs Explaining