'Resident Alien': The Series Actors Have A Ton Of Creative License
A TV show is only as good as the creativeness the leading actors can bring on set. Syfy's Resident Alien has captured fans' hearts with its laugh-out-loud comedy and extraterrestrial storyline based on comic books. Part of what makes the show translatable on-screen is thanks to actors of Resident Alien. The cast has complete creative license over improvising lines on the spot while filming.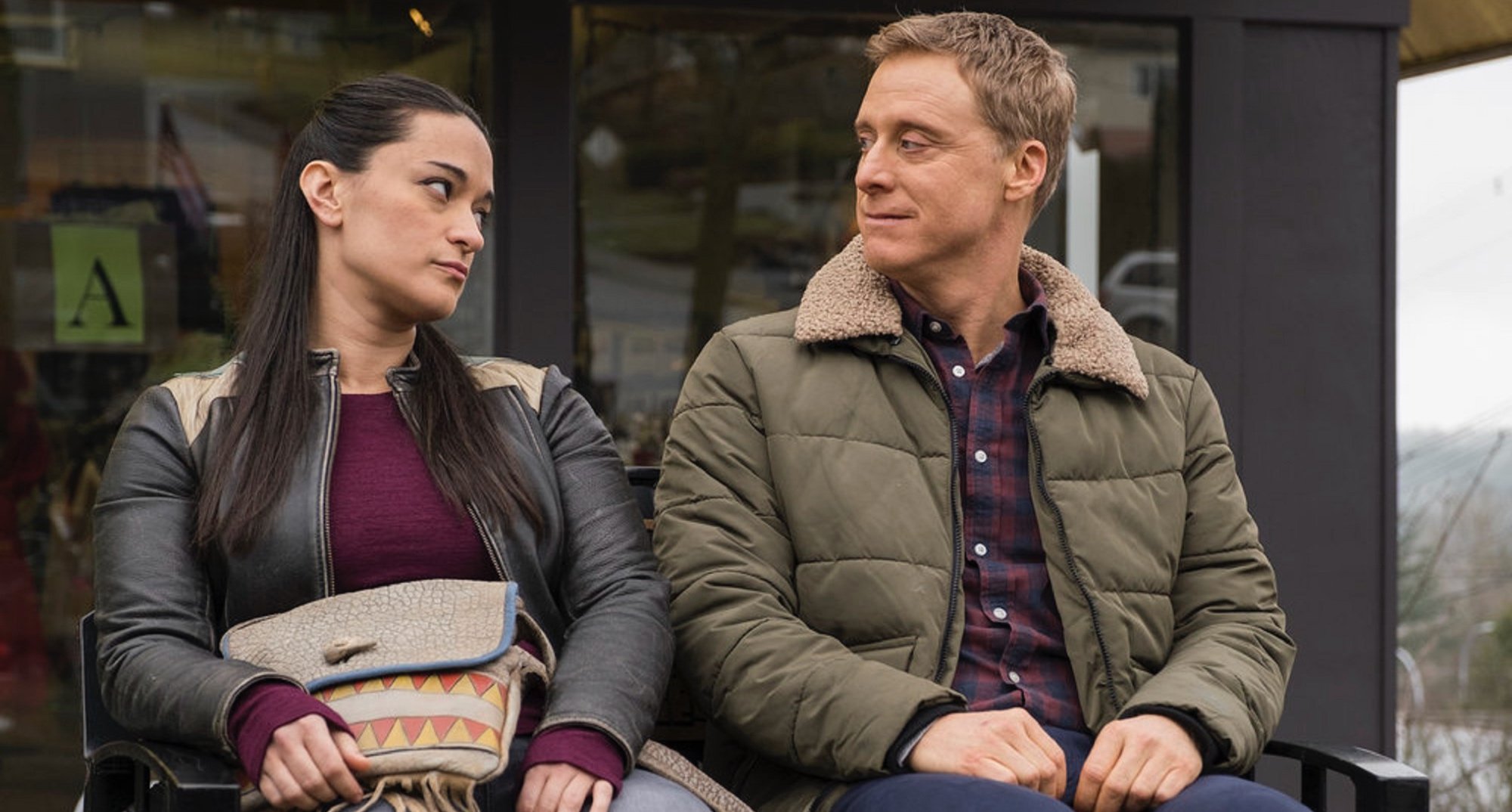 'Resident Alien' showrunner says actors improv makes the show better
In a Syfy behind-the-scenes video of Resident Alien with the main actors and showrunner Chris Sheridan, they discuss the wonders of improv. Sheridan explains he and the writers will often write the script, but the actors will come in and give it their own take, and "it's better than what you wrote."
Alan Tudyk, who plays Harry, explains that improv is important for actors. "When you're writing, you've got the whole world. When you're directing, you're directing the whole world. But as an actor, you have the obligation and the benefit of just focusing on one character's wants, needs, desires."
Corey Reynolds, who played Sheriff Mike, chimes in that he wanted to give his character a bizarre and quirky aspect. He came up with the idea of beatboxing. During a car scene between the sheriff and Liv, he starts beatboxing.
The bizarre nature of the improv worked and Sheridan kept the scene. Liv, played by Elizabeth Bowen, also improvised her trumpet sounds in the scene. "It makes the process more collaborative," said Reynolds. Tudyk adds that improv makes the show more personal.
'Resident Alien' actors have one rule to stick by when doing improv
RELATED: 'Resident Alien' Season 2 Episode 3: Lead Female Characters Angrily Storm Into the Mayor's House Over a Real-World Problem
In an interview with TulsaWorld, Tudyk reveals even their youngest cast member has adapted to doing improv. When discussing Resident Alien Season 2, Judah Prehn, who plays Max, improvised lines in episode 1. In the scene, Harry unwillingly returns to Earth when Max snuck aboard his ship. He also saves Max from harm during the car crash.
The following day, Max confronts Harry about whether or not he cares for him. He accuses Harry of acting like a dad. Harry is enraged by the accusation and decides to spank Max as any dad would supposedly do.
Tudyk explains Prehn, "sees what's funny and can top it." For the spanking scene, "he just loved getting to riff on, 'That doesn't hurt….You're doing it wrong,'" said Tudyk. The Resident Alien actor says they can work the punchline any way they want.
But Alice Wetterlund says there is a rule. "He gives us as many takes as we want as long as there's a punchline. And I'm usually counting. Eventually, I'm going to find out how many is the most," said Wetterlund. The actors explain that can go on tangents and the director has to set them straight.
The Syfy show currently airs every Wednesday
RELATED: 'Resident Alien' Season 2 Episode 4: General McCallister's Evil Origins, Tied to Her Father, Are Revealed
For new fans who want to see the improv skills of the main cast of actors of Resident Alien, season 2 is currently on air. An alien travels to Earth and crashes in Patience, Colorado. He kills and takes over the identity of Dr. Harry Vanderspeigle. He manages to fool the local residents he is a real doctor and human.
Audiences and certain characters learn Harry was originally sent to wipe out the human race. Along the way, Harry battles his alien nature and the emotions of a human. Resident Alien Season 2 premieres new episodes every Wednesday on Syfy at 9 P.M. EST.
RELATED: 'Resident Alien' and Season 2 Had a 'Firefly' Reunion Between Alan Tudyk and a Guest Star