Review: 'Brooklyn Nine-Nine' Takes Some Risks in Season 8 — Does It Pay Off?
On Aug. 12, Brooklyn Nine-Nine returned to NBC for its eighth and final season with two episodes, "The Good Ones" "The Lake House." The comedy has always been somewhat political, balancing social issues with workplace antics, but the eighth season takes it to a new level.
With its last season, Brooklyn Nine-Nine attempts to explore the systemic problems of America's law enforcement while still remaining the lighthearted escapism fans know and love. Does it work? The answer falls in between "somewhat" and "for the most part, yes."
[Spoiler Alert: This article contains spoilers for season 8 of Brooklyn Nine-Nine.]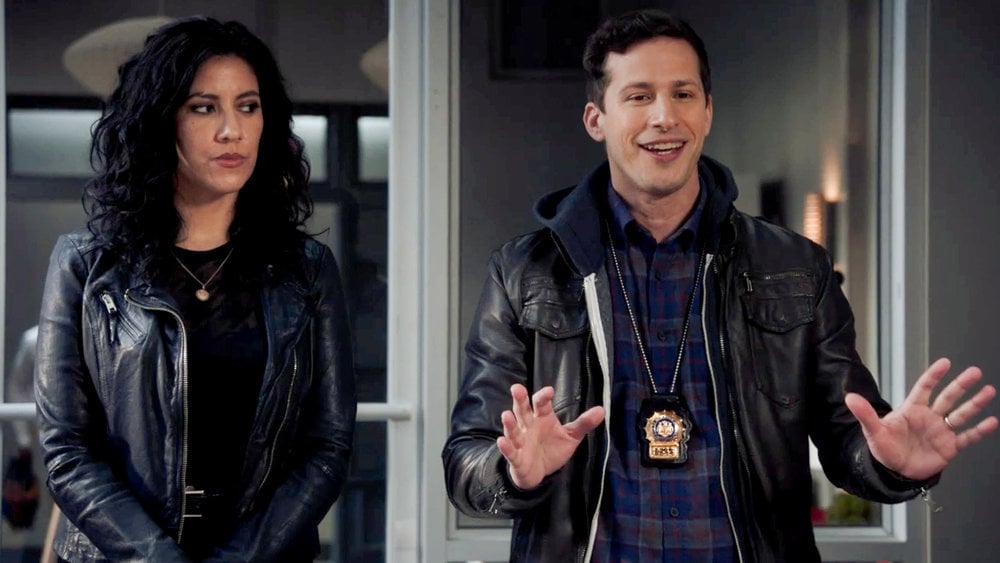 Rosa quits her job in the season 8 premiere of 'Brooklyn Nine-Nine'
For any fans hoping the eighth season would open with the beloved squad collectively turning in their badges or somehow magically working somewhere that is not a police precinct, that is not the case. Instead, "The Good Ones" begins with Rosa Diaz (Stephanie Beatriz) announcing her decision to quit the force.
After the murder of George Floyd, she becomes a private investigator dedicated to helping victims of police brutality. Captain Raymond Holt (Andre Braugher) respects her decision while Jake Peralta (Andy Samberg) takes it personally. In his eyes, he assumes Rosa thinks less of him for staying on the force.
Meanwhile, Charles Boyle (Joe Lo Truglio) goes above and beyond to be anti-racist, obsessively listening to podcasts and giving reparations wherever he can, which annoys Terry Jeffords (Terry Crews) to no end.
Outside of Rosa, we don't see any of the main characters question staying a cop. By the end of the episode, Jake realizes he may be "part of the problem," and Holt acknowledges how difficult it has been to be a Black man and police officer over the past year.
However, it feels like a missed opportunity to not have more characters question their careers and if what they are doing is the best way to help people. Perhaps that will change over the course of the season, but it does not happen in the first five episodes made available to critics.
'Brooklyn Nine-Nine' tries to balance politics with humor
Before its eighth season, Brooklyn Nine-Nine had already addressed racial profiling, discrimination, LGBTQ rights, and sexual assault. Season 8 of Brooklyn Nine-Nine leans heavier into politics at times, but it does not completely abandon its premise as a comedy.
The downside of this is that the show cannot fully explore the nuances of the topics it introduces while some of its comedy bits that worked seasons before no longer feel right.
When faced with the corruptness of the NYPD in "The Good Ones," Jake finally understands why Rosa left, but he still decides to stay, though it does not seem like a happy decision.
Even though the episode challenges the "I'm one of the good cops" mentality, it still ends with the stance that Jake, Holt, Charles, Terry, Amy Santiago (Melissa Fumero), Scully (Joel McKinnon Miller), Hitchcock (Dirk Blocker), and formally Rosa make up a utopia of "good cops" while every other cop is corrupt.
By sticking somewhere in the middle, Brooklyn Nine-Nine does itself a disservice. It can introduce thought-provoking questions, but it can't bring itself to answer them.
The characters help the show keep its charm
Even though this review might sound overly negative, season 8 of Brooklyn Nine-Nine is still enjoyable to watch, primarily because of the characters. Despite its shortcomings, the show does manage to strike a balance, and the upside of the middle ground is the show keeps most of what made fans fall in love with it in the first place.
After eight seasons, all of the actors know their characters inside and out. Because of this, there is an ease to Brooklyn Nine-Nine that few shows get to experience. The characters evolve but stay true to themselves, giving viewers a sense of security while watching.
Overall, it would be naive to expect a sitcom to solve the country's policing problems in 10 episodes. Instead, season 8 of Brooklyn Nine-Nine acknowledges what is wrong on its way out while still giving fans the humor they have come to expect.