Review: BTS Preview Their Upcoming In-Person Concerts With 'Permission to Dance On Stage'
On Oct. 24, Jin, Suga, J-Hope, RM, Jimin, V, and Jungkook put on an online concert called 'Permission to Dance On Stage.' The concert was streamed for fans on VenewLive. Here is our review of BTS' 'Permission to Dance On Stage.'
Before the coronavirus (COVID-19) pandemic, BTS already managed to make stadiums feel intimate. Nowadays, Jin, Suga, J-Hope, RM, Jimin, V, and Jungkook of BTS have mastered virtual concerts. So it comes as no surprise that the band's latest virtual show, "Permission to Dance On Stage," is another standout music experience. What sets "Permission to Dance On Stage" apart from BTS' previous online concerts is that in-person concerts are on the horizon for BTS, and the anticipation was palpable throughout the show.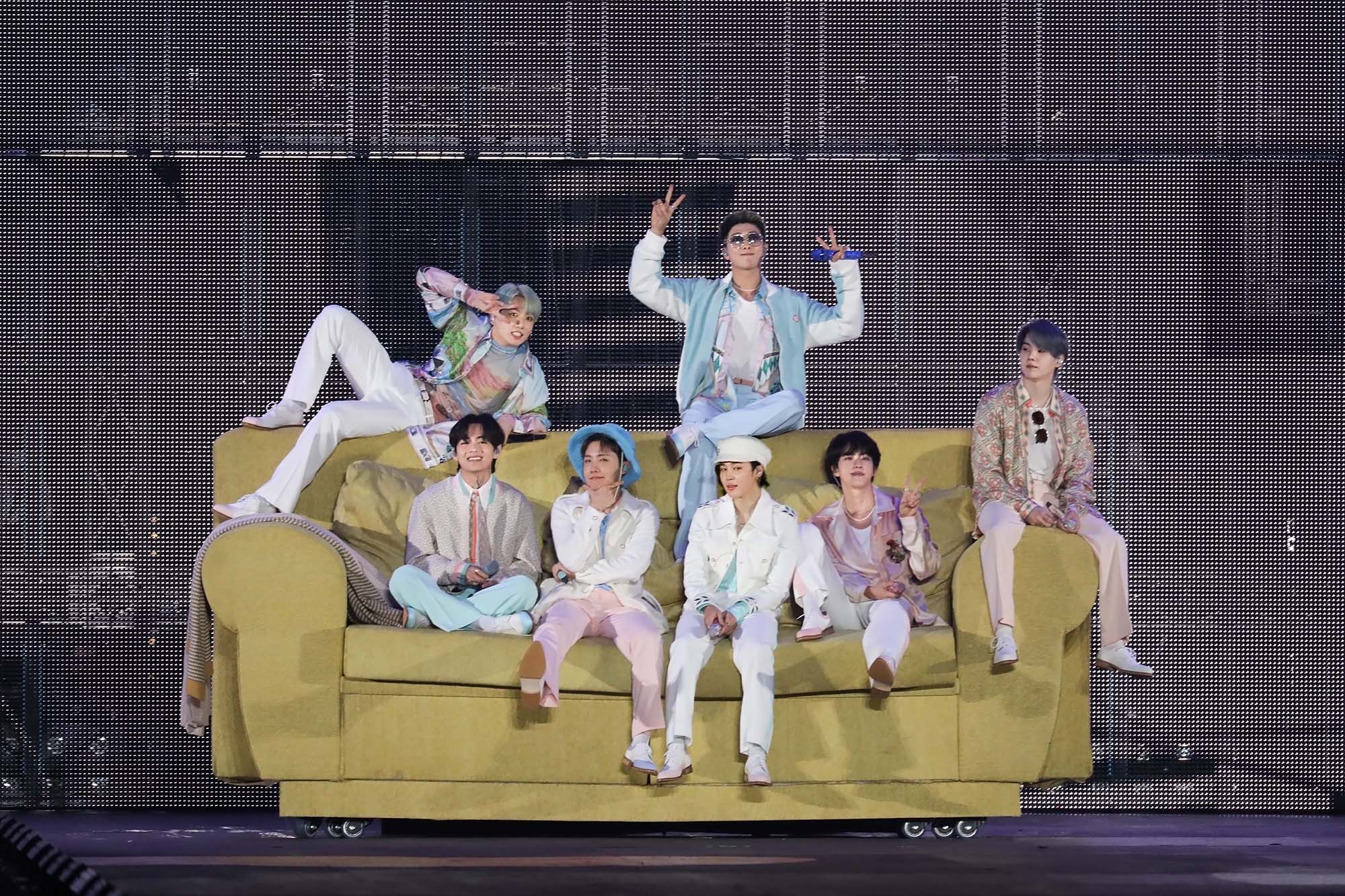 BTS put on an online concert called 'Permission to Dance On Stage'
"Permission to Dance On Stage" took place at the Seoul Olympic Stadium on Oct. 24. The concert was streamed on the platform VenewLive. This marked BTS' fourth solo concert to be streamed on the platform.
The band's first virtual concert on VenewLive, "Bang Bang Con The Live," was a respite from the pandemic that was filled with high-energy throwback songs. BTS' second virtual concert of 2020, "Map of the Soul ON:E," was a powerful culmination of the group's Map of the Soul era.
In June 2021, BTS celebrated their debut anniversary and relationship with ARMY with "BTS 2021 MUSTER SOWOOZOO," a virtual fan meeting.
Comparatively, "Permission to Dance On Stage" seemed to be all about balance. Its impeccably strong setlist balanced BTS' newer hits with classic songs from the septet's discography, keeping the energy streamlined throughout the entire concert.
Performance-wise, the show struck a balance between BTS' trademark high-intensity performances and feeling like a preview for the band's upcoming in-person concerts, Permission to Dance On Stage – LA.
On a deeper level, it balanced weariness over the reality of the pandemic and anticipation for the septet's first in-person concerts since 2019.
'Permission to Dance On Stage' featured a stellar setlist
Before the concert began, Big Hit Music announced that V would stay seated during choreography-heavy songs due to an injury. Ever the professionals, BTS adapted, adjusting choreography and finding ways to include V as much as possible even if they remained physically separated during a song.
In a moment that displayed the members' friendship, the members joked around and asked V if he was tired after performing a song. V played along and replied that he was cold.
From a production and music standpoint, "Permission to Dance On Stage" showed BTS at the top of their game. Multiple songs in the setlist received one-of-a-kind remixes that will surely never be released, adding an exclusive element to the concert.
For the concert's high point, BTS performed their songs "Black Swan," "Blood Sweat & Tears," and "Fake Love" back-to-back, seemingly taking fans' appreciation of the songs' similarities into account.
BTS shared their conflicting emotions about the concert with fans
During the concert's encore, each member of BTS delivered an ending ment, and the band members repeatedly touched on the mixed emotions they felt about putting on "Permission to Dance On Stage."
Jimin acknowledged that "Permission to Dance On Stage" felt more like a dress rehearsal instead of an actual concert. Meanwhile, RM shared that he felt he lost his identity due to the pandemic and was focusing on reuniting with ARMY to keep his motivation.
Jungkook admitted that his passion began to fade, and V lamented about his injury that kept him from being able to perform the way he wanted.
It might have been easier to keep things lighthearted going into the concert's final song, but BTS' moments of honesty showed why their fans feel such a connection to them, even if "Permission to Dance On Stage" only allowed that connection to happen through a screen.
While each member acknowledged their sadness, doubt, or disappointment at the current situation, they also shared how excited they are to reunite with ARMY in a few short weeks. Because of this, the concert ended with the anticipation for the future hanging in the air.
"Permission to Dance On Stage" setlist:
"ON"
"Fire"
"Dope"
"DNA"
"Blue & Grey"
"Black Swan"
"Blood Sweat & Tears"
"Fake Love"
"Life Goes On"
"Boy With Luv"
"Dynamite"
"Butter"
"Airplane pt. 2"
"Silver Spoon"
"Dis-ease"
"Telepathy"
"Stay"
"So What"
"I Need U"
"Save Me"
"IDOL"
"Epilouge: Young Forever"
"Spring Day"
"Permission to Dance"